Stand up for the facts!
Our only agenda is to publish the truth so you can be an informed participant in democracy.
We need your help.
I would like to contribute
According to a national survey, transit "ridership" among people age 16 to 34 increased 40 percent between 2001 and 2009.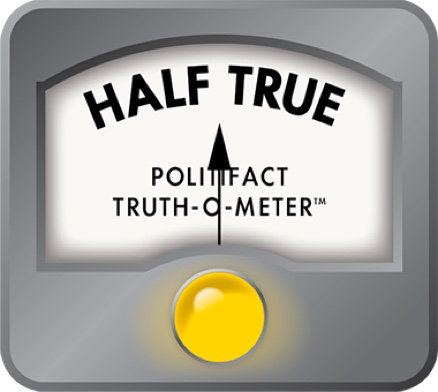 Transportation tax supporter says transit ridership by younger people jumped
Supporters of a tax to improve the region's roads and transit are asking metro Atlantans to think of the children.

A transportation overhaul would create a better Atlanta for generations to come, said Jeff Dickerson, a communications consultant for Citizens for Transportation Mobility, which advocates for the penny-per-dollar sales tax.

What's more, it would create the kind of transportation system younger people want, Dickerson said during an online debate on PBA.org, the website for Atlanta's public television and National Public Radio stations.   

"Look at this number from the National Household Travel Survey," Dickerson said. "Between 2001 and 2009 ... ridership among young people age 16 to 34 on transit increased 40 percent over eight years.

Increased 40 percent? Sounds like those young whippersnappers aren't spending much time behind the wheel of Daddy's T-Bird.

The referendum is up for a vote July 31 and would raise $7.2 billion over 10 years to upgrade roads and transit across the region.

We called up Dickerson and took a closer look at the data, which comes from the U.S. Department of Transportation.

The National Household Travel Survey tracks how and why people travel. It takes place sporadically. The most recent ones were conducted in 2001 and 2009.

In April of this year, the consumer group U.S. PIRG, a federation of state public interest research groups, and Frontier Group, an environmental think tank, issued "Transportation and the New Generation," a report that analyzed data from this and other surveys.  

We found Dickerson used the correct percentage.

The report found that the average number of miles traveled on transit by a person in this age group increased by 40 percent between 2001 and 2009. Our own analysis of NHTS data and the report's calculation confirms this.  

In fact, the survey's other findings indicate these bright young things are relying on ways to travel that don't involve a car.  

The number of bike trips per person in Generation Y is up about 27 percent, NHTS data said. Walking increased about 16 percent.

Meanwhile, the average number of trips these youngsters take in personal vehicles declined about 18 percent, according to the survey. The miles they travel is down 23 percent.  

Backers of public transit list a host of reasons why.

The report says higher gas prices have pushed younger people to try other means of transportation, as have more stringent state age requirements for driver's licenses.

Darnell Grisby, director of policy development and research with the American Public Transportation Association, a transit industry group, mentioned findings by a real estate market research company that show that members of Generation Y overwhelmingly prefer walkable communities, whether in the suburbs or city.  

Also, the share of teenagers with driver's licenses has dropped in recent decades.

In 1983, about 87 percent of 19-year-olds had their licenses, according to a University of Michigan study. By 2008, 75 percent did.

But one NHTS finding about transit use made us wonder whether the dramatic statistic Dickerson used during the debate told the whole story.  

While the average number of person miles that younger people travel on transit skyrocketed, the number of trips they took on transit did not. These increased by only about 4 percent

It appears that 16- to 34-year-olds are hopping on public trains and buses slightly more often but are taking much longer trips.

Why might this be? Baruch Feigenbaum is a transportation policy analyst for the Reason Foundation, a think tank that favors free-market solutions to policy issues.

Since such a small percentage of Americans use transit on their daily commutes, a small jump in the number of people who ride buses and trains might translate into a big percentage increase.

"While transit usage has increased, the gains may not be as impressive as they appear,"  Feigenbaum said.

How do we rule?

We found that the number of per capita passenger miles traveled did increase by 40 percent, the number Dickerson used.

But Dickerson's use of the word "ridership" might have led viewers to think that younger people are taking 40 percent more trips on transit. This number ticked up by only about 4 percent.

By either NHTS measure, it's fair to say that younger people are leaving Daddy's T-Bird in the driveway and relying more heavily on transit.

But Dickerson could have been much more precise.

For this reason, Dickerson earns a Half True.
PBA.org, "T-SPLOST Debate hosted by WABE," July 10, 2012, www.pba.org/post/t-splost-debate-hosted-wabe

Telephone interview, Jeff Dickerson, communications consultant, Citizens for Transportation Mobility, July 11, 2012

Frontier Group, "Transportation and the New Generation: Why Young People Are Driving Less and What It Means for Transportation Policy," April 2012, www.frontiergroup.org/reports/fg/transportation-and-new-generation

Telephone interview, Tony Dutzik, senior policy analyst, Frontier Group, July 16, 2012

Telephone interview, Darnell Grisby, director of policy development and research, American Public Transportation Association, July 13, 2012

Telephone and email interviews, Baruch Feigenbaum, transportation policy analyst, Reason Foundation, July 13 and 16, 2012

University of Michigan Transportation Research Institute Research Review, "Driving Forces," October–December 2011, www.umtri.umich.edu/content/rr42_4.pdf

Robert Charles Lesser & Co., "Suburbia, Soccer Moms, SUVs and Smart Growth," Feb. 2, 2012
Browse the Truth-O-Meter
More by Willoughby Mariano
Support independent fact-checking.
Become a member!
In a world of wild talk and fake news, help us stand up for the facts.