Stand up for the facts!
Our only agenda is to publish the truth so you can be an informed participant in democracy.
We need your help.
I would like to contribute
Medicare "premium support" backed by Republican vice presidential candidate Paul Ryan "is not vouchers."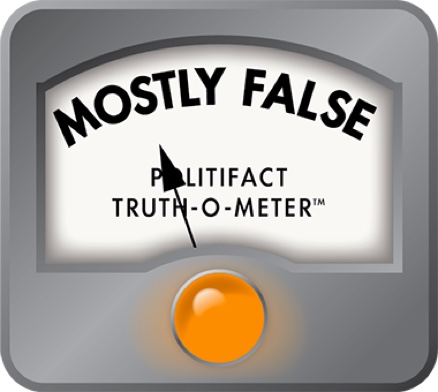 Gingrey: Medicare reform plan does not create voucher system
GOP presidential candidate Mitt Romney's decision to pick U.S. Rep. Paul Ryan as his running mate unleashed a flood of partisan debate over Medicare.

Georgia politicians are riding the rapids.

The Wisconsin congressman is the architect of a plan to overhaul Medicare that Democrats have widely attacked as a "voucher system."   

During an interview on CNN, Republican U.S. Rep. Phil Gingrey of Marietta used a more delicate term: "premium support."

"Premium support is not vouchers," the co-chairman of the House Republican doctors caucus said Aug. 14.

"A voucher would be, you hand money to a senior and say, 'Hey, go find your health care,' " he said. "This would be run by the Medicare trustees. … The money would stay there."  

So which one is it? "Premium support" or a voucher plan?

Democrats have used the word "voucher" over the years to criticize Republican privatization proposals. Republicans don't like the word and try to avoid it

PolitiFact National recently gave President Barack Obama a Mostly True when he said that Romney and Ryan "want to turn Medicare into a voucher system."

Its inquiry started with the dictionary.

Merriam-Webster defines a voucher as "a written affidavit or authorization ... a form or check indicating a credit against future purchases or expenditures; a coupon issued by government to a parent or guardian to be used to fund a child's education in either a public or private school."

"Premium support" describes a concept that's been kicking around since the mid-1990s.

Health policy experts Henry Aaron of the Brookings Institution and Robert Reischauer, a former Congressional Budget Office director, defined the term in a 1995 study. Versions of premium support have appeared in other proposals since then.
   
Broadly speaking, these proposals would change Medicare from a program in which the government pays the health care provider for services directly to one in which the government designates money for a beneficiary to spend on an insurance plan.
   
The initial Ryan plan that used "premium supports" was released in early 2011. It was approved by the GOP-controlled House before dying in the Senate.

Here's what PolitiFact National has to say about this version:

In this first version, for workers 55 and younger, Medicare would have changed from a program that pays doctors and hospitals for their services to one in which the government would designate a pot of money for each beneficiary to pay for private insurance premiums.

Beneficiaries would have selected a plan from a group that complies with standards set by the U.S. Office of Personnel Management, which runs the health benefits program for federal employees.

The beneficiary would receive an amount based in part on the cost of the second-least-expensive plan available on the exchange.

The most recent version of Ryan's plan has one key difference. He gave beneficiaries the option of selecting a plan that acts like traditional Medicare.

Does this mean Ryan's plan is not a voucher system? Gingrey spokeswoman Jen Talaber offered two main arguments to back up his statement:

One: The government pays, not the senior

"Premium support means the senior picks from a list of government-approved plans and then the government pays the bill," Talaber said.

This argument falls short. Early proponents of premium support did not consider this to be a defining characteristic of the system.

Even if they did, this type of approach would still fit the dictionary definition of "voucher," which we described above.

Two: The amount of support would change to meet the rising cost of health care

Talaber pointed us to a 2011 blog post written by Aaron, co-author of the study we mentioned above.

"The defining attribute of the plans that Reischauer and I christened 'premium support' was that the amount of support was to be indexed to average healthcare costs, not, as in voucher plans, to a price index or per person income," Aaron wrote.

The difference is crucial, Aaron wrote: "Voucher plans are virtually guaranteed to become increasingly inadequate; premium support plans will not."

Aaron's blog post, however, does not prove Gingrey's point. As we mentioned above, Ryan's plan indexes premium supports to the second-least-expensive plan available in the exchange -- not average health care costs.

This difference opens Ryan's plan to reasonable criticism that it may not share premium support's defining characteristic.

In the interest of fairness, we considered other arguments on why Ryan's plan counts as premium support, not vouchers. Some backers of free-market reforms do think there's a substantive difference, although experts interviewed by PolitiFact National differ on how to classify Ryan's plan.

Aaron himself told PolitiFact National that he thinks "premium support is a type of voucher."

Further complicating the matter is that even among policy wonks, language tends to evolve over nearly two decades.
   
Regardless, Ryan's plan fits the dictionary definition of "voucher" pretty well.

Gingrey's statement that "premium support is not vouchers," has two main problems.

It's fair to argue that Ryan's plan lacks an essential feature of "premium support" -- being indexed to average health care costs. We think this is a crucial shortcoming.

Furthermore, the claim draws distinctions that are too fine for a general audience -- and even some experts.

We give Gingrey a Mostly False.
Gingrey for Congress website, "Gingrey on CNN's Early Start," Aug. 14, 2012

Email interview, Jen Talaber, spokeswoman, U.S. Rep. Phil Gingrey, Aug. 24, 2012

PolitiFact, "Do Mitt Romney and Paul Ryan want to turn Medicare into a voucher program?", Aug. 16, 2012

Health Affairs blog, "Vouchers Or Premium Support: What's In A Name?", April 6th, 2011
Browse the Truth-O-Meter
More by Willoughby Mariano
Support independent fact-checking.
Become a member!
In a world of wild talk and fake news, help us stand up for the facts.