Get PolitiFact in your inbox.
Sherrod Brown "has voted with Barack Obama 95 percent of the time."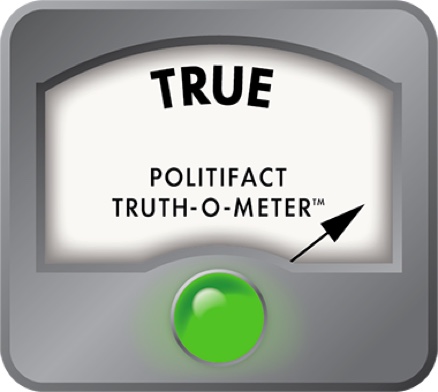 Ohio Republicans say Sherrod Brown has voted with Obama 95 percent of the time
Republicans in Washington, D.C., and Ohio have vast ideological differences with U.S. Sen. Sherrod Brown, an Ohio Democrat.

Brown says the government plays a positive role in people's lives when it provides a safety net (new health insurance programs, financial regulation, help for cash-strapped cities and schools) while supporting the private sector. Republicans say the government needs to step back to propel the economic engine that is the private sector.

While lofty, that makes for a poor sound bite. But the GOP knows this, and is prepared to frame its November election effort against Brown like this: "When you look at his voting record, what's going to stick with voters is that he has voted with Barack Obama 95 percent of the time. He can talk about differences some of the time, but you've got to look at the record."

That quote comes from Christopher Maloney, communications director for the Ohio Republican Party. Maloney made the claim to The Plain Dealer during a telephone interview in December 2011, and again with a slight variation on Jan. 22, 2012, that we'll discuss in a moment. It is that variation that we're checking here.

The interview was for a story, published Jan. 23, on how Republicans plan to campaign against Brown in the coming political season. While the newspaper checked out the figure and had reason to believe it was accurate, it also believed -- for purposes of PolitiFact Ohio -- that the figure deserved further examination, and a ruling on the Truth-O-Meter. After all, voters are likely to hear the claim a lot this year.

Maloney said his figure came from Congressional Quarterly, a nonpartisan journalism organization that reports on Capitol Hill lawmaking dispassionately. CQ, as it is known, serves as a bit of a bible for journalists, congressional offices and even lobbyists, because it goes into the weeds of legislating like few other publications do. Its reporting winds up in CQ Today, CQ Weekly, CQ online products, and an annual hard-bound political almanac, "Politics in America."

Besides covering hearings and more, CQ examines voting patterns for every member of Congress and sorts them in ways that allow comparisons. One of those ways is through an annual examination of presidential support, or the number and percentage of votes by each lawmaker on bills in which the sitting president has staked a position.

So, for example, CQ counted a vote for the American Recovery and Reinvestment Act of 2009, better known as the economic stimulus bill, as a vote in support of the president. The same principle applied to the health care reform vote of 2010, to votes on taxes, the debt ceiling, and so on. Presidents weigh in on fewer than half of all Senate votes (Obama had a position on 39 percent of the Senate's 235 votes last year), and some bills have broad bipartisan support no matter who is in the White House.

No lawmaker winds up with a presidential support score of zero -- not even such small-government fans as Republicans Jim DeMint of South Carolina or Rand Paul of Kentucky. But the closer to zero, or to 100, a score is, the higher the lawmaker's opposition or support for the president's agenda.

Back to the figure Maloney cited: He stated from the start that his source was CQ. He originally said the figure for Brown was 97 percent -- that is, that Brown has voted with President Obama 97 percent of the time. That was based on an average of CQ ratings, for 2009 (Obama's first year, when Brown scored 96 percent) and 2010 (98 percent). Maloney was accurate when he made the statement because CQ Weekly had not yet published its ratings for 2011.

That changed, just before The Plain Dealer was about to publish its story. A new issue of CQ Weekly came out, with new numbers covering 2011. And the positions of Brown and Obama, it turns out, diverged slightly more often in 2011 than in the previous two years.

Brown's presidential support rating dropped to 92 percent in 2011 -- matching, it turns out, the 92 percent support rate that other Democratic senators had on average for the president last year. In contrast, Brown's Ohio colleague, Republican freshman Rob Portman, voted with the president 59.5 percent of the time in 2011 -- which while not as high as the 71.90 percent rate of Maine Republican Susan Collins, still put Portman in the top tier, at 13th, of Republicans voting most often for Obama's positions. DeMint and Paul, by contrast, each had presidential support ratings of 41 percent in 2011.

When averaged for the three years of Obama's presidency so far, then, Brown's support fell from 97 percent to 95 percent. (Do the math: 96 plus 98 plus 92, divided by 3, equals 95.3.) Maloney, when told by The Plain Dealer that CQ had had just put out brand new figures, updated his statement to reflect that 95 percent rate.

We report this without judgment on whether it is good or bad to support the Obama agenda. Brown has disagreed with Obama on foreign trade and on some greenhouse gas-regulation issues. But Maloney says that "you've got to look at the record."

And the record -- compiled not by an opposition party but by a publication regarded as eminently impartial -- provides an average of 95 percent. The figure is current. On the Truth-O-Meter, Maloney's claim merits a rating of True.
Telephone and email conversations with Christopher Maloney throughout December and January 2011

CQ Press, "Politics in America 2012"

CQ Weekly, "2011 VoteStudies: Presidential Support," Jan. 16, 2012

CQ.com
Browse the Truth-O-Meter
More by Stephen Koff
Support independent fact-checking.
Become a member!
In a world of wild talk and fake news, help us stand up for the facts.