Stand up for the facts!
Our only agenda is to publish the truth so you can be an informed participant in democracy.
We need your help.
I would like to contribute
The GOP budget plan "would cut nearly a million jobs."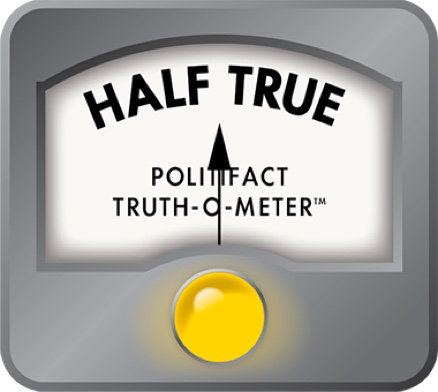 Organizing for America says GOP budget would cut 1 million jobs
Organizing for America has hit the web this week to marshal opposition to $61 billion in budget cuts proposed by House Republicans.

OFA is a Democratic organization that arose from President Barack Obama's 2008 campaign operation. Its Virginia arm claimed in Twitter messages and a Facebook posting in mid-March that the GOP budget plan "would cut nearly a million jobs."

Since the U.S. has added about 1.3 million total jobs in the past 12 months, any plan that could take away 1 million sounds like serious business. We set out to see if OFA and the Democrats have their facts right.

Democrats have been brandishing two big numbers during the debates. One is a claim that 700,000 jobs would be lost if the GOP budget is enacted. The second, as mentioned above, is that almost one million jobs are at stake.

Alec Gerlach, a spokesman for the Democratic National Committee, told us these different numbers are based on separate economic estimates. The 700,000 figure comes from a report by Mark Zandi, the chief economist at Moody's Analytics.

Zandi said the spending cuts would reduce the U.S. Gross Domestic Product and cause a loss of 700,000 existing and anticipated jobs by the end of 2012.  

Zandi's computations are complicated. They do not mean that 700,000 people would lose jobs. They include a loss of hypothetical jobs Zandi believes would be created if government spending is not cut.

The estimate of "nearly a million jobs being lost" first appeared in a Feb. 15 column by Dana Milbank, a left-leaning columnist at The Washington Post. Milbank spoke with Scott Lilly, former staff director for the House Appropriations Committee and now a research fellow at the left-leaning  Center for American Progress.

Lilly estimated the GOP plan would eradicate 650,000 jobs, both at government agencies and at companies working for the government. With those unemployed workers suddenly spending less money, he told us another 325,000 jobs -- or one for every two laid-off workers -- could be lost.

"If you are cutting highway spending or clean water work, the impact can occur over three to four years," Lilly told us. "If you cut federal employees and reduce the number of people at the Social Security Administration this year, you know the exact timing of the impact."

These estimates, as well as a report by Goldman Sachs economist Alec Phillips warning that a $60 billion cut could cost the economy 1.5 percent to 2.0 percent of its GDP growth in the middle part of this year, have drawn fire from some economists.

John Taylor, a conservative economist at Stanford University, believes the economy would grow faster if Congress pushes through spending cuts and shows it has a "credible' debt reduction plan. He said the cuts would make businesses less worried about future tax increases, meaning they would be more likely to start hiring additional employees. His reasoning has been embraced by many Republicans, including House Majority Leader Eric Cantor of Virginia, R-7th.

Federal Reserve Chairman Ben Bernanke told a Senate committee March 1 that while GOP spending cuts would "have a negative impact" on the economy, he said the job losses "would be certainly much less than 700,000." The Fed chairman also disputed the idea that the cuts could lower GDP growth by 2 percent.

Federal spending cuts are a rarity in the United States, occurring just a few times since World War II. The major reductions came at the end of World War II and the Korean War. Private  sector jobs increased after both of those wars, but the gains were driven by many factors, including the return to a peace-time economy and the demobilization of millions of soldiers, many of whom went directly into the private work force.

During larges stretches of the 1980s and 1990s government spending grew at a slower rate than the overall economy,and large job growth occurred. But economists told us there is a not a direct link between spending policies and job policies.

Let's review.

Organizing for America's Virginia chapter said the GOP spending plan could "cut nearly a million jobs," basing these estimates on a report from Scott Lilly, a budget expert at the liberal Center for American Progress.

Other economists, including Fed Chairman Ben Bernanke, believe the impact of the spending cuts would be much smaller. And Republicans have brought forward a number of economists who say spending reductions would increase employment.  

Democrats -- and the economists they cite -- may be right when they say the GOP's proposed  cuts would cost large numbers of jobs. But they are basing their reports on economic projections, not guarantees. Just as we said when House Majority Leader Eric Cantor declared lower spending would create more private sector jobs, no one knows for sure.
Therefore we rate OFA's job cut claims Half True.
Twitter, OFA_VA, March 13, 2011.

Organizing for America, Consequences of Republican cuts, accessed March 15, 2011.

Moody's Analytics, A Federal shutdown could derail the recovery, Feb. 28, 2011.

Economics One, Goldman Sachs wrong about impact of House budget proposal, Feb. 28, 2011.

The Washington Post, What to John Taylor and Mark Zandi disagree about?, March 1, 2011.

The Washington Post, Boehner the budget hawk shifts his course, Feb. 15, 2011.

ABC News, Goldman Sachs, House spending cuts will hurt economic growth, Feb. 23, 2011.

Senate Banking Committee, The semi-annual monetary policy report to the Congress, March 1, 2011.

E-mail interview with Alec Gerlach, spokesman for the Democratic National Committee, March 16, 2011.

Interview with Scott Lilly, senior fellow, Center for American Progress, March 17, 2011.
Browse the Truth-O-Meter
More by Jacob Geiger
Support independent fact-checking.
Become a member!
In a world of wild talk and fake news, help us stand up for the facts.