Get PolitiFact in your inbox.
"90 percent of babies with Down syndrome are aborted."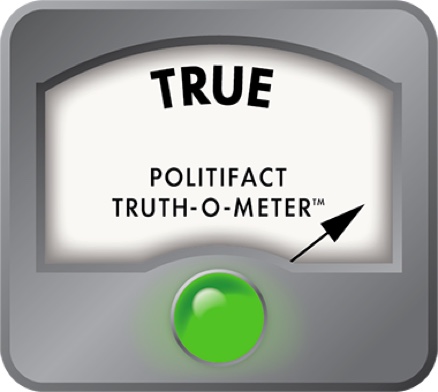 Rep. Richard Corcoran says 90 percent of prenatal Down syndrome cases result in abortion
Editor's note: On Feb. 27, 2012, we rated a similar claim -- phrased slightly differently -- by presidential candidate Rick Santorum and ruled it Half True. To see that ruling, click here.
The use of statistics dominated a daylong debate over six abortion bills in the Florida House of Representatives on April 27, 2011.

The bills, which passed the House and are being heard in the Senate, include a broader ban on third-term abortions, tighter requirements for notifying parents when a minor seeks an abortion, and a mandate that women be offered an opportunity to view and hear a description of ultrasound images before receiving an abortion. Another bill seeks to amend the state Constitution to prevent possible state funding of most abortion procedures.

Among all the stats used in nearly six hours of floor speeches, one stood out. It came from Republican Rep. Richard Corcoran of New Port Richey and caught the attention of the Florida Alliance of Planned Parenthood Affiliates on Twitter.

The group posted a message that said Corcoran claimed that "90 percent of babies with Down syndrome are aborted."

"PolitiFact anyone?" the group asked.

We heard it, too, and spoke with Corcoran after the House adjourned. He said he found it in a couple of different places, including in a New York Times story. Corcoran's point was that we, as Americans, have to do more to try to prevent abortion.

But is he right about the high percentage of abortion in these cases?

Sure enough, we found the Times article Corcoran was referencing.

The article from 2007 discussed how effective prenatal testing to detect Down syndrome could reduce the number of children born with the genetic condition, and how parents of children with Down syndrome were trying to convince others not to abort fetuses that tested positive for the condition. The story included almost the same line that Corcoran used -- that "about 90 percent of pregnant women who are given a Down syndrome diagnosis have chosen to have an abortion."

The line was not sourced, meaning the story did not say specifically where it came from. However, the online version did include a link to an abstract of a medical study discussing abortion rates after a prenatal diagnosis of Down syndrome. The study is from 1999 by the Psychology and Genetics Research Group at King's College in London. It compiled 20 other studies measuring abortion rates and concluded that, following a prenatal diagnosis of Down syndrome, 92 percent of women chose to have an abortion.

We searched and found other studies that show similar percentages.

A study from researchers at Wayne State University in Michigan examined the cases of 145 pregnancies with a prenatal diagnosis of Down syndrome from 1988-97. The study found that 19 (13.1 percent) women chose continuation of the pregnancy, while 126 (86.9 percent) chose termination. Another study examined 131 prenatally diagnosed cases of Down syndrome in Hawaii from 1987-96. The study found that women in 110 of those cases (84 percent) chose to have their pregnancies terminated.

That's three different medical studies, all reaching similar conclusions. Similar statistics were referenced in two books we found about prenatal testing (here and here).

We asked the Guttmacher Institute, an independent research organization that analyzes data on population growth and reproductive health, if we should be aware of any other data. Spokeswoman Rebecca Wind said she didn't know of anything else.

That leaves us to rely on these studies, which have been cited by subsequent researchers.

Corcoran said that "90 percent of babies with Down syndrome are aborted." Though the exact numbers vary slightly, the studies back him up. We rate this statement True.
Florida House, floor debate, April 27, 2011
Interview with Rep. Richard Corcoran, April 27, 2011

E-mail interview with Rebecca Wind, Guttmacher Institute, April 27, 2011
Browse the Truth-O-Meter
More by Aaron Sharockman
Support independent fact-checking.
Become a member!
In a world of wild talk and fake news, help us stand up for the facts.