Stand up for the facts!
Our only agenda is to publish the truth so you can be an informed participant in democracy.
We need your help.
I would like to contribute
Democrats say Chafee wants to tax equipment that enables amputee veterans to drive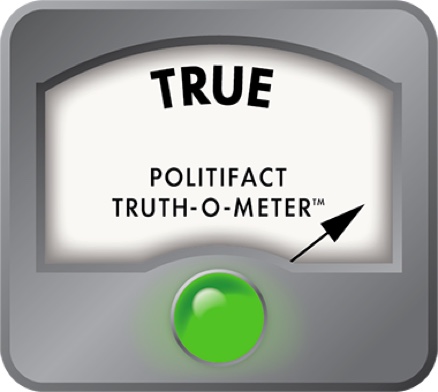 Democrats say Chafee would tax amputee veterans
There are few things that tug at the heart strings more than hungry children, students who need textbooks and homeowners struggling to keep their families warm.

Except maybe veterans who've lost limbs to war.

On a Chafee attack website it launched this spring, the Washington, D.C.-based Democratic Governors Association accuses the independent candidate for governor of taking aim at all of them.

Here, with spelling errors intact, is what the website said:

"Now former-Senator Chafee wants Rhode Island taxpayers to fix the state's budget deficit with a wide-ranging tax on previously untaxed items like textbooks, school meals, heating fuel, and, shockingly, the equiment [sic] that amuptee [sic] veterans need to opperate [sic] a car," it tells readers.

PolitiFact Rhode Island has already checked Lincoln Chafee's claim that putting a 1-percent tax on items that are now exempt from the state's 7-percent sales tax would generate more than $89 million a year in state revenues.

It turned out to be Mostly True.

But when we saw the association's claim that the list of exempt items that Chafee would tax includes equipment that enables amputee veterans to drive, it sounded too strange not to check.

The Democratic Governors Association says it pulled the list directly from Chafee's campaign website.

They're right. The site features a line-item roster of tax-exempt items, along with a calculation of how much revenue each would generate if taxed at 1 percent. Textbooks, school meals and heating fuel are all there. And yes, so is the driving equipment for amputees.

When we contacted the Chafee campaign to ask about the claim, they didn't flinch. Eliminating all sales-tax exemptions is a way to balance the budget and erase Rhode Island's massive deficit, said campaign manager John R. Pagliarini.

OK, but kids and amputees?

"Rather than get into a situation where we're judging one priority over another, we're saying why don't we apply it uniformly so it's equitable, so we're not pitting one interest or one item against another," Pagliarini explained.

The Democratic Governors Association slammed Chafee's proposal. "The idea of taxing the men and women who have served our country and had an amputation in the course of their service? I couldn't find a single person that thinks that's a good idea," said spokeswoman Emily DeRose.

But Pagliarini called it "very candid" of the former senator to recognize that the state's budget problems demand dramatic solutions and said Chafee would undoubtedly revisit the exemptions issue once the state is "back on solid footing."
He bristled however at the suggestion that Chafee doesn't care about veteran's service.
"To say that he doesn't appreciate the contributions of men in uniform is not fair. His father was a decorated war veteran," Pagliarini said. (Chafee's father, the late Sen. John Chafee, served with the Marines in World War II and the Korean War.)

Chafee's views on veterans aside, the Democratic Governors Association is correct about whom and what the gubernatorial candidate has proposed taxing. We find its claim True, though we suggest they make better use of spell check next time around. 
UPDATE: After this item was published, we learned that the driving equipment for amputee veterans would be paid for by the federal government for those injured in the line of duty. In such instances, the veterans are not taxed. However, because the Chafee campaign acknowledges that he would tax all items on a list of exemptions, it does not change the assertion that the former senator would tax the driving equipment. Therefore, the ruling stands.
"Senator Chafee.com," a Chafee attack website run by the Democratic Governors Association, accessed June 23, 2010

Lincoln Chafee for Governor website, accessed June 24, 2010

2008 Tax Expenditures Report, Department of Revenue, Division of Taxation, pages 1,2,4,5.
Accessed June 24, 2010

The Providence Journal, New website takes aim at Chafee's run for governor, May 10, 2010

Interview, Emily DeRose, Democratic Governors Association, June 24, 2010

Interview, John R. Pagliarini, Chafee campaign manager, June 24, 2010
Browse the Truth-O-Meter
More by Cynthia Needham
Support independent fact-checking.
Become a member!
In a world of wild talk and fake news, help us stand up for the facts.