Stand up for the facts!
Our only agenda is to publish the truth so you can be an informed participant in democracy.
We need your help.
I would like to contribute
Says Peter Kilmartin voted "in favor of expanding the 'good behavior' statute to sex offenders."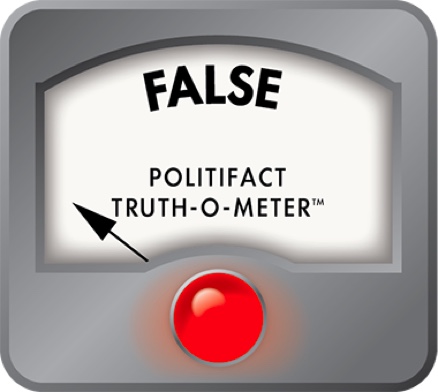 Wallin says Kilmartin voted to expand 'good behavior' law to jailed sex offenders
There are few things that scare the public more than the possibility of sex offenders running loose on the streets.

So when Republican candidate for attorney general Erik Wallin issued a news release warning voters that his opponent, Democrat Peter Kilmartin, voted to allow sex offenders to shave time off their prison sentences for good behavior, it caught our attention.

His claim began like this: "Erik Wallin, candidate for Attorney General, today criticized Representative Kilmartin for his vote in favor of expanding the 'good behavior' statute to sex offenders and called for its overall repeal for those who commit violent felonies (including sex crimes) and domestic violence offenses."

He repeated much of that accusation in a subsequent appearance on WPRO 630-AM's "John DePetro Show."

The good behavior statute he's talking about is part of a state law that dictates when and how prison inmates are allowed to earn time off their sentences. He is referring to a change in that policy enacted by lawmakers in 2008.

But let's go back to what the law said before that rewrite. Since 1976, the statute has allowed well-behaved prison inmates -- except those serving life sentences -- to trim up to 10 days a month off their prison stays under a formula that was tied to the length of their sentence.

For example, an inmate sentenced to eight  years could knock eight days per month off his or her prison time, while someone serving five years could earn up to five days off a month. Prisoners could also earn small amounts of additional time off for what is known as meritorious service.

Sex offenders were not excluded from those guidelines. Nor were violent felons or anyone else besides those with life sentences.

In 2008, faced with cost concerns, crowding and calls for a good conduct policy that would allow those serving short sentences to earn as much time off as those imprisoned for more serious crimes, the state convened a panel to revamp the policy. That group was made up of prosecutors, public defenders, state police, the chief judge of the Superior Court, corrections officials and legislators.

The result was a line item in Governor Carcieri's midyear budget that would have allowed all inmates except those serving life sentences to earn up to 10 days per month off their time -- a full third -- regardless of their crimes.

The proposal also allowed inmates to earn up to five days more per month off for participating in rehabilitation programs such as substance-abuse treatment and anger management.

House leaders later decided to consider the measure as a separate bill, rather than a budget item.  (It is worth noting that as the House whip, Kilmartin was a member of that leadership team.)

But as that bill made its way to the House floor, a small group of legislators on both sides of the aisle roared in protest. The new rules, they said, did not specifically exclude sex offenders, meaning they too were eligible for the increased good behavior benefits.

House lawmakers rewrote the bill to specifically exclude sex offenders from benefiting from the new policy. In other words, they were still governed by the less generous statute from the 1970s. The legislation passed March 27, 2008, with Kilmartin voting yes.

For procedural reasons, it found its way back into the midyear budget bill. It passed, complete with the language excluding sex offenders, in May of that year.

Kilmartin again voted yes. But neither of his two votes that year gave any new privileges to sex offenders, as Wallin suggests. In fact, they did exactly the opposite, targeting sex offenders as the only inmates -- along with  those serving life sentences -- who could not benefit.

"Basically every other inmate at the [Adult Correctional Institutions] got a real benefit from this change, and the sex offenders did not," said Patricia Coyne-Fague, chief legal council for the state Department of Corrections.

So why did Wallin accuse Kilmartin of a vote the representative never made?  

Wallin acknowledged that the new rules excluded sex offenders, and he said his initial new release contained "bad wording," noting that he sent out a subsequent statement that downplayed the sex offender side of what he said.

In retrospect, Wallin said the essence of his claim had more to do with what Kilmartin didn't do than what he did.

"My argument is simply that [Kilmartin] voted for a bill that continues to allow sex offenders to get credit for good behavior ... He failed to close the loophole," or repeal the older portion of the law that rewards sex offenders.

Wallin is right about that. Sex offenders are still eligible to trim time off their sentences under a policy that some voters might not approve of. But that is the result of a law that passed in 1976, when Kilmartin was 14 years old. It had nothing to do with the 2008 votes.

The claim stops short of receiving a Pants on Fire because Wallin acknowledges that the news release was poorly worded. But that doesn't change the fact that he accused his opponent of voting in favor of something he didn't vote for.

We find this claim False.
News release, Erik Wallin for Attorney General, Sept. 27, 2010

Interview, Erik Wallin, Oct. 5. 2010

Interview, Peter Kilmartin, Oct. 6, 2010

Interview, Patricia Coyne-Fague, chief legal counsel, Department of Corrections, Oct. 5, 2010

House bill H7751, passed House on March 27, 2008 (language was eventually passed as part of the midyear budget rewrite bill: H7204a, passed by the legislature on May 1, 2008)

The Providence Journal, "Proposals aim to cut inmate population," Jan. 11, 2008

The Providence Journal, "House OKs bill to cut population at prisons," March 28, 2008

Original good behavior law, passed in 1976, as provided by the state library, Oct. 6, 2010
Browse the Truth-O-Meter
More by Cynthia Needham
Support independent fact-checking.
Become a member!
In a world of wild talk and fake news, help us stand up for the facts.