Stand up for the facts!
Our only agenda is to publish the truth so you can be an informed participant in democracy.
We need your help.
I would like to contribute
Kendrick Meek claims he's the only candidate who said Sonia Sotomayor "will make an excellent Supreme Court justice."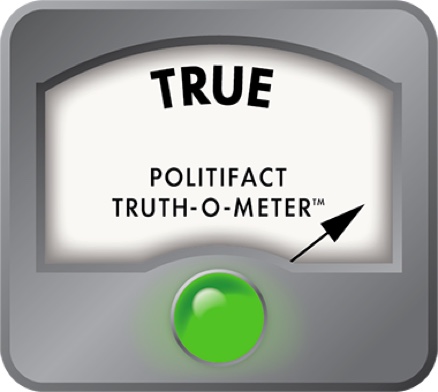 Kendrick Meek only one of big three in U.S. Senate race to support Sonia Sotomayor
Now that U.S. Rep. Kendrick Meek has dispatched billionaire U.S. Senate Democratic rival Jeff Greene, Meek is quickly pivoting to a general election campaign where he will face Republican Marco Rubio and a former Republican, Gov. Charlie Crist.

That means Meek will do everything he can between now and Nov. 2, 2010, to distinguish himself from his two opponents.

At his Aug. 24, 2010, primary victory speech at the Westin Diplomat in Hollywood, Meek labeled his two major fall opponents conservative. He repeated a claim that PolitiFact Florida ruled Mostly True, that he is the only candidate who has consistently opposed additional offshore oil drilling.

And he also talked about the 2009 Supreme Court nomination of Sonia Sotomayor.

"I will be the only candidate, ladies and gentlemen, that stood in there with Justice Sotomayor," said Meek, surrounded by his family and supporters. "When she was up for her nomination, I stood up and said she was the right selection and she will make an excellent Supreme Court justice."

This fact check is pretty straightforward: Does the record support Meek's claim?

President Barack Obama nominated Sotomayor to the U.S. Supreme Court on May 26, 2009. She was confirmed by the U.S. Senate on Aug. 6, 2009. Here's what the three major candidates said about Sotomayor that summer.

Kendrick Meek -- Meek joined Puerto Rican leaders in Miami on June 1 to support Sotomayor's nomination to the country's highest court. On June 2, he attended a similar event in Orlando. "She is an outstanding candidate for the Supreme Court," Meek said in Orlando. There is no record of him wavering from that position.

Marco Rubio -- Rubio, meanwhile, is on record opposing the Sotomayor nomination. He wrote an Aug. 5 column published by Politico titled "Opposing the philosophy of Sonia Sotomayor isn't anti-Hispanic." Rubio wrote: "During the recent Judiciary Committee hearings, it became clear that I could not in good conscience support Sotomayor's confirmation and would vote against it if I were in the Senate today ... As a whole, Sotomayor's record reflects a view that judges can and should inject personal experiences and biases into what should be the objective interpretation and application of the law."

Charlie Crist -- On July 21, Crist also came out against Sotomayor's confirmation. At that point, Crist was still a Republican. "While I have not had the opportunity to meet personally with Judge Sotomayor -- a crucial step in the selection process -- I have reviewed and reflected upon her testimony before the Senate Judiciary Committee, and come to the conclusion that I cannot support her appointment to the United States Supreme Court," Crist said. "Judge Sotomayor is worthy of respect for her many accomplishments and her remarkable story of success. However, I have strong concerns that Judge Sotomayor would not strictly and objectively construe the constitution and lacks respect for the fundamental right to keep and bear arms. For these reasons, I cannot support her appointment to the highest court in the land."

In a May 2010 interview with the Miami Herald, no-party candidate Crist continued to say that he would have opposed Sotomayor over questions about the Second Amendment, though he could not recall specifically what those questions were.

The fall ballot will include more names than just Meek, Rubio and Crist. But we couldn't find statements on Sotomayor from any of the minor or no-party candidates. None of those candidates has received more than 5 percent in any recent statewide poll.

In his primary victory speech, Meek said that he is the only candidate who publicly supported Sonia Sotomayor's nomination to the U.S. Supreme Court. Compared to Crist and Rubio, the two other major candidates, Meek is right. We rate his statement True.
Kendrick Meek campaign, primary victory speech, Aug. 24, 2010
Orlando Sentinel, "Meek praises Sotomayor," June 3, 2009, accessed via Nexis
Miami Herald, "Meek: Sotomayor used 'poor choice of words'," June 1, 2009, accessed via Nexis
Politico, "Opposing the philosophy of Sonia Sotomayor isn't anti-Hispanic," Aug. 5, 2009
South Florida Sun-Sentinel, "Charlie Crist: I can't support Sotomayor," July 21, 2009
St. Petersburg Times, "Crist can't recall why he opposed Sotomayor," May 21, 2010
Browse the Truth-O-Meter
More by Aaron Sharockman
Support independent fact-checking.
Become a member!
In a world of wild talk and fake news, help us stand up for the facts.