Stand up for the facts!
Our only agenda is to publish the truth so you can be an informed participant in democracy.
We need your help.
I would like to contribute
"This race will be the Democrats' top target this November."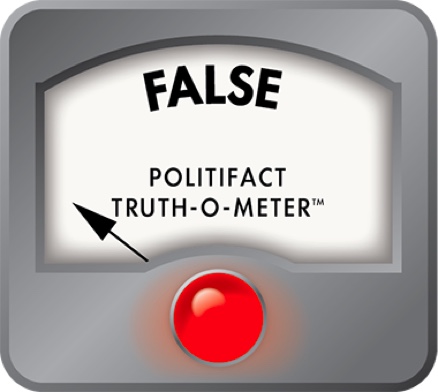 High court hopeful Lehrmann: Race will be Dems' 'top target'
Angling to win Tuesday's runoff to be the Republican nominee for a seat on the Texas Supreme Court, Debra Lehrmann said in a recent mailer that the GOP must nominate a strong candidate in the general election because "this race will be the Democrats' top target in November."

In a year with numerous statewide offices, including governor, up for grabs, we wondered whether a seat on the state's highest civil court is really going to top Texas Democrats' priorities.

First, a little background: Lehrmann, who has been a judge in Tarrant County for more than 20 years, and Rick Green, a lawyer and former Texas House member from Dripping Springs, were the top vote-getters among six candidates for the court's Place 3 seat in the March 2 GOP primary. The runoff is happening because neither received more than half the vote.

In response to our inquiry, Lehrmann's campaign spokesman, Craig Murphy, quickly added a big "if" to the prediction in Lehrmann's mailer. Murphy said Democrats would zero in on the court race if Green wins the GOP runoff, because that would boost Democratic nominee Jim Sharp's chances of winning the seat.

Green "would definitely be their No. 1 target if he managed to get the nomination," Murphy said.

Murphy said he's not the only one who thinks so, pointing us to political commentary from three publications: Texas Monthly, the Austin Chronicle and a pro-Democratic blog, the Burnt Orange Report.

Two days after the party primaries, Texas Monthly's Paul Burka, a longtime observer of politics, wrote on his blog that "unexpected developments" could test his oft-repeated assertion that Democrats, aside from gubernatorial hopeful Bill White, do not have a chance of winning a statewide race this year. (Democrats haven't won a statewide office since 1994.)

Burka said two contests could prove him wrong. He called Railroad Commission nominee Jeff Weems the Democrats' "best shot" and mentioned the Place 3 Supreme Court race as "another possibility," adding that if Green wins the GOP runoff, Sharp, a Houston appellate judge, "might get a lot of backing from the state's legal community."

On April 2, the Austin Chronicle's endorsement of Lehrmann in the runoff noted that "serious Republicans and their political organizations" might worry that a Green nomination makes "a November Democratic victory much more likely." Earlier, in a post-primary post, the Burnt Orange Report said that if Green wins the runoff, "we've got to make sure folks pay close attention to this race now through November."

Why do Murphy and others consider Green a weak candidate?

Murphy said one reason is that Green has been beaten by a Democrat before: In 2002, he lost his Texas House seat to Democratic challenger Patrick Rose. Other critics of Green's candidacy have focused on his lack of judicial experience and several episodes from his past, including the taping of an infomercial in the Capitol and his admitted swing at Rose outside a Hays County polling place in 2006.

After the 2001 legislative session, Texas Monthly named Green one of the 10 worst legislators for what the magazine termed "ethical pratfalls."

In a YouTube video titled "Are the accusations true?" and posted April 4, Green says the ethics issues have been dredged up to sink his candidacy, although he acknowledges hitting Rose and has apologized.

We asked Sharp, who did not have a primary opponent, if his judicial race will be his party's top target, whether or not Green is his opponent. "I can tell you uncategorically that it is not," Sharp said.

Sharp said the Texas Democratic Party "will not be persuaded by anything to do anything but what their agenda is, and the agenda is legislative seats" and the governorship -- an agenda that he said has not changed since at least 2004.

Kirsten Gray, a spokeswoman for the Texas Democratic Party, echoed that assessment. "The Texas Supreme Court races are certainly very important to Texas Democrats," she said. "However, these races are not more important than the governor's office, taking a majority of seats in the (Texas) House and winning other statewide offices."

Ed Sills, communications director for the Texas AFL-CIO, said that "any Democrat would probably say the top target in November is the governor's office."

One sign of a party's priorities is how much money a candidate attracts. Sharp did not tell us precisely how much money he has raised this year, saying only that the amount is "still in the four-figure range." Meanwhile, Bill White, the Democratic Party's gubernatorial nominee, reported more than $2.2 million in political contributions gathered from Jan. 22 to Feb. 20.

Still, the fact that the Democrats are fielding candidates for all three Supreme Court races this year represents an uptick of sorts. In 2006, the last time gubernatorial and Supreme Court candidates were on the same ballot, the Democrats put up only one contender in the five high court races: Bill Moody, a state district judge in El Paso who lost to incumbent Republican Don Willett.

In the last 30-day reporting period before the general election that year, Moody spent $23,434 while Chris Bell, the Democratic nominee for governor, reported spending $2.9 million.

Where does all this leave Lehrmann's statement?

We didn't find anyone who agreed with Lehrmann that the Supreme Court seat would be the Democrats' top fall target -- or any other indicators, such as surging campaign donations. Besides, her campaign's explanation for the statement includes a caveat -- a Green runoff victory -- that was not spelled out in her mailer.

We rate her speculative statement as False.
Judge Debra Lehrmann for Supreme Court, mailer, received April 5, 2010

Interview with Craig Murphy, spokesman, Lehrmann campaign, April 7, 2010

Texas Monthly Web site, Burka Blog, "Can the Democrats win a statewide race?", March 4, 2010

Austin Chronicle, endorsements for April 13 primary runoffs, April 2, 2010

Burnt Orange Report, "Rick Green Punches His Way Into SCOTX Run-Off," March 3, 2010

Austin American-Statesman, "GOP runoff for Supreme Court pits longtime judge, conservative activist," April 3, 2010

Rick Green video, "Are the accusations true?", April 4, 2010

Texas Monthly, "The Best and the Worst Legislators," July 2001

Interview with Justice Jim Sharp, 1st Court of Appeals, April 7, 2010

Texas Ethics Commission, summary of Bill White campaign finance report for Jan. 22, 2010, to Feb. 20, 2010, accessed April 8, 2010

E-mail interview with Kirsten Gray, communications director, Texas Democratic Party, April 7, 2010

Interview with Ed Sills, communications director, Texas AFL-CIO, April 8, 2010

Texas Ethics Commission, summary of Chris Bell campaign finance report for Sept. 29, 2006, to Oct. 28, 2006, accessed April 8, 2010

Texas Ethics Commission, summary of Bill Moody campaign finance report for Sept. 29, 2006, to Oct. 28, 2006, accessed April 8, 2010
Browse the Truth-O-Meter
More by Meghan Ashford-Grooms
Support independent fact-checking.
Become a member!
In a world of wild talk and fake news, help us stand up for the facts.