Stand up for the facts!
Our only agenda is to publish the truth so you can be an informed participant in democracy.
We need your help.
I would like to contribute
Holding up a BlackBerry, McCain campaign adviser says, "you're looking at the miracle John McCain helped create."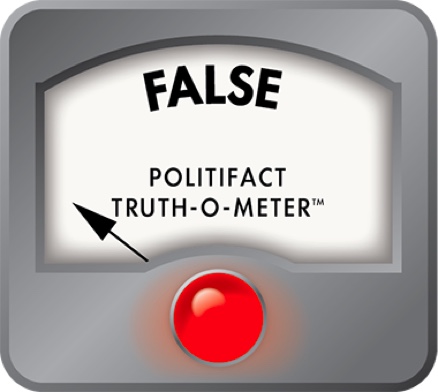 The wireless revolution would have come anyway
Considering Sen. John McCain's admissions that he is computer "illiterate," that he has only recently begun to learn how to surf the Net and that he never e-mails, the comment (joke?) from one of his chief advisers made for some snarky blogosphere chatter.
A reporter on Sept. 16 asked McCain's top economic adviser what McCain did as chairman of the Senate Commerce Committee that helped him understand financial markets.
"He did this," said Douglas Holtz-Eakin, holding up his BlackBerry, the ubiquitous handheld wireless device that serves as a mobile phone but also allows users to e-mail, text message and browse the Web. "Telecommunications of the United States is a premier innovation in the past 15 years, comes right through the Commerce Committee so you're looking at the miracle John McCain helped create and that's what he did."
Was he saying McCain invented the Blackberry, or merely helped clear away government hurdles to innovation that allowed for Blackberry-like ideas to flourish? It didn't take long for the political blogs to reach their own conclusion on that question and snort with Al Gore-invented-the-Internet references.
The Obama campaign gleefully piled on as well.
"If John McCain hadn't said that 'the fundamentals of our economy are strong' on the day of one of our nation's worst financial crises, the claim that he invented the BlackBerry would have been the most preposterous thing said all week," said Obama campaign spokesman Bill Burton.
Even McCain laughed when told of Holtz-Eakin's comment, according to senior aide Matt McDonald.
"He would not claim to be the inventor of anything, much less the BlackBerry. This was obviously a boneheaded joke by a staffer," McDonald said.
For the record, Gore never actually claimed to have invented the Internet either.
We're just not going to take seriously any suggestion that McCain actually helped create the BlackBerry. It's absurd. The BlackBerry was developed by a Canadian company, Research in Motion, and released in 2002.
But there is a real issue here, and that's what McCain did, or did not do, as chairman of the Senate Commerce Committee that might be said to have fostered the growth of the wireless industry. McCain served as chairman of the committee from 1997 to 2001 and again from 2003 to 2005.
According to an AP account of his remarks, Holtz-Eakin said McCain's handling of regulation and deregulation of the telecommunications industry in particular left him with the skills to help revive the economy amid a mortgage crisis, an energy crisis and a Wall Street meltdown.
By far the most important piece of legislation that emerged from McCain's tenure on the Commerce Committee was the landmark Telecommunications Act of 1996, the first major overhaul of telecommunications laws since the New Deal. "The goal of this new law," according to an FCC Web site, "is to let anyone enter any communications business – to let any communications business compete in any market against any other."
The act became law a year before McCain was chairman of the committee, though he was a member. And McCain opposed it and voted against it, arguing that it didn't go far enough to deregulate the industry. As a result, he argued, it would not create the promised competition and lower prices to consumers.
As far as the wireless industry is concerned, perhaps the other most significant government decision was to begin auctioning the airwaves to allow companies to spread wireless communications networks for telephones and computers around the country. Those auctions began in 1994. Again, McCain wasn't yet the chairman, and he was not the major player driving the auctions. In fact, he voted against the Omnibus Budget Reconciliation Act of 1993 that included provisions for the wireless spectrum auctions.
The Commerce Committee oversees a wide array of interests: everything from the Coast Guard to communications to interstate commerce; science, engineering, and technology research and development; sports; transportation; and regulation of interstate common carriers, including railroads, buses, trucks, vessels, pipelines and civil aviation.
The McCain campaign didn't respond to requests from PolitiFact for details on McCain's role in telecommunications and wireless issues.
A February 2000 story in the Christian Science Monitor concluded that as for legislative accomplishments as chairman of the Senate Commerce Committee, "McCain has chalked up an average list of achievements.
"Recently, for example, he has shepherded through bills to limit liability to companies from Y2K-related lawsuits, improve truck and bus safety, protect the privacy of children online, place a moratorium on Internet taxes, and designate a universal 911 emergency number."
In 2004, McCain made headlines when, as chairman of the Commerce Committee, he pushed for stricter steroids policies in professional sports.
McCain's appetite for deregulation has by and large made him a friend of the telecommunications industry (witness his campaign contributions), but the wireless revolution largely emerged on its own. Congress acted mainly to regulate or deregulate it, and to sell the airwaves as a public asset. For a chief policy adviser to hold up a BlackBerry and suggest McCain was a major player in fostering its development – even from a regulatory perspective – is more than a stretch.
We rule the Holtz-Eakin comment False.
Politico, "Holtz-Eakin: McCain helped create BlackBerry," by Jonathan Martin, Sept. 16, 2008
AP, "Adviser says McCain helped create the BlackBerry," Sept. 16, 2008
USA Today, "Telecom lobbyists tied to McCain," by Matt Kelley, March 24, 2008
Salon, "John McCain, Internet dunce," by Amanda Terkel
New York Times, "Winners of Wireless Auction to Pay $7 Billion," by Edmund L. Andrews, March 14, 1995
FCC, "Telecommunications Act of 1996"
The Washington Post, "This Is a Free Market? The Telecommunications Act So Far: Higher Prices, Few Benefits" by Mike Mills and Paul Farhi, Jan. 19, 1997
Christian Science Monitor, "McCain's style: no get-along type guy" by Ann Scott Tyson, Feb. 18, 2000
Browse the Truth-O-Meter
More by Robert Farley
Support independent fact-checking.
Become a member!
In a world of wild talk and fake news, help us stand up for the facts.