Get PolitiFact in your inbox.
Photo shows first person from a Honduras caravan to be granted asylum in the U.S.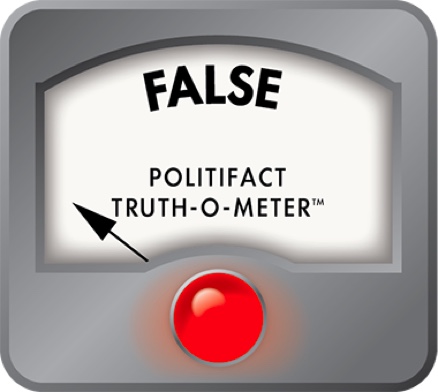 Photo does not show an asylum seeker from Honduras
If Your Time is short
This claim first appeared in 2018, when a caravan from Honduras made its way to the United States border. The photo is not of an asylum seeker from that group; it's from a 2009 adult photoshoot.
A photo on social media claims to show a woman who was granted asylum in the U.S. It misled people five years ago — and it's back attempting to do the same again.
"This is Susana González. She was part of the caravan from Honduras. She escaped Honduras because of starvation and lack of work. She is the first person of the caravan to be granted Asylum," read the text on a photo posted May 4 on Facebook. It appears to be a screenshot of another social media post.
The post was flagged as part of Facebook's efforts to combat false news and misinformation on its News Feed. (Read more about our partnership with Meta, which owns Facebook and Instagram.)
Fact-checkers first debunked the claim in 2018, and found that the image has been online since at least 2009.
A reverse-image search using TinEye shows photos with the same text dating to April 2018, which are screenshots of a tweet. Around that time, a caravan of migrants mainly from Honduras was making its way through Mexico to the U.S. border.
The Twitter account pictured in the screenshots is now private, but fact-checkers found that the tweet was dated April 6, 2018. The photo caption said, "After being granted Asylen (sic) from a California Immigration Judge, she entered El Paso, Texas from Juarez, Mexico." But the group that approached the U.S. border in 2018 reportedly sought asylum in a different location, between Tijuana, Mexico, and San Diego.
The photo does not show a migrant from the caravan. We searched news reports and government statements and found no evidence that the woman in the photo was an asylum seeker.
A reverse-image search led to adult websites, and showed that it was part of a pornographic set of photos. 
This post and other false claims about migrants have surfaced in the past week, as Title 42 —  a public health policy that has prevented many migrants from applying for asylum at the southern U.S. border — is set to expire May 11, which officials suspect will lead to a surge in migration. 
We rate the claim that this photo shows the first person from a Honduras caravan to be granted asylum in the U.S. False.
RELATED: Title 42 expiration: What's next for migrants applying for asylum at US' southern border?
Facebook post, May 4, 2023
TinEye search, May 5, 2023
Tweet, April 8, 2018
Instagram post, April 11, 2018
PolitiFact, Donald Trump says caravans of people coming through Mexico to cross U.S. border, April 2, 2018
USA Today, Trump keeps focus on caravan of Honduran asylum seekers headed to U.S., April 3, 2018
Snopes, Is This the First Caravan Member to Be Granted Asylum in the United States?, May 2, 2018
Lead Stories, Fact Check: Photo Does NOT Depict First Honduran Migrant 'Caravan' Woman To Be Granted Asylum In US, May 5, 2023
PolitiFact, Image showing thousands of bridge-crossing migrants was from 2018, not 2023, May 8, 2023
Browse the Truth-O-Meter
More by Loreben Tuquero
Support independent fact-checking.
Become a member!
In a world of wild talk and fake news, help us stand up for the facts.