Get PolitiFact in your inbox.
"An 11-year-old boy saved the lives of two people on the same day."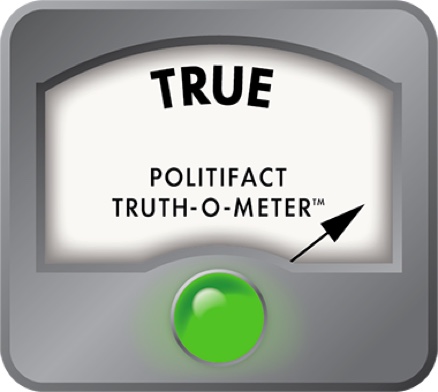 Good Enough to Be True: Young boy saved two lives in one day
If Your Time is short
On Dec. 9, 2021, then-sixth grader Davyon Johnson performed the Heimlich maneuver on a Oklahoma classmate who was choking on a bottle cap. 

Later that day, while riding in the car with his mother, Davyon noticed that a house was on fire. They pulled over and Davyon got out to help an elderly woman get away from the burning house.
These days, it's easy to doomscroll through negative news updates on social media. So, when an Instagram user shared a positive story about the extraordinary lifesaving actions of a young boy, it caught our attention. 
"An 11-year-old boy saved the lives of two people on the same day," read the screenshot in the April 24 post. "He saw a friend choking at school and performed the Heimlich maneuver. Then on his way home, he saw a house fire and pulled a woman to safety. Davyon Johnson everybody," it said, along with emojis of clapping hands and a trophy. The screenshot also showed photos of Davyon.
"(D)avyon had himself a day," the Instagram user wrote in the caption. 
Indeed, he did. We looked into this story and found that even though it was a few years ago, it did happen: In 2021, news outlets reported that the then-sixth grader from Muskogee, Oklahoma, saved the lives of two people in one day.
Our Good Enough to Be True stories are intended to highlight social media claims about uplifting news that would earn a True rating on our Truth-O-Meter. And this one certainly fits the bill.
CNN reported that on Dec. 9, 2021, Davyon's classmate had a water bottle cap in his mouth when it fell into his throat, and the student began choking. Davyon — who told his story in a 2023 video for the American Red Cross — said he was in his life skills class at the time of the incident. The Enid News & Eagle, a northwest Oklahoma newspaper, reported that Davyon put to use what he had learned from a YouTube video.
"Davyon immediately sprinted over and did the Heimlich maneuver," his school principal, Latricia Dawkins, said in an interview with the newspaper. "From the account of the witnesses, when he did it the bottle cap popped out." 
Later that same day, while in the car with his mother, Davyon saw that a house was on fire. The New York Times reported that his mother stopped and called the police while Davyon went to knock on the door to warn the people inside. An older woman using a walker had trouble moving quickly enough, so Davyon helped her get away from the house and move toward her truck.
Muskogee Public Schools, where Davyon is a student, recognized his actions during a school board meeting Dec. 15, 2021, when the board gave him the heroism award. He also received honorary membership in the local police and sheriff's departments. His story attracted national media attention. 
Two years later, in February 2023, Davyon was named the American Red Cross Youth Humanitarian Honoree.
"I mean, I'm excited that I got rewarded for it, but I didn't do it for the awards, I did it from the kindness from my heart," he said in the Red Cross video. He explained that his father, who died in August 2021, had taught him to be kind and to help people in need. "I want to tell other young people to be kind and to help whenever you can help." 
We rate the claim that Davyon saved two people's lives in one day Good Enough to Be True!
See a post that might make a great Good Enough to be True story? Send it to [email protected]. We choose claims that pique our curiosity and fit our Truth-O-Meter definition of True.
Browse the Truth-O-Meter
More by Gabrielle Settles
Support independent fact-checking.
Become a member!
In a world of wild talk and fake news, help us stand up for the facts.