Get PolitiFact in your inbox.
'No Sharpies on ballots' permitted for in-person voting in Illinois.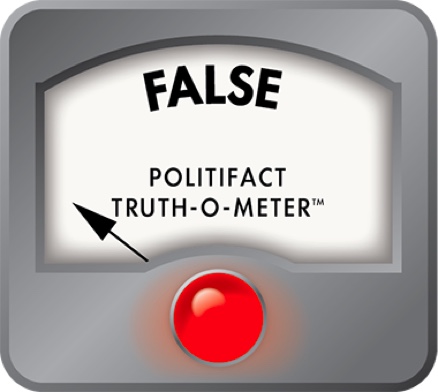 Sharpie pens are permitted for in-person voting in Illinois despite false claims
If Your Time is short
Illinois election officials told PolitiFact that using Sharpie pens to fill out ballots is allowed.

If a ballot is rendered invalid by a voting machine, that ballot is spoiled and the voter may fill out another.
Did using Sharpie pens invalidate Illinois voters' ballots on Election Day? Multiple posts circulating on Twitter and Instagram claim that's the case.
"Election Alerts: LaGrange Precinct 89 voters report sharpies being used on ballots, which isn't allowed," tweeted conservative Twitter account Awake Illinois. "NO SHARPIES ON BALLOTS."
LaGrange is a Chicago suburb in Cook County.
In a separate video that's part of a Nov. 7 Instagram post, a woman also argues against using Sharpie pens when voting.
The Instagram post was flagged as part of Instagram's efforts to combat false news and misinformation on its News Feed. (Read more about our partnership with Meta, which owns Facebook and Instagram.)
People pushing the claim that permanent markers (Sharpie namely) are not permitted in the voting booth say that the ink sometimes bleeds through the paper ballot and renders it invalid.
Not so, Illinois elections officials said.
Cook County Clerk's Office Communications Director Frank Herrera told PolitiFact that not only are Sharpie markers acceptable to use when casting ballots, they're largely the preferred means for filling in ballots  during in-person voting.
"Sharpie markers are the industry-recommended ballot marking devices that are used across the nation for purposes of ballot machine scans because they dry almost instantly, while ballpoint pens and pencils may smear on the ballot or the optical ballot scanner," Herrera said. 
Herrera added: "If there is bleed-through, it is not an issue because the ovals are staggered and do not line up front to back. This only becomes an issue if there's bleed-through from page to page, and voters were advised to keep the pages separated to avoid any bleed-through."
Herrera said voters are also typically instructed to place multiple sheets of ballots directly on top of one another. If a machine rejects a voter's ballot because of bleed-through, he added, the ballot will be spoiled and the voter will simply fill out another.
Matt Dietrich, an Illinois State Board of Elections spokesperson, called the claim that felt-tip Sharpie markers were prohibited and unreliable "a myth" and "completely inaccurate."
Dietrich pointed to a statement the Illinois State Board of Elections tweeted the morning of Election Day, Nov. 8. 
"IMPORTANT NOTICE," the top of the statement reads, "Sharpie pens are the preferred ballot marking method for many voting systems. There is no need to be concerned about the use of Sharpies in the polling place. They have been tested and approved to be used on these devices."
The state's Board of Elections also directly responded to the erroneous Awake Illinois tweet about Sharpie pens reportedly being prohibited. 
"Sharpies are an approved ballot marking device for many voting systems," the board replied in a tweet.
Claims saying felt-tip Sharpie markers are barred from Illinois voting booths are inaccurate. We rate them False.
Tweet, Awake Illinois (archived), Nov. 8, 2022
Instagram post, Nov. 7, 2022
Tweet, Illinois State Board of Elections, Nov. 8, 2022
Snopes, "Sharpie Pens ARE Allowed on Illinois Ballots, Despite False Rumor," Nov. 8, 2022
Frank Herrera, Cook County Clerk's Office communications director, interviewed Nov. 8, 2022
Matt Dietrich, Illinois State Board of Elections spokesperson, interviewed Nov. 8, 2022
Browse the Truth-O-Meter
More by Michael Majchrowicz
Support independent fact-checking.
Become a member!
In a world of wild talk and fake news, help us stand up for the facts.