Get PolitiFact in your inbox.
"Governor Kate Brown wants to make Oregon's mask mandate PERMANENT."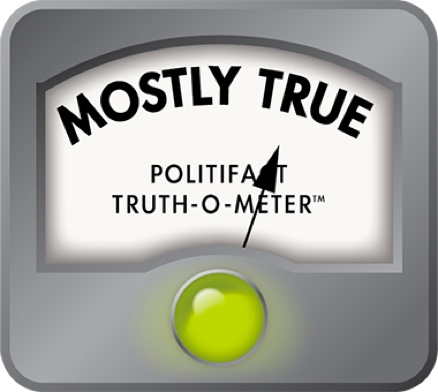 Explaining Oregon's 'permanent' mask mandate in context
If Your Time is short
The state's health department, Oregon Health Authority, has proposed a permanent mask mandate.

Though controversial, the move was intended to address a technical glitch: temporary mask mandates last only 180 days and the current one is expected to expire Feb. 8.

A spokesperson with the agency and the state's epidemiologist said the agency intends to repeal the mandate when public health indicators show the measure is no longer necessary.
A Republican candidate for Oregon's governor warned that her incumbent competitor is taking mask mandates to an extreme.
"Governor Kate Brown wants to make Oregon's mask mandate PERMANENT," read a Jan. 5 post from Christin Drazan, a former state representative challenging Brown, who has held the seat since 2015.
The link in Drazan's post invites people to sign a petition to help stop Gov. Kate Brown from making "Oregon's mask mandate permanent." The petition was shared over 1,000 times.
The claim appears to stem from a proposal by the Oregon Health Authority to create a permanent mask mandate for public indoor spaces. While the claim conjures images of people wearing masks indefinitely, the state has said its plan would allow for the rule to be overturned when the measure is no longer necessary.
Jonathan Modie, lead communicator for the OHA, told PolitiFact that "permanent" doesn't mean that the mandate will last forever — the agency will peel it back when it's deemed safe to do so. 
As the Associated Press reported, "The proposed permanent rule emerged to address a technical glitch in state law that requires the current temporary to expire in early February — after the predicted peak of the omicron wave."
As it is, the agency's mask mandates have been temporary, lasting only 180 days. Oregon's current mandate, for example, began in November 2021 and will last until Feb. 8, at which point the agency must take action to extend it, if needed.
"OHA could rescind the rule as conditions with the pandemic improve," Modie said.
State epidemiologist Dean Sidelinger said during a Jan. 21 press conference that the state would revoke the masking rule when COVID-19 no longer threatens to overwhelm Oregon's hospitals and therapeutic drugs are more widely available.
"We need to look at the number of COVID-19-positive folks in the hospital who are receiving care and the impact on the ability of the hospitals to provide care," Sidelinger said later in a Jan. 28 press release. "What we know right now is that those numbers are still increasing but are anticipated to peak soon — within the next week to week and a half — and then are anticipated to come down rather quickly."
Still, the plan generated plenty of backlash from people who were concerned that the agency would not repeal it. 
Oregon has adopted some of the strictest COVID-19 rules compared to other states. Like much of the rest of the country, the state in recent months has seen a rise in cases from the omicron variant. A chart on the OHA dashboard shows the sharp increase: By Jan. 16, omicron made up 100% of the monitored cases. 
"We are still in the process of formulating our decision about an indoor mask rule, so I don't have any additional info on whether or how any metrics for lifting an indoor mask rule – a question we've gotten a lot – would be integrated into the rule," Modie said on Feb. 3.
Trey Rosser, Drazan's campaign manager, told PolitiFact the campaign was borrowed from the "Governor Brown administration's own words."
"It has no expiration date," Rosser said. "Though it can be repealed, the Oregon Health Authority has provided no information regarding when or by what metrics they would repeal the rule. A rule without an expiration date nor a timeline for repeal is a permanent rule."
We reached out to Brown's office, but did not receive a response for comment. We did not find that Brown herself has weighed in on the proposal to make this mask mandate permanent. But  Brown has defended the decision to take action with mandates in the past, as The Oregonian reported in August 2021: "We're still in the midst of a pandemic and I will take the actions that I need to keep Oregonians safe, healthy and alive and make sure that we have adequate hospital capacity."
Our ruling
In a Facebook petition, Drazan said Oregon's governor wants to make mask mandates permanent.
The state's public health agency, which falls under Brown's administration, has issued a proposal to put a permanent mandate in place in order to extend the mandate without an expiration date, unlike the current temporary mandates. The agency says it will be able to repeal the mandate once it's deemed safe to do so, but it has not provided a date certain for when that might happen. We have not found any evidence that Brown herself has spoken specifically in support of the permanent mandate proposal.
The statement is accurate but needs additional information. We rate it Mostly True.
PolitiFact researcher Caryn Baird contributed to this report.
Christine Drazan Facebook post, Jan. 5, 2022
Oregon Secretary of State, Indoor Masks Notice of Proposed Rulemaking, Dec. 10, 2021
Oregon Secretary of State, Temporary Administrative Order, Aug. 13, 2021
Oregon Secretary of State, Temporary Administrative Order, Nov. 23, 2021
U.S. News, Oregon Residents Decry Proposed 'Permanent' Mask Mandate, Jan. 20, 2022
Oregon Health Authority COVID-19 Update, accessed Feb. 3, 2022
Oregon Public Broadcasting, Oregon Health Authority extends masking rule in schools, Feb. 2, 2022
Oregon Health Authority News Release, Jan. 28, 2022
Klamath Falls News, Drazan testifies in opposition to permanent mask and vaccine mandates [AUDIO], Jan. 25, 2022
Email interview with Jason Modie, lead communicator for the OHA, Feb. 3, 2022
Email interview with Preston Mann, spokesperson for Christine Drazan, Feb. 3, 2022
Christine Drazan, Feb. 3, 2022
The Oregonian, Oregon's indoor mask mandate takes effect Friday: Governor defends timing of decision, Aug. 11, 2021
Browse the Truth-O-Meter
More by Gabrielle Settles
Support independent fact-checking.
Become a member!
In a world of wild talk and fake news, help us stand up for the facts.