Get PolitiFact in your inbox.
The United States' southern border is "basically open" and is "a super spreader event."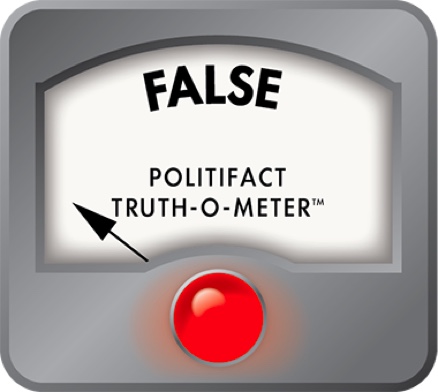 North Carolina school leader repeats false claims about immigration, COVID
If Your Time is short
A pair of school board members in North Carolina suggested that COVID-19 cases are rising because of the Biden Administration's policies at the southern border.
The border is not "basically open," nor are authorities allowing migrants into the country without screening them.
There's no evidence that migrants are driving the current surge of cases in the U.S. or in North Carolina.
In North Carolina, some local school board members are tying the rise in COVID cases on immigrants who are crossing the southern border.
The comments come as school leaders consider mask requirements and other health protocols for the fall semester.
In Union County, located southeast of Charlotte, school board members won't require students or employees to wear masks to start the school year. Board member Gary Sides said he received emails from parents concerned that schools won't be following the latest recommendations from the U.S. Centers for Disease Control and Prevention.
Sides addressed those questions in the board's Aug. 3 meeting, saying he has a "trust issue" with the federal government.
"If you've been following the news, you know that our southern borders — Texas, Arizona, southern parts of California — are basically open," Sides said about 1 hour and 55 minutes into this video, adding later: "If this isn't a super spreader event, I don't know what is."
He concluded by saying: "So, if our government is not going to address" the immigration issue, "then I have a hard time believing what they're instructing the rest of us to do."
A day earlier, Cabarrus County school board vice chairman Tim Furr said something similar: 
"Until this government (stops) letting illegal aliens in by the thousands, coming across this border without masks with COVID, putting them on buses and sending them all over the United States, we're just beating our heads against a wall, because these numbers are going to continue to rise."
Local and national media reported on both men's comments.
So are they right about the border and immigrants driving an increase in COVID cases?
No. PolitiFact recently addressed this theory about cases at the national level. PolitiFact North Carolina found no evidence to substantiate them at the state level, or even in the board members' home counties.
Border policy
Sides said the border is "basically open." Those comments, which aren't true, echo those of Republicans in higher office. 
Florida Gov. Ron DeSantis accused President Joe Biden of causing the current coronavirus surge because he "imported more virus from around the world by having a wide open southern border." PolitiFact rated DeSantis' claim False, while also addressing some misconceptions about Biden's current border policy. 
Border encounters have skyrocketed since January, but it's inaccurate for Sides to say they're "basically open."
While the Biden administration has allowed certain groups of migrants to file for immigration protection, it's also turning away most people under a public health law that Vox once described as an extension of "one of Trump's most anti-immigrant policies." 
In June alone, Border Patrol tallied 103,014 expulsions under the law exercised by Trump, known as Title 42. Human Rights Watch says the rule illegally blocks refugees from their right to seek asylum, and the ACLU recently announced that it is taking the Biden Administration to court.
In fact, one reason border apprehensions are up is because people are attempting to cross multiple times and failing, Nicole Hallett, a professor and director of the Immigrants' Rights Clinic at the University of Chicago Law School, told PolitiFact in July.
"It is simply not true that the border is 'wide open' for 'illegal aliens' to cross," Hallett said. "Customs and Border Protection apprehend individuals attempting to cross between border checkpoints. The border is more secure than ever before. Fewer people are able to cross illegally without being apprehended than at any time in the past."
Immigration a 'super spreader?'
Sides said Biden's immigration policy is a "super spreader event."
There's no concrete definition for a "super spreader event." However, they tend to feature a crowd of people in a small indoor space. Experts also use the term to describe events where one person infects an unusually high number of people. For example, one person at a choir practice in Washington infected 32 of the 61 people who attended.
Experts told PolitiFact it's fair for people to be concerned about the virus spreading among those living in tight quarters, such as migrant detention centers or prisons. They said some migrants may even be contributing to COVID-19 caseloads.
"But given the extensive transmission already in the U.S., the immigration contribution is akin to pouring a bucket of water into a swimming pool," William Schaffner, a professor of preventive medicine at Vanderbilt University, told PolitiFact for its check of DeSantis. "It's hard to measure and pretty trivial."
Experts say there's no proof that immigrants are responsible for surges in cases across the country. In fact, it's very difficult to track where they go after entering the U.S., said Aaron Reichlin-Melnick, policy counsel at the American Immigration Council.
"There is no such data source" tracking where migrants go, he said. "They're going to a wide variety of different locations and the government has privacy rules, so they can't just give out addresses."
It's also wrong for Sides to say migrants aren't screened for COVID-19, which he claims about 1 hour and 57 minutes into this video.
Customs and Border Protection told PolitiFact in April that immigrants are screened for symptoms or risk factors associated with COVID-19. The agency said people presumed to be sick with COVID-19 are sent to local health systems for testing, diagnosis and treatment.
The agency reiterated those practices in a recent statement to the Washington Post. A CBP spokesperson said migrants are given personal protective equipment the moment they are taken into custody and that they're required to wear face masks "at all times."
"If anyone exhibits signs of illness in CBP custody, they are referred to local health systems for appropriate testing, diagnosis, and treatment," the statement says. "CBP takes its responsibility to prevent the spread of communicable diseases very seriously. We value our partners in local communities whose work is critical to moving individuals safely out of CBP/USBP custody and through the appropriate immigration pathway."
Migrants may actually be one of the most-tested groups in the country, Reichlin-Melnick said. 
"Nearly every immigrant who is encountered and released gets COVID tested because they're released to nonprofit organizations," he said. "The nonprofits test everybody because they can't accept someone into their shelter if they have a positive COVID test."
Despite being tested frequently, "the data is pretty clear: Migrants are not testing positive at any higher rate," Reichlin-Melnick said.
Experts pointed out that, if the theory about immigrants were correct, cities along the southern border would likely have disproportionately higher COVID rates than the rest of the country. But that's not the case.  
There's "no increase in COVID-19 cases in areas (around the) border where migrants cross or where they go after crossing," David Wohl, a physician who studies infectious diseases at UNC, told PolitiFact NC.
"More obvious to (almost) any objective observer is that this is scapegoating and conflation of two different issues that have become very political," Wohl said.
Arthur Caplan, director of the division of medical ethics at the New York University Grossman School of Medicine, told PolitiFact the same thing in an interview for the recent check of DeSantis.
"The pattern of distribution of coronavirus cases does not correspond in any way to immigrant movement," Caplan said. 
Cases in North Carolina
It's important to note that COVID cases are rising in North Carolina and across the U.S. because of delta variant infections in unvaccinated people. (Gov. Roy Cooper relayed that analysis from doctors during his most recent press briefing. And experts echoed that message in interviews with PolitiFact NC.)
Whether those North Carolinians are U.S. citizens is not something the Health and Human Services Department tracks. 
So it would be difficult for Sides to prove migrants are responsible for large COVID-19 outbreaks in North Carolina. (Under our rating process, the burden is on the politician or speaker to prove his claim. In this case, Sides didn't respond to our questions.) Gov. Roy Cooper's office has "no information" to support the claims by Furr and Sides, spokeswoman Mary Scott Winstead told PolitiFact NC.
North Carolina does track demographic data such as race and ethnicity that could, in theory, point to migrants as the cause of a major outbreak. But currently, that's not what the data suggests.
According to DHHS data, the state's non-Hispanic population makes up 81% of total cases while its Hispanic population accounts for roughly 19%. (For context, Hispanic people are about 10% of North Carolina's population)
In the week of Aug. 1, the state recorded 14,223 cases among non-Hispanic people. It recorded 2,028 among Hispanic people and counted 8,662 cases for which demographic data wasn't available.
A caveat: the state doesn't have demographic information for every positive COVID case. Sometimes the infected person doesn't disclose their race or ethnicity. But it has ethnicity information for most cases, and the data show that non-Hispanic people have accounted for a majority of cases each week of the calendar year. 
Rachel Graham, who teaches in the epidemiology department at UNC's Gillings School of Global Public Health, says it's possible the case numbers disproportionately represent people who have lifestyles that allow them to get tested for COVID-19 and take off work.
Still, Graham said there's "no evidence" to support Sides' claim, referring to it as political "flame-throwing."
In Sides' home county, statistics aren't much different from state-level data.
In Union County, Hispanic people account for 28% of cases while non-hispanic people account for 72% of cases. The week of Aug. 1, the state counted 321 cases among non-Hispanic people, 73 cases among Hispanic people and 233 cases with missing information. Hispanic people make up 11.5% of Union County's population.
Our ruling
Sides said the border is "basically open" and causing a "super spreader event," also casting immigrants as a key reason COVID cases are rising.
The border is not "basically open." Border Patrol is turning away most people who attempt to enter the country.
Meanwhile, there's no evidence to support the theory that immigrants are the primary cause of increasing COVID cases. National trends show spikes in communities far from the border, and North Carolina data shows that most cases are among non-hispanics.
We rate their claims False.
Video of the Aug. 3 Union County school board meeting.
Story by WFAE, "Union County School Board Makes Masks Optional, Gives Superintendent Raise," posted July 14, 2021.
Story by WSOC, "Local school board member connects spread of COVID-19 to illegal immigration," posted Aug. 4, 2021.
Story by Charlotte Observer, "Another NC county school board member blames immigrants for nationwide spread of COVID," posted Aug. 4, 2021.
Story by Newsweek, "NC School Board Member Blames COVID Rise on 'Illegal Aliens' Crossing Border," posted Aug. 3, 2021.
Story by WBTV, "Heated debate on masks, COVID protocols continue at Union County School Board meeting," posted Aug. 3, 2021.
Story by the Washington Post, "Why we can be confident that the surge in coronavirus cases isn't the fault of immigrants," Aug. 6, 2021.
Story by PolitiFact, "Ron DeSantis' effort to blame COVID-19 spread on migrants is short on evidence," posted Aug. 6, 2021; "US-Mexico border not 'wide open,' most people trying to enter US are turned away," posted July 28, 2021; and "What we know about COVID-19 testing for migrants at the southern border," posted April 12, 2021.
Story by Vox, "Biden is quietly enforcing one of Trump's most anti-immigrant policies," posted April 29, 2021.
Demographic data for North Carolina COVID cases in North Carolina compiled by the Department of Health and Human Services.
Southwest Land Border Encounters and Title 8 Enforcement Actions and Title 42 Expulsions data compiled by U.S. Customs and Border Protection.
Blog by the Cleveland Clinic, "What Are 'Superspreader' Events and Why Should You Avoid Them?" posted Aug. 12, 2021.
Blog by Human Rights Watch, "Q&A: US Title 42 Policy to Expel Migrants at the Border," posted April 8, 2021.
Press release from the ACLU on Aug. 2, 2021: "Immigrants' rights advocates head back to court over Title 42 expulsions."
Email exchange with David Wohl, a physician who studies infectious diseases at UNC.
Phone interview with Aaron Reichlin-Melnick, policy counsel at the American Immigration Council.
Phone interview with Rachel Graham, who teaches in the epidemiology department at UNC's Gillings School of Global Public Health.
Browse the Truth-O-Meter
More by Paul Specht
Support independent fact-checking.
Become a member!
In a world of wild talk and fake news, help us stand up for the facts.