Stand up for the facts!
Our only agenda is to publish the truth so you can be an informed participant in democracy.
We need your help.
I would like to contribute
"Constituents now face reality that all their personal issues will be made public" under Clean Missouri.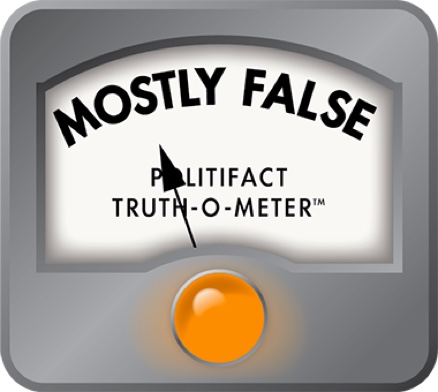 Jean Evans overstates Clean Missouri effects on emails
Missourians overwhelmingly supported Amendment 1, also known as Clean Missouri, in the November election.
The amendment includes changing processes for redistricting, capping campaign contributions and establishing limits on lobbyist gifts.
But one particular issue has become controversial among lawmakers after the amendment's passage. The bill requires that legislative records and proceedings now be open to the public, meaning that all state legislators will now be subject to the Missouri Sunshine Law.
Several Missouri lawmakers have since brought up concerns with the limitations, or lack thereof, of what will have to be made public if a Sunshine Law request is made of them.
"Constituents now face the reality that all their personal issues will be made public," State Rep. Jean Evans said on Twitter.
Later in her Twitter thread, she makes clear that she believes her constituents have lost privacy when sending her emails.
We decided to take a look.
When we reached out to Evans, she directed us to information given to members of the House of Representatives by Chief Clerk and Administrator Dana Rademan Miller.
It isn't a legal opinion, but rather resources that members could use if they received a request under the Sunshine Law. It did, however, provide some clarity on the language and enforcement of the amendment.
In short, state legislators will now become subject to the Sunshine Law and become the custodian, or keeper, of their own records under Amendment 1.
Governmental bodies in Missouri have been subject to the Sunshine Law, but before the passage of the amendment, individual legislators were not considered to be governmental bodies.
Joseph Martineau, primary First Amendment lawyer for the St. Louis Post-Dispatch, said that the law essentially applies the same rules to individual legislators that lower public governmental bodies and the legislative branch already followed.
Jean Maneke, a lawyer at the Maneke law group and legal hotline attorney for the Missouri Press Association, said that it is important to note that in the context of Evans' tweet, the law does not specifically say emails, but rather says legislative records (including electronic ones), and that it will be up to each legislator to decide if they classify emails as legislative records.
Where things get most interesting, however, is the provisions listed in the Sunshine Law, section 610.021, that allow for closure of certain records. The section lists 24 provisions, with several that call for the closure of records for situations dealing with identifiable persons, such as welfare cases, nonjudicial mental and physical health proceedings, and personnel records.   
Sean Soendker Nicholson, from Yes on 1 for a Clean Missouri, said, "There are rules already in place to protect private information when someone submits a Sunshine Law request to the governor or to their mayor, and those will remain in place for Sunshine Law requests that go into politicians."
Maneke believes, however, that things are far from that simple. She was quick to point out that at this stage, everything is interpretation, as there have been no suits filed for a court to rule on. She said that it will be impossible to know for sure until that occurs, but agrees with Nicholson that some public records are closed under the Sunshine Law, and that could be applicable here as well.
Evans said, "Constituents now face reality that all their personal issues will be made public" under Clean Missouri.
All of them? That's unlikely given that the Sunshine Law contains provisions for the closure of certain public records that are more sensitive. It is hard to say that all personal issues emailed to state legislators will be made public without knowing the content of those communications.
The new law gives legislators more responsibility for determining what is appropriate to release under the law. Evans' warning appears to be a broad overstatement of what could occur because of Clean Missouri.
For these reasons, we rate Evans' statement Mostly False.
Browse the Truth-O-Meter
More by Ryan Hanrahan
Support independent fact-checking.
Become a member!
In a world of wild talk and fake news, help us stand up for the facts.