Get PolitiFact in your inbox.
Says Tammy Baldwin's record includes "opposing harsher punishments for criminals who commit violent crimes near schools."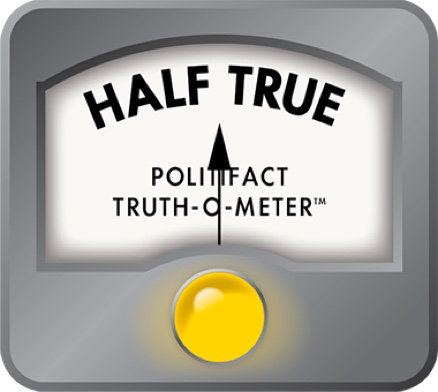 Leah Vukmir cites old vote in claim against Tammy Baldwin over school safety
Does Democrat Tammy Baldwin oppose tougher punishments for crimes that happen near schools?
That's what Republican U.S. Senate hopeful Leah Vukmir claimed in a June 1, 2018, news release. In it, Vukmir claimed that Baldwin's record shows her "opposing harsher punishments for criminals who commit violent crimes near schools."
The state senator, who is one of the two major Republican candidates hoping to face Baldwin in November, repeated the claim a few days later on The Jay Weber Show on WISN-AM.
But is the claim as straightforward as it seems?
Here's the evidence:
Baldwin's 1995 vote
The claim is based on Baldwin's vote against Assembly Bill 159 in 1995. The bill called for increased penalties for those who commit violent crimes inside school zones.
Vukmir's news release, posted on her campaign website, includes a link to records that show Baldwin did vote against the bill, which passed 84-16. (Fifteen of the "no" votes were cast by Democrats.)
At the time, Baldwin was a member of the Assembly representing Madison. The proposal was advocated by Republican Gov. Tommy Thompson who pushed for it in his budget plan.
We could not locate any news articles from the time that included comments on why Baldwin voted against the measure. And campaign spokesman Bill Neidhardt refused to comment on why Baldwin voted against the bill.
Steve Walters, a longtime Capitol reporter who is now executive producer for WisconsinEye, noted that after the 1994 election the Assembly was under Republican control for the first time in 24 years. The following year, Senate control flipped between the two parties. The measure was passed when the Republicans had Senate control.
At the time, Walters said, the Republicans -- including Scott Walker, then an Assembly member -- were passing a number of anti-crime bills. So the bill, and Baldwin's vote, followed a pattern of Democratic resistance to Republican legislation.
What did the bill do?
The measure defined school zone as anywhere within 1,000 feet of a school, at bus stops and on school buses. Among the enhanced penalties that became law:
-- Allowing judges to add 100 hours of community service to a sentence at their discretion. The community service addition was capped at 40 hours for children convicted of a violent crime who are 12 or 13 years old.
-- Increasing the time in prison for felonies by five years and the penalties for misdemeanors by three months in the county jail.
So, there is at least one instance where Baldwin voted against a bill that proposed stricter penalties for those who commit crimes in school zones.
Other evidence
But the same year Baldwin voted against Assembly Bill 159, she supported a bill that prohibited individuals convicted of a serious child sex crime from working or volunteering with children. And a year earlier, in 1994, Baldwin voted for Assembly Bill 194, which increased penalties for illegal drug dealing within 1,000 feet of a facility where youth are present.
In recent years, as a member of the U.S. Senate, she voted in favor of two acts aimed at protecting children from sex offenders: the International Megan's Law in 2015 and the Adam Walsh Reauthorization Act in 2016.
While these votes do not necessarily concern schools, Neidhardt argued that the single vote in 1995 does not accurately reflect Baldwin's history of voting to keep children safe.
This is not the first time we examined a claim Vukmir made against Baldwin based on a vote from more than 20 years ago.
In the same news release, Vukmir claimed Baldwin opposed displaying the American flag, singing the national anthem and saying the Pledge of Allegiance in schools. We rated a tweeted version of the claim, which was built into a broader attack on Baldwin's patriotism, Mostly False.  
That vote related to expanding existing requirements as they related to the flag and anthem, which is slightly different than the claim we are examining here. In this case, the measure created new penalty enhancements in school zones, so a vote against it more clearly represented opposition to the underlying idea from Baldwin.
Our rating
Vukmir said Baldwin's record includes "opposing harsher punishments for criminals who commit violent crimes near schools."
That vote on Assembly Bill 159 did happen -- 23 years ago. But in using it as an example of Baldwin being out of step with public sentiment, Vukmir ignores other votes -- including ones from the time that had greater penalties for crimes related to children.
That amounts to cherry picking.
In our book, that rates Half True.
Jay Weber Show, radio broadcast July 6, 2018
Leahvukmir.com, press release, June 1, 2018
Wisconsin State Legislature, Assembly Bill 159
Wisconsin State Legislature, Assembly Journal
Wisconsin State Legislature, Wisconsin Act 22
Milwaukee Journal Sentinel Archives, "Budget plan boosts governor's power Some offices weakened; new agencies created" by Steve Walters, February 14, 1995
Email exchange with Bill Neidhardt, spokesperson for Tammy Baldwin, July 29, 2018
Email exchange with Mattias Gugel, spokesperson for Leah Vukmir, July 9, 2018
Email exchange with Steve Walters, senior producer, WisconsinEye, August 1, 2018
Support independent fact-checking.
Become a member!
In a world of wild talk and fake news, help us stand up for the facts.