Stand up for the facts!
Our only agenda is to publish the truth so you can be an informed participant in democracy.
We need your help.
I would like to contribute
"Michael Untermeyer has been a Democrat for more than 40 years."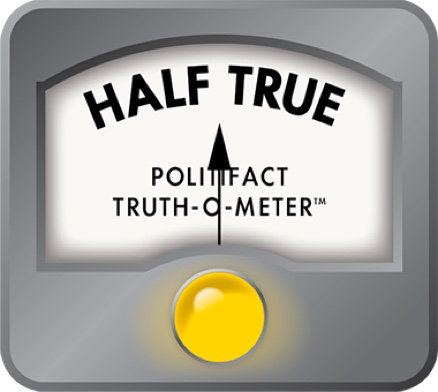 Philly DA candidate who used to be GOP: Actually I've almost always been a D
The race to become the Democratic nominee to be district attorney of Philadelphia is anyone's game at this point, but two candidates have traded barbs more than the rest.
Democrats Joe Khan and Michael Untermeyer, both former prosecutors, have spent the last several weeks launching negative attacks against each other ahead of the Tuesday primary. One of the most recent is a television ad spot put out by the Untermeyer campaign that connects Khan to the Bush Administration.
In the ad, a narrator also claims that "Michael Untermeyer has been a Democrat for more than 40 years." But a spokesman for Khan's campaign said that's "laughable," pointing out that Untermeyer twice ran for local political office as a Republican and told a columnist last fall that "only a Democrat can win this office." So who's right?
Prior to the current race to be the Philadelphia district attorney, Untermeyer unsuccessfully ran for political office three times. In 2007, he ran for sheriff as a Democrat; in 2009 he ran for district attorney as a Republican; and in 2011 he ran for City Council, also as a Republican.
Sam Miller, a spokesman for Untermeyer's campaign, said Untermeyer has been a Democrat for more than 40 years in total, but not consecutively. He said Untermeyer, who is 66, first registered as a Democrat in New York ahead of the 1972 presidential election, when the campaign says he voted for Democratic Sen. George McGovern, who lost to then-President Richard Nixon.
Miller said Untermeyer moved to Philadelphia in the 1980s and remained a registered Democrat through 2009, when he switched his party registration to Republican before his first run for district attorney. Untermeyer addressed this himself in a 2009 Philadelphia Inquirer profile, saying before his run for DA: "I was a Democrat until, like, 10 weeks ago."
The writer continued: "The Democratic field for district attorney was crowded, and, [Untermeyer] said, he joined the race too late to become known before tomorrow's primary. He figured that as a Republican, he'd be the lone candidate and have until November to present himself."
Untermeyer's current campaign says he switched back to Democrat in 2014, meaning that he would have been a registered Democrat for a total of about 41 years. Their claims about party switching in the 2000s also check out. City records show Untermeyer changed his registration from Democrat to Republican in February 2009, then switched back from Republican to Democrat in July 2014.
But counties in Pennsylvania switched to a statewide voter registration system in the early 2000s, so there's no record of Untermeyer's party affiliation in current voter systems from prior to 2006. The earliest voter registration form the campaign could produce was from 2003 and showed Untermeyer was a registered Democrat at the time.
The Board of Elections in New York City wasn't able to pull Untermeyer's voter history, and the New York state Board of Elections confirmed Untermeyer is no longer a registered voter in New York. That office also was unable to pull historical data on Untermeyer's party affiliation there.
So though Untermeyer has taken heat from Khan's campaign for his past voter registration, his campaign is unable to prove he was a registered Democrat before 2003. But there's also no evidence suggesting the contrary.
The Untermeyer campaign is defending their candidate's "progressive" values, saying he has believed in the priorities "of the Democratic Party since he was at least 12 years old," producing a letter dated June 1963 from the Office of President John F. Kennedy that was responding to a correspondence from Untermeyer advocating for passage of civil rights legislation.
Our ruling
In a recent campaign ad, a narrator claimed Michael Untermeyer "has been a Democrat for more than 40 years."
There's nothing to suggest that isn't true, though the campaign was unable to produce — and PolitiFact was unable to locate — any voter registration forms from prior to 2003. But the claim is leaving out a caveat: He wasn't a Democrat for more than 40 years consecutively, and it certainly wasn't the last 40 years. Untermeyer spent five of the last 10 years as a registered Republican.
We rate the claim [Half True/Mostly True/True].
Email. Cox, Brandon. Spokesman for Joe Khan for District Attorney. May 11, 2017.
Email. Miller, Sam. Spokesman for Michael Untermeyer for District Attorney. May 11, 2017.
News article. "GOP candidate for Phila. district attorney is driven." Philadelphia Inquirer. Accessed via Newsbank on May 11, 2017.
Voter registration records. Philadelphia City Commissioners. Accessed May 11, 2017.
Voter registration records. Provided by Michael Untermeyer for District Attorney campaign. Accessed May 11, 2017.
News article. "Featherman: Ex-GOP candidate for DA switching parties, trying again." Philadelphia Inquirer. Oct. 6, 2016.
Browse the Truth-O-Meter
More by Anna Orso
Support independent fact-checking.
Become a member!
In a world of wild talk and fake news, help us stand up for the facts.