Stand up for the facts!
Our only agenda is to publish the truth so you can be an informed participant in democracy.
We need your help.
I would like to contribute
"Toomey crossed party lines… to stop gun sales to suspects on the terror watch list."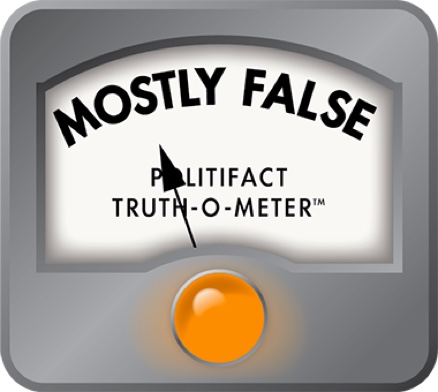 Did Pat Toomey 'cross party lines' to tighten gun laws for suspected terrorists?
As Pennsylvania Republican Sen. Pat Toomey battles for re-election in one of the most important senate races in the nation, it's been his record on guns that's drawn some of the most attention.
It's apparently part of why former New York City Mayor Michael Bloomberg endorsed Toomey, and Bloomberg's political action committee is now running ads in support of Toomey that tout his efforts to "put our safety ahead of partisan politics."
The Independence USA PAC bankrolled an ad running in Pennsylvania that claims "Toomey crossed party lines twice: first to support background checks, and now to stop gun sales to suspects on the terror watch list."
We've written before about Toomey signing on in 2013 and putting his name on a bill that would have expanded background checks. But what about his efforts to stop gun sales to suspects on the terror watch list?
Toomey's record there is a bit murkier.
To be clear: A bill that would stop gun sales to suspects on any sort of terror watch list has not passed. Efforts were made after the June shooting in Orlando at Pulse Nightclub, the deadliest mass shooting in American history, which left 49 people and the shooter dead. But those efforts were fruitless.
There were several major bills drafted in the wake of Orlando that would have closed what's been called "the terror loophole," or would make it harder for suspected terrorists on the federal government's radar to buy guns. Two such bills -- both with largely partisan backing -- were brought up for a vote on June 20 and both were defeated.
Proponents of a ban on gun sales to those on a terror watch list say individuals who are suspected terrorists appear on a no-fly list, but are still allowed to purchase guns. Opponents worry individuals who accidentally end up on the no-fly list would be stripped of their second amendment rights.
The Democrats' bill was a plan by Sen. Dianne Feinstein of California, and her bill would have placed a blanket ban on the purchase of guns by those on the no-fly list, as it was dubbed "no-fly, no buy." Some Republicans argued her bill didn't give an out to people who may have ended up on the watch list mistakenly.
Two Republicans voted in favor of Feinstein's bill. Toomey wasn't one of them, saying the bill didn't include enough due process for potential gun owners.
The majority of Republicans supported a bill from Sen. John Cornyn, of Texas. His measure, which was backed by the National Rifle Association, would have placed a three-day hold when anyone on the terror watch list attempted to purchase a gun. Within those three days, the government would have to present a case before a court in order to stop the person from buying the firearm.
Though Toomey said in June that it would be hard for law enforcement to make Cornyn's measure "workable," he voted in favor of it in the end.
Toomey also drafted his own bill to close the terror loophole, which he touted as a measure that would bridge the gap between the Feinstein and the Cornyn amendments. Under Toomey's plan, the U.S. attorney general would generate a list of "likely terrorists" separate from the existing no-fly list. The Foreign Intelligence Surveillance Court would review the list, and the attorney general would have the power to block the purchase of a gun by an individual on that list.
But Toomey's bill largely flopped. Though he was reportedly in talks with gun control group Everytown for Gun Safety, the group ultimately didn't endorse his proposal. Republican leaders didn't put it up for a vote, and Democrats largely opposed it.
When PolitiFact reached out to Toomey's campaign to inquire about his record when it comes to closing the terror loophole, his campaign pointed out that Toomey was one of eight Republicans to support an amendment from Sen. Susan Collins, R-Maine, that would have given the Justice Department the ability to deny gun sales to individuals on two terror-related lists -- and it had an appeal process.
That bill, which Toomey spoke on the Senate floor in favor of, had bipartisan support and survived a "test vote" several days after the Feinstein and Cornyn amendments failed. That showed that the bill had significant support, but not the 60 votes it would need to advance -- meaning GOP leaders probably won't bring it up for a full vote any time soon.
Independence USA, which is running the ads in Pennsylvania, didn't respond to a request for comment.
Our Ruling
In an ad running in Pennsylvania, the Independence USA PAC backed by Mayor Michael Bloomberg claimed "Toomey crossed party lines… to stop gun sales to suspects on the terror watch list."
This ad is misleading at its core, largely because a measure to stop gun sales to suspects on the terror watch list never passed. Toomey's own bill failed to garner significant support from either side of the aisle. Though he voted for the Collins amendment which had bipartisan support, that amendment was drafted by a Republican.
In the end, Toomey voted with his party when he voted against Feinstein's bill and in favor of Cornyn's. We rate the claim Mostly False.
Email, Kwong, Ted. Pat Toomey's spokesman. Aug. 10, 2016.
News article. "Pat Toomey's gun control bill and Katie McGinty's post-Orlando slam." PolitiFact. June 15, 2016.
News article. "U.S. Sen. Pat Toomey's gun bill struggles to gain support." Ellwood City Ledger. June 17, 2016.
News article. "Collins gun plan survives test vote, remains in limbo." Politico. June 23, 2016.
Vote count, Senate Democrats. Roll Call Vote on Feinstein amendment #4720 (background checks). Jun, 20, 2016.
Vote count, Senate.gov. U.S. Senate Roll Call Votes 114th Congress - 2nd Session. June, 20, 2016.
Browse the Truth-O-Meter
More by Anna Orso
Support independent fact-checking.
Become a member!
In a world of wild talk and fake news, help us stand up for the facts.