Stand up for the facts!
Our only agenda is to publish the truth so you can be an informed participant in democracy.
We need your help.
I would like to contribute
"Austin is the safest big city in Texas."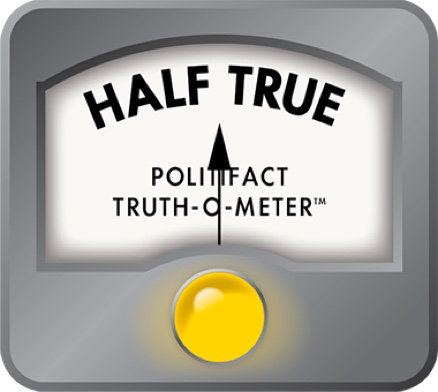 Steve Adler calls Austin safest big city in Texas
Austin Mayor Steve Adler, urging transgender members of the military threatened by President Donald Trump to come to work for the Texas capital's law enforcement agencies, ran out several tweets including a July 26, 2017, post stating: "Austin is the safest big city in Texas partly because we know our differences make us a stronger community."
A reader asked us to check: Is Austin the state's safest big city?
Mayor cites Texas Monthly
We asked Adler how he reached his conclusion. By email, Adler spokesman Jason Stanford advised that Adler relied on a Texas Monthly "Daily Post" story on FBI crime statistics published the day that Adler tweeted.
The story includes a headline declaring Austin the state's safest city. In the main, the story says that according to data compiled by the FBI covering 2015 and part of 2016, Odessa by far had the state's highest violent crime rate, 1,070.1 violent crimes reported per 100,000 residents, up 25 percent from 2014. The FBI classifies as violent crimes murder and nonnegligent manslaughter, forcible rape, robbery and aggravated assault.
"It's long been noted that Austin is something of a fairytale land where violence is rare, and at least compared to the rest of the state, that tends to bear out," the story says, going on: "Although Austin's violent crime rate of 287.7 per 100,000 is slightly up from 2013, it's grown at a much slower rate than any comparably safe city over the past couple of years, putting Austin in the top spot for safe Texas cities."
FBI says don't compare jurisdictions
We noticed, though, the story didn't mention a consistent FBI advisory against employing its statistics to compare jurisdictions.
Since at least 2011, the FBI has said it "strongly discourages" using FBI Unified Crime Reporting statistics to compare communities. That note said: "Rankings ignore the uniqueness of each locale." The FBI admonished in May 2017: "Data users should not rank locales because there are many factors that cause the nature and type of crime to vary from place to place."
When we asked FBI spokesman Stephen Fischer to evaluate Adler's claim, Fischer replied by email: "Since crime is a sociological phenomenon influenced by a variety of factors, the FBI discourages ranking the agencies and using the data as a measurement of law enforcement effectiveness." Fischer passed along elaboration from FBI analyst Loretta Simmons: "Comparisons lead to simplistic and/or incomplete analyses that often create misleading perceptions adversely affecting communities and their residents. Valid assessments are possible only with careful study and analysis of the range of unique conditions affecting each local law enforcement jurisdiction."
Austin, big city?
Another consideration is whether Austin fairly ranks as a big city in comparison to, say, Houston, Dallas or San Antonio.
This year, before rating Half True U.S. Rep. Beto O'Rourke's description of his hometown as the nation's safest city, we noted that CQ Press--which annually reports on crime rates using FBI statistics--enables adjustments based on population density--and if you impose a density of at least 2,720 residents per square mile, Austin and El Paso fall out of its big-city crime rate rankings. That density squeeze, we found, left San Antonio with the No. 6 lowest crime rate nationally, Dallas at No. 12 and Houston at No. 17.
Austin region's violent crime rate
Another wrinkle: The crime rates cited by Texas Monthly were not city-specific, instead taking into account metropolitan statistical areas. This means the touted Austin figures reflected crimes tallied through Travis, Williamson, Hays, Bastrop and Caldwell counties.
That said, the Austin area in 2015 had a lower violent-crime rate than any of the state's other regions, we confirmed in our own break-out of what's posted by the FBI. Austin's rate of 287.7 violent crimes per 100,000 residents greatly trailed the Odessa area's No. 1 state rate of 1070.1 violent crimes per 100,000 residents. Meantime, the Austin region's murder/nonnegligent manslaughter rate of 2.2 per 100,000 residents ranked third behind the rates for less-populous Wichita Falls (1.3 per 100,000 residents) and Brownsville (1.6 per 100,000 residents); the Longview area had the state's highest rate (10.1 per 100,000 inhabitants).
LOWEST VIOLENT CRIME RATES, TEXAS METRO AREAS, 2015
| | |
| --- | --- |
| REGION | VIOLENT CRIME RATE |
| Austin-Round Rock | 287.7 per 100,000 residents |
| Tyler | 295.7 |
| College Station-Bryan | 315.5 |
| McAllen-Edinburg-Mission | 298.1 |
| Brownsville-Harlingen | 299.8 |
| Midland | 322.3 |
| Sherman-Denison | 327.1 |
| San Angelo | 329.3 |
| Dallas-Plano-Irving | 330.6 |
| Wichita Falls | 334.5 |
More recent FBI data
Our own look into FBI crime reports further showed that in January 2017, the agency released its preliminary report tabulating crimes in each U.S. city of 100,000 population or greater in the first half of 2016.
From those figures, we roughed out the violent crime rate for each of 35 Texas cities (not metro areas) listed in the report. Our finding: Austin (population about 948,000 as of July 2016) ranked 21st in the state with a violent-crime rate of 209 incidents per 100,000 residents--trailing cities including El Paso (population about 683,000) with 195 violent crimes per 100,000 inhabitants); Laredo (192 violent crimes per 100,000 residents); Midland (186 violent crimes per 100,000 people); and the capital's northern suburb, Round Rock (73 violent crimes per 100,000 inhabitants). See our chart here.
When we alerted Stanford to what we found, he replied by email that Adler compares Austin solely to the state's biggest cities, specifying Houston, San Antonio, Dallas and Fort Worth.
El Paso safer?
Separately, our web search turned up an April 2017 ranking of Texas cities for public safety by Pittsburgh-based Niche, a self-described "blend of data scientists, engineers, parents, and 'yinzers' who are passionate about helping you discover the schools and neighborhoods that are right for you."
Starting from FBI statistics, Niche says, it based the public-safety grades on each city's assault and robbery rates and, to lesser degrees, local rates of murder, burglary, vehicle theft and larceny plus resident responses to questions about local crime and safety.
Niche ranked Austin No. 22 nationally among "best cities to live in America" though the city landed a public-safety grade of C+ -- like El Paso, Brownsville, Midland, Laredo, Wichita Falls and Tyler. Faring better, Plano, Richardson, College Station, and McAllen each had a public-safety grade of B-minus, per Niche, with Round Rock ranking fifth nationally thanks to its public-safety grade of B.
Criminologist: Comparisons 'chancy'
We also queried Northeastern University criminologist James Alan Fox about Adler's claim. By email, Fox said he's determined that per FBI figures, Austin in 2015 had the lowest homicide rate among 51 U.S. cities with at least 300,000 residents and at least 20 homicides; Austin's rate was 2.5 for every 100,000 residents, narrowly besting San Diego's 2.6 rate, according to a table Fox provided. Among Texas cities Fox evaluated, Houston had the highest homicide rate, 13.3 per 100,000 residents.
Does that arguably make Austin the safest big city in Texas? Fox said by phone that such judgments are hard to cement because cities differ in many ways including, for instance, how suburban they happen to be. "There are a whole bunch of reasons cities differ that have nothing to do with safety," Fox said, "that have nothing to do with police and how they're doing their job. That's why it's chancy to make those kinds of comparisons."
Our ruling
Adler called Austin the safest big city in Texas.
As we've said before — and as experts keep stressing — using crime data to declare one city "safer" than another is fraught with peril. That said, FBI statistics suggest the five-county Austin region in 2015 had a lower violent-crime rate than other Texas regions. But El Paso had a lower violent-crime rate than Austin in the first half of 2016.
Adler's claim adds up to a statement that's partly accurate while lacking important context. We rate it Half True.
---
HALF TRUE – The statement is partially accurate but leaves out important details or takes things out of context. Click here for more on the six PolitiFact ratings and how we select facts to check.
Emails, Jason Stanford, communications director, Austin Mayor Steve Adler, Aug. 2 and 16, 2017
Story, "The Cities Climbing On The FBI's List Of The Most Dangerous Cities in Texas Aren't Where You Might Think," Texas Monthly, July 26, 2017
Truth-O-Meter article, "Beto O'Rourke relies on disputed rankings to call El Paso America's safest city," April 14, 2017
Web post, "Uniform Crime Reporting Statistics: Their Proper Use," FBI, May 2017
Emails, Stephen Fischer, chief, Multimedia Productions, Criminal Justice Information Services Division, FBI, Aug. 2 and 16, 2017
Chart, "Crime in the United States by Metropolitan Statistical Area, 2015," FBI, Sept. 26, 2016 (accessed Aug. 2, 2017)
Web pages showing population estimates for Austin, El Paso, July 1, 2016, from "Annual Estimates of the Resident Population: April 1, 2010 to July 1, 2016," Community Facts, American FactFinder, U.S. Census Bureau, May 2017
Chart showing crime rates in Texas Metropolitan Statistical Areas, 2015, FBI (PolitiFact Texas compilation, August 2017)
Press release. "Preliminary Crime Stats for 2016 Released," FBI, Jan. 9, 2017
PolitiFact Texas chart showing violent crime rates for 35 Texas cities based on report, "Preliminary Semiannual Uniform Crime Report, January–June, 2016," FBI, Jan. 9, 2017 (chart created Aug. 16, 2017)
Web pages, "2017 Safest Places to Live in America," "2017 Safest Cities to Live in America," "2017 Safest Places to Live Methodology," "Places to Live, Austin," "Places to Live, Round Rock," "Places to Live, Plano," "Places to Live, Richardson," "Places to Live, McAllen," "Places to Live, College Station," Niche.com, April 17, 2017 (accessed Aug. 16, 2017)
Phone interview and emails, James Alan Fox, Lipman Family Professor of Criminology, Law & Public Policy, Northeastern University, Aug. 16, 2017
Chart showing homicide rates in cities with at least 300,000 residents and at least 20 homicides, 2015 (received by email from James Alan Fox, Aug. 16, 2017)
Browse the Truth-O-Meter
More by W. Gardner Selby
Support independent fact-checking.
Become a member!
In a world of wild talk and fake news, help us stand up for the facts.