Stand up for the facts!
Our only agenda is to publish the truth so you can be an informed participant in democracy.
We need your help.
I would like to contribute
Creflo Dollar has endorsed Republican Donald Trump for president.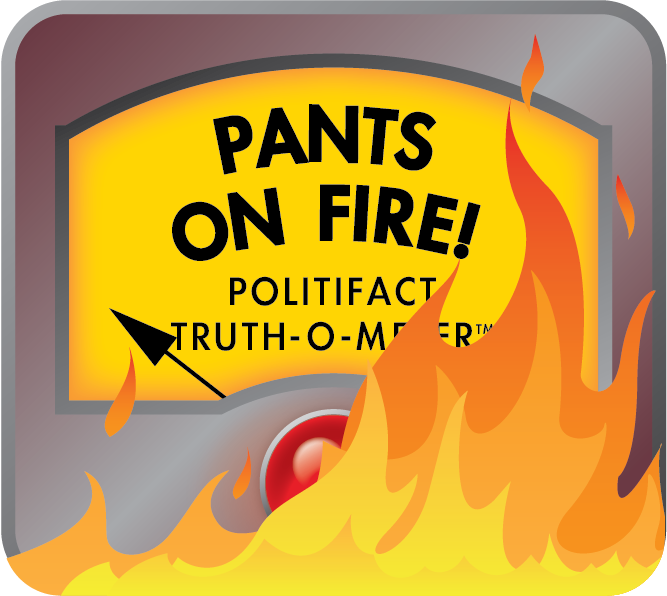 They both like expensive jets, but Creflo Dollar did not endorse Donald Trump
Well, they both like expensive jets.
A new round of reports blazed across the internet again recently with this unlikely premise: Flamboyant Pastor Creflo Dollar of metro Atlanta -- who once tried to raise $65 million from his flock to buy a top-of-the-line Gulfstream  jet -- has endorsed Republican presidential hopeful Donald Trump.
The reports first surfaced a month or so back, died down and reignited recently as the campaign rhetoric between forces backing Trump and Democrat Hillary Clinton, well, escalated. Several readers have asked PolitiFact Georgia to take a look.
We did, and what we got was an education on how misinformation -- or just plain made-up "news" --  is spread loud, and, like Jason in the "Halloween" movies,  comes howling back to life even after it is disproven.
Dollar is an internationally known American televangelist and pastor of the nondenominational World Changers Church International, which is based in College Park, a suburb south of Atlanta.
A year or so back, Dollar and other leaders at World Changers Church International launched Project G650. The goal: Raise nearly $65 million for a  luxury jet, largely from $300-plus donations from 200,000 of the faithful.
One rationale given for buying the aircraft was that the church needed to be able to carry thousands of pounds of food and other goods to other parts of the world. Trouble is, the plane is designed to carry billionaires and their golf clubs, not large quantities of relief supplies.
That food/relief argument never got off the runway, and PolitiFact Georgia gave Dollar a Pants on Fire rating.
As PolitiFact quickly discovered, the Dollar-endorses-Trump rumor also crashes and burns.
This time around, Dollar was the target of a satirical online site The Biz Standard News (as in BS News), which first "reported" in late May that Dollar was endorsing Trump.
This is how the Standard defines its own site: "The Business Standard News is a satirical site designed to parody the 24-hour news cycle. The stories are outlandish, but reality is so strange nowadays they could be true."
The Standard piece quoted the pastor as saying: "God came to me in a dream last night and said that Trump is his chosen candidate. God apologized for the mixed messages he was sending. I now know that Trump has been touched by the hand of God."
The piece also had Dollar comparing Trump to the biblical figure John the Baptist.
The initial piece of satire received little attention. But then a legitimate online news site,  WordOnDaStreet.com, mistook this fake story as real news and two months ago rehashed the article on its website.
It was quickly picked up by numerous other media outlets and went viral.
Soon, there were YouTube videos -- all fake -- purporting to show Dollar's support for Trump.
Dollar, meanwhile, refuted the reports, writing on his Facebook site Aug. 25 that he has endorsed no one in the race for president.
The post stated: "At World Changers Church International, I nor the ministry endorse any political party or candidate; nor do we advise our members who to vote for. Any reports stating that I have endorsed Donald Trump for President are false. I have not endorsed any candidate and do not plan to."
Snopes.com, the site known for sniffing out bogus reports, also looked at the
Dollar-Trump endorsement and found it to be flatly false.
Our ruling
Social media sites have buzzed with the "news" that metro Atlanta Pastor Creflo Dollar has endorsed Trump.
Those reports are based on a satirical news site. A parody on that site was picked up as legitimate news and went viral.
Dollar has dissed the reports as categorically untrue. Which they are.
We rate the reports Pants on Fire.
https://www.sharethefacts.co/share/a48cab2e-8372-4b1c-b664-df4e586073df
Christian Times article on Creflo Dollar
WordOnDaStreet article on Creflo Dollar
Business Standard site
Creflo Dollar's Facebook page
YouTube video on Creflo Dollar "endorsement"
YouTube video on Creflo Dollar
YouTube video denying Dollar endorsement
YouTube video about Creflo Dollar controversy
Snopes.com article on Tump and Dollar
Browse the Truth-O-Meter
More by Jim Tharpe
Support independent fact-checking.
Become a member!
In a world of wild talk and fake news, help us stand up for the facts.