Stand up for the facts!
Our only agenda is to publish the truth so you can be an informed participant in democracy.
We need your help.
I would like to contribute
"U.S. Sen. Johnny Isakson has voted for $7 trillion of our national debt!"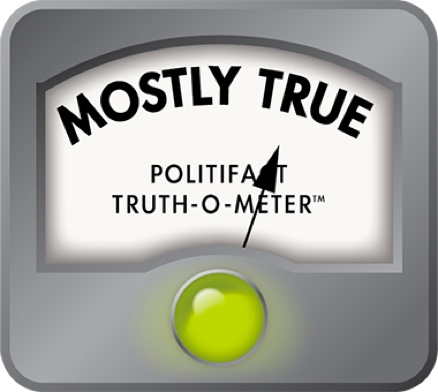 Libertarian Buckley on target about GOP's Isakson and federal debt
Libertarian U.S. Senate candidate Allen Buckley knows he faces an uphill battle in his campaign to unseat Republican U.S. Sen. Johnny Isakson.
Libertarians usually pull only low single-digits of the overall Georgia voter turnout. And Isakson is a veteran lawmaker and a founding member of the state Republican establishment, which today holds sway over all statewide offices.
Buckley ran unsuccessful campaigns for U.S. Senate in 2004 and 2008. But in 2008, he won  enough votes in the general election to force a runoff between Republican Saxby Chambliss and Democrat Jim Martin.
An  Atlanta tax attorney, Buckley thinks he has an issue that will resonate with voters if he can only get them to  pay attention and understand the gravitas of the soaring federal debt.
"U.S. Sen. Johnny Isakson has voted for $7 trillion of our national debt!" Buckley states on his website as part of a graphic about Isakson votes to raise the federal debt limit.
Is that possible? Has Isakson, who has pushed for a balanced budget amendment and who also blasts the federal debt on his campaign website,  actually assisted the spending spree?
PolitiFact Georgia decided to take a look.
Buckley and Democrat Jim Barksdale will face Isakson in the November election.
We first contacted Buckley, who said the graphic refers to Isakson's repeated votes to raise the federal debt limit, which essentially means raising the cap on what the government is permitted to spend to pay the bills.
"I believe Mr. Isakson has, irresponsibly and immorally, voted to grow the federal government through debt spending to the detriment of young people and our country." Buckley said in an email. He later added: "He largely created the mess and then voted to fund what he created."
Buckley said Isakson voted for debt-bloating items like the war in Iraq and the Medicare prescription drug benefit and subsequently voted for debt-ceiling increases to cover the cost of the increased spending.
Isakson's campaign manager, Trey Kilpatrick, dismissed Buckley assertions, but did not dispute Isakson's vote to raise the debt limit.
"Mr. Buckley is trying to mislead voters by citing debt ceiling votes (required for solvency) without citing Johnny's votes against trillions of dollars in unnecessary spending, including voting against a minimum of $5 trillion in debt ceiling votes alone, or his vote for the Budget Control Act, which cut spending by over $2 trillion and, according to the Heritage Foundation, 'has shrunk the size of government more effectively than any budget tool in a generation," Kilpatrick wrote in an email.
The debate over the federal debt comes at an interesting time.
The nonpartisan Congressional Budget Office earlier this month  released a report that warned of vastly increased federal debt when compared to the Gross Domestic Product over the next three decades.  Federal debt held by the public was 39 percent of GDP in 2008, but is now about 75 percent, the budget office said. That could rise to 86 percent by 2026 and a whopping 141 percent by 2046.
"The prospect of such large debt poses substantial risks for the nation and presents policymakers with significant challenges," the budget office warned.
The CBO said the government's spending growth is outpacing revenues as spending soars for popular programs like Social Security and  Medicare and interest on the government's existing debt.
The most popular programs cost a lot to maintain,  and neither Democrats nor Republicans want to be blamed for cuts, experts told PolitiFact.
PolitiFact consulted political and budget experts across the county. Their verdict: Buckley has a point about Isakson's spending votes, but there is a lot of context missing.
University of Virginia political scientist Larry Sabato said many of the most popular federal programs are also the most expensive. That puts politicians of all stripes in a difficult spot.
"Some, like Social Security, Medicare/Medicaid, Defense spending, interest on the debt etc. are bigger than others," Sabato said.  "Given that many of these categories are mandatory, it's hard to imagine that any member of Congress hasn't cast votes that effectively increase the amount of debt the country incurs."
Chris Edwards, an economist with the Cato Institute, said that by voting for debt-limit increases members of Congress have "kicked the can down the road" on the government's debt problem.
"Voting for annual deficit-financed budgets causes the accumulated debt to rise, but voting to increase the legal debt limit—as Isakson and others do regularly—ratifies the unsound practice of endlessly spending more than is taken in," Edwards wrote in an email.

Kennesaw State University political scientist Kerwin Swint said voting  to raise the debt ceiling is not quite the same thing as voting to create new programs or authorize new spending items
"The alternative to not raising the debt ceiling is shutting down the government," Swint said.
Buckley's claim is "technically accurate of course but totally misleading," saidAlan Abramowitz, a political scientist at Emory University.
Abramowitz said the U.S. should  take advantage of extremely low interest rates to borrow more money to invest in much needed infrastructure improvements and other projects.
"It cannot be emphasized enough that the debt obsession of some conservative politicians and pundits is totally misplaced at a time when the investing community is practically begging to purchase U.S. treasury notes at extremely low interest rates," Abramowitz said.
Our ruling:   
Libertarian U.S. Senate candidate Allen Buckley proclaimed on his campaign website: "U.S. Sen. Johnny Isakson has voted for $7 trillion of our national debt!"
Isakson did indeed vote to raise the debt ceiling, so Buckley has a valid point.
But the alternative would be risking a government shutdown. That said, Buckley also pointed at that Isakson voted for some of the very programs that bloated the debt in the first place.
We rate his claim Mostly True.  
https://www.sharethefacts.co/share/678c89f4-52af-4e46-a0c6-780d26e73caf
July 11 email from Larry Sabato
July 11 email from Kerwin Swint
July 11 email from Chris Edwards
July 12 email from Charles Bullock
June 30 email from Isakson aide Marie Gordon
July 5 memo from Allen Buckley
July 11 email from Alan Abramowitz
July 12 telephone conversation with Allen Buckley
Dec. 18, 2015 Politico article on spending bill
Dec. 16, 2013 Washington Post article on spending bill
Allen Buckley for Senate website
Johnny Isakson campaign website
Federal debt analysis by Cato Institute
Federal debt grows article, The Hill
U.S. Sen. David Perdue on growing federal debt, The Chattanoogan.com
CBO long-term budget outlook
\
Browse the Truth-O-Meter
More by Jim Tharpe
Support independent fact-checking.
Become a member!
In a world of wild talk and fake news, help us stand up for the facts.