Stand up for the facts!
Our only agenda is to publish the truth so you can be an informed participant in democracy.
We need your help.
I would like to contribute
Says Donald Trump "brings in hundreds of foreign workers to replace Americans."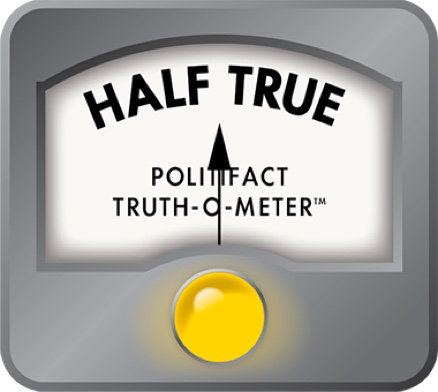 Donald Trump attacked for bringing in hundreds of foreign workers on H-2B visas at Mar-A-Lago
Donald Trump has promised to be the "greatest jobs president that God ever created." But he's also been attacked for his record of hiring foreign workers.
A Ted Cruz ad that aired in Indiana attacked Trump's use of temporary foreign visas known as the H-2B program:
"Trump still brings in hundreds of foreign workers to replace Americans," stated the narrator.
Cruz dropped out of the presidential race May 3 after losing Indiana, but we suspect Democrats will be happy to launch this same attack line at Trump in the months to come. So we decided to look into it.
The bottom line: Trump did try to hire hundreds of foreign workers at his Mar-A-Lago resort in Palm Beach, although it's unclear just how many actually took jobs. The workers also weren't necessarily replacing Americans, but filled temporary jobs locals allegedly couldn't do or didn't want.
Mar-A-Lago foreign workers
Trump's Mar-A-Lago Club in Palm Beach County is an oceanfront eating club designed for the 1 percenters. The club's website describes itself as offering "an incomparable, royal lifestyle" in a historic 126-room mansion. It offers a beach and pool, a spa and fine dining for those who can afford the $100,000 initiation fee.
The club's director of human resources referred us to the campaign for this fact-check, and a campaign spokeswoman did not respond.
The charge that Trump hires foreign workers revolves around the club seeking H-2B visas for low-skilled workers such as cooks, wait staff and housekeepers. H-2B visas are legal — Congress has set the cap at 66,000 per year — and its agricultural counterpart is the H-2A visa. Nationwide for both programs, the vast majority of the workers are young Mexican men, although news reports say Trump sought workers from Europe.
Employers argue they need these temporary workers to fill jobs Americans don't want, while critics say the workers can be exploited. Since the visas are tied to a particular job, the foreigners can't simply jump ship for a better paying job at another resort, and unlike Americans, they may be reluctant to raise any complaints with their employers.
Since 2010, nearly 300 U.S. residents applied or were referred for jobs at Mar-A-Lago, but only 17 were hired, the New York Times reported. Meanwhile, Mar-A-Lago sought more than 500 visas for foreign workers. (The visas were also sought at some of his other properties.) We don't know how many people actually used the visas and became employees. A spokesman for the State Department said that information is kept confidential.
To obtain the visas, businesses must prove they tried but couldn't fill positions with Americans or legal residents. According to the Florida Department of Economic Opportunity, the resort posted jobs through CareerSource Florida, the local workforce development boards throughout the state.
A U.S. Labor Department spokesman told PolitiFact Florida that 93 people applied for 250 seasonal job openings. Four were hired, while 79 didn't answer interview requests or turned down jobs (10 applications were classified with unknown status).
Documents the resort later filed with the Labor Department showed that many of the American applicants weren't hired because they didn't meet requirements. Some applicants didn't want to work split shifts, or didn't have enough experience. Many wanted full-time jobs instead of part time, or didn't respond when the resort contacted them. One applicant said they only were applying as a prerequisite to continue getting unemployment.
After that process, the Labor Department certified 685 H-2B visas for the Mar-A-Lago Club between 2008 and 2015.
News reports suggested Mar-A-Lago did the bare minimum to meet legal requirements to try to recruit U.S. workers. For example, CNN wrote that job openings were placed in a local newspaper with small circulation for just two days rather than a larger newspaper.
Nationally, while employers claim there are labor shortages in lower- and semi-skilled occupations, "there is no credible evidence that such labor shortages exist," wrote Daniel Costa, an immigration expert at the left-leaning Economic Policy Institute, in a paper in January.
The New York Times asked Trump why he hired so many foreign workers when Americans applied for the same positions.
"The only reason they wouldn't get a callback is that they weren't qualified, for some reason," Trump replied. "There are very few qualified people during the high season in the area."
But some experts question Trump's assessment that it's hard to find local help.
In 2015, CareerSource assisted in placing nearly 1,800 candidates in hospitality jobs in Palm Beach County. But Mar-A-Lago didn't show much interest in using the free service.
Tom Veenstra, senior director of support services at CareerSource in Palm Beach County, told PolitiFact Florida that the first time his office received a request for helping finding workers was September 2015. (That was shortly after one of the first news reports, by Reuters, about Trump's foreign hiring practice.)
Since that time, Mar-A-Lago used the office to hire just one person, a banquet server.
"We called the HR director after the hire, and she said they were pleased with the hire and the candidates we sent them," Veenstra said. "There has been nothing else since then."
There are plenty of local applicants, said Greg Schell, an attorney in Palm Beach County who represents foreign workers.
"The local job fairs for hotels and other hospitality jobs are overwhelmed with applicants," he said.
Our ruling
A Cruz ad says that Donald Trump "brings in hundreds of foreign workers to replace Americans."
Federal labor records show Trump sought visas for hundreds of foreign workers to fill temporary positions at his Mar-A-Lago Club in recent years. Hundreds of U.S. applicants either applied or were referred for the jobs, but only a handful were hired. There is some debate about whether those applicants were qualified or not.
Cruz makes it sound like foreign workers took jobs from Americans already in positions, but that's not the case. It's an ongoing debate whether there were qualified Americans who would have been willing to work the seasonal, part-time service jobs for which the club was hiring.
The statement is partially accurate but leaves out important details. We rate it Half True.
https://www.sharethefacts.co/share/3005282b-5e81-43c3-8528-a8e96171c7a7
Ted Cruz campaign, TV ad, May 2, 2016
Mar-A-Lago, Website, Accessed May 3, 2016
U.S. Department of Homeland Security Citizenship and Immigration Services, H-2B Temporary Non-Agricultural Workers, Accessed May 3, 2016
U.S. Department of Homeland Security Citizenship and Immigration Services, Application for visas, Accessed May 3, 2016
Economic Policy Institute, The H-2B temporary foreign worker program
Reuters, "Donald Trump's Companies have sought visas to import at least 1,100 workers," Aug. 15, 2015
CBS4, "Exclusive: Trump's Use Of Foreign Workers In Florida Questioned," Sept. 22, 2015
Palm Beach Post, "Why is 'job-creator' Trump hiring foreigners at Mar-a-Lago?" Sept. 27, 2015
New York Times, "Donald Trump to Foreign Workers for Florida Club: You're Hired," Feb. 25, 2016
CNN, "Trump's Mar-a-Lago hires hundreds of foreign workers," March 18, 2016
Associated Press, "Trump used foreign student labor he pledges to ban," March 14, 2016
MSNBC, "Trump Continues Fox Battle in MSNBC Interview," Sept. 24, 2015
Politico, "New immigration fight looms in Congress," May 3, 2016
PolitiFact, "We Googled 'Trump Polish workers.' Here's what we found," Feb. 25, 2016
PolitiFact Florida, "5 things to know about the fight between Marco Rubio and Ted Cruz on immigration," Jan. 6, 2016
Florida Department of Economic Opportunity, Mar-A-Lago job postings, accessed March 7, 2016
U.S. Department of Labor, Mar-A-Lago applications for temporary employment certification (H-2B), accessed April 8, 2016
U.S. Department of Labor, OFLC performance data, accessed May 3, 2016
Government Accountability Office, H-2A and H-2B visa programs, March 2015
Interview, Brian Phillips, Ted Cruz campaign spokesman, May 3, 2016
Interview, Egan Reich, U.S. Department of Labor spokesperson, May 3, 2016
Interview, Morgan McCord, Florida Department of Economic Opportunity spokeswoman, May 3, 2016
Interview, William Cocks, State Department Bureau of Consular Affairs spokesman, May 3, 2016
Interview, Steven Camarota, Center for Immigration Studies spokesman, May 3, 2016
Interview, Greg Schell, Migrant Farmworker Justice Project Florida Legal Services attorney, May 3, 2016
Interview, Ben Johnson, American Immigration Lawyers Association executive director, May 3, 2016
Browse the Truth-O-Meter
More by Joshua Gillin
Support independent fact-checking.
Become a member!
In a world of wild talk and fake news, help us stand up for the facts.