Stand up for the facts!
Our only agenda is to publish the truth so you can be an informed participant in democracy.
We need your help.
I would like to contribute
"Every year there is a slightly smaller percentage of American households owning guns."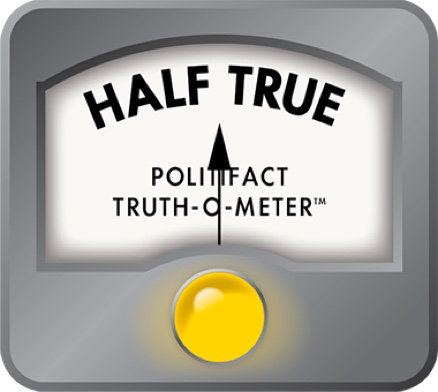 Bill Clinton says percentage of gun-owning households dropping every year
There's a bottom-line reason why the National Rifle Association doesn't want to broaden background checks on gun buyers, former President Bill Clinton said during a recent rally in Richmond for his wife's presidential campaign.
"The NRA and the gun manufacturers know that every year there is a slightly smaller percentage of American households owning guns," Clinton, a Democrat, said during the Feb. 24 speech at the Hippodrome theater.  
"So what they have to do every time somebody says 'Would you please give us three days to do a background check and maybe a little more if we don't have consolidated mental health records' … they go nuts and say, 'Well this is the beginning of the end. They're violating the Second Amendment. They're coming after your gun.'"
We wondered whether Clinton was correct that, every year, there's a slow and steady decline in the proportion of households that own guns.
The former president's spokesman, Angel Urena, pointed us to one article on The Huffington Post and another in The New York Times about gun ownership.
Both items focused on findings about gun ownership in polls conducted by the General Social Survey at the University of Chicago. Since 1973, the survey has asked people whether anyone in their home owns a gun.
The results show that the high-water mark was in 1977, when 50.4 percent of households had firearms. Since then, the survey found there's been a long-term decline in the percentage of households with guns, which dropped to 31 percent in 2014 - the latest survey available.
The decline largely occurred during the 1990s. Researchers say much of the long-term decline was caused by a drop in the popularity of hunting.
But contrary to Clinton's claim, the percentage of households possessing firearms hasn't decreased every year. Since 2000, the percentage has been fairly static, bobbing slightly up and down.
Here's what the survey has found in its more recent polls. Keep in mind the survey is conducted every two years. The figures show the percentage of households with guns:
•2000;  32.4 percent
•2002:  33.5 percent
•2004:  34.7 percent
•2006:  33.1 percent
•2008:  34 percent
•2010:  31.1 percent
•2012:  33.1 percent
•2014:  31 percent  
Gun rights advocates have criticized the survey's gun ownership number as being too low. The NRA estimates that 40 percent to 45 percent of households have guns.
Gallup also has been surveying household gun ownership for decades but comes up with different percentages and a different long-term trend than the General Social Survey. Unlike the General Social Survey, it finds almost no long-term decrease in gun-owning households: It was 43 percent in the 1972 and 41 percent last year. In between, the roller coaster trend line constantly rises and falls.
The pattern essentially holds up if you look at recent years: 41 percent of households owned guns in 2000 and in 2015. In between, there are many peaks and valleys.
Let's look at one last series of polls on household gun ownership by the Pew Research Center. It found that 45 percent of households owned a gun in 1993, and that decreased to 33 percent in 2013 - the last year Pew surveyed on the question.
But as with the other polls, the decrease is barely discernable when starting at 2000. That year, 35 percent of households had firearms. Fast forward to 2013, when it was 33 percent. In between those two years, the percentages once again bob up and down.
How should we take all these confusing poll results? Perhaps with a grain of salt.
Pew said in a March 2013 report that there's "no definitive data source from the government or elsewhere on how many Americans own guns or how gun ownership rates have changed over time. Also, public opinion surveys provide conflicting results: Some show a decline in the number of households with guns, but another does not."
Our ruling
Bill Clinton says "every year there is a slightly smaller percentage of American households owning guns."
Although polls on gun-owning households are erratic, you can make a plausible argument they show a long-range downward trend. Clinton cites a series of surveys by the University of Chicago that show a drop of 19 percentage points since the early 1970s.
Another set of polls by Gallup show the five-decade drop is 2 percentage points. A third series of polls by Pew shows a decrease of 12 percentage points since 1993.
But much of the downward movement occurred in the 1990s, and Clinton goes overboard by saying the percentage is going down "every year." All three surveys show the yearly percentages have been fluctuating in recent years and that, since 2000, the drop is about 1 or 2 percentage points.
We rate Clinton's statement Half True.
Former President Bill Clinton's comments at the Hippodrome Theater rally, Feb. 24, 2016.
Email from Angel Urena, press secretary for Bill Clinton, March 2, 2016.
General Social Survey, "Trends in gun ownership in the United States, 1972-2014," March 2015.
General Social Survey, "Gun ownership in the United States: Measurement issues and trends," January 2014.
Gallup, "Guns," accessed March 2, 2016.
Gallup, "Self-reported gun ownership in U.S. is highest since 1993," Oct. 26, 2011.
Pew Research Center, "Gun ownership trends and demographics," March 12, 2013.
The Huffington Post, "Fewer and Fewer Americans own guns," May 21, 2015.
The New York Times, "Share of homes with guns shows 4-decade decline," March 9, 2013.
National Rifle Association, "2014 NRA-ILA firearms fact card," March 26, 2014.
Time, "This chart shows the hidden problem in America's gun debate," March 10, 2015.
Newsweek, "U.S. gun ownership declines," March 10, 2015.
The Washington Post, "America has more guns in fewer hands than ever before," March 5, 2015.
Fox News, "Is gun ownership really down in America?" March 12, 2015.
Crime Prevention Research Center, "Problems with using the General Social Survey to measure gun ownership," Nov. 19, 2013.
Pew Research Center, "January 2013 political survey," Jan. 9-13.
Browse the Truth-O-Meter
More by Sean Gorman
Support independent fact-checking.
Become a member!
In a world of wild talk and fake news, help us stand up for the facts.