Get PolitiFact in your inbox.
On eliminating the influence of money in policy campaigns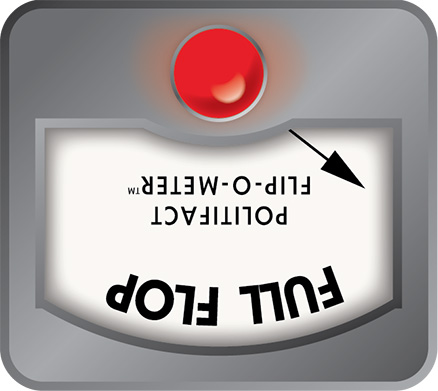 The dark money that helped pass a soda tax and the mayoral candidate who opposed it
Philadelphia Mayor Jim Kenney made it clear during his candidacy that he was against the use of dark money in politics. But his months-long campaign to make Philadelphia the first major U.S. city with a soda tax benefitted from just that.
In 2015, when Kenney was running for mayor, he threw support behind a bill in City Council that aimed to remove dark money from elections. "I support Council President Clarke's bill," he said of the measure, according to the Philadelphia Tribune. "And, as mayor, I will fight to eliminate the influence of money in campaigning and governance."
Which brings us to Monday, when Philadelphia Magazine revealed that a pro-soda-tax nonprofit, which paid for a television ad campaign, was funded with dark money. Philadelphia law does not place the same limits on policy campaigns as elections. Lobbyists backing legislative actions only have to report donors who give more than a tenth of their cash overall. Reporting these larger contributions is required not on a frequent basis, but a quarterly one. Philadelphians for a Fair Future is a coalition that counts a deep list of local nonprofits, advocacy groups, unions and community organizations as members. Aside from the rallying that came from within its ranks and the commercials, the group also backed polls.
Kenney absolutely supported the efforts of Philadelphians for a Fair Future. At the press conference announcing their formation, he introduced them. "It's going to be an air war. It's going to be a ground war, and there are going to be lobbyists out the wazoo, all right? And they're going to be making big money doing it," he said, according to Newsworks. "These," Kenney said of the nonprofit, "are my lobbyists."
Committee of 70 president David Thornburgh said addressing the lack of transparency should trump placing limits on civic campaign contributions. "In a perfect world, those contributions and/or expenditures would be required to be reported in as near to real time as possible," he said. "The technology doesn't stand in the way. We could literally do this same day if we wanted to. That's the best antidote to the sense that there's something fishy going on here."
Michael Bloomberg, the largest donor according to Philadelphia Magazine, gave roughly $1.5 million to Philadelphians for a Fair Future. Without a full public accounting, there's no way to know how much funding the nonprofit received from donors like that.
Kevin Feeley, a spokesman for Philadelphians for a Fair Future told PolitiFact PA the nonprofit will disclose "all of its donors" with the next filing, due July 30. This means the coalition would be reporting more than it is legally required to.
Dark money was a topic of conversation during the lead-up to the mayoral primary last year, especially after candidate Lynne Abraham called on her fellow candidates to reject such funding. Kenney told Newsworks, "We don't have the capacity to ban 'dark money.' It's the United States Supreme Court that said they're allowed to do it, and they're doing it.
"If you can get me some idea of how I can stop them from doing it other than turning off everyone's televisions, I don't know what it is I can do. Am I glad it exists? No. But it exists, and I didn't create the situation. I assume I'm going to see something negative about me that I won't like coming from one of those [independent expenditure groups]. But, that's life until the Supreme Court changes a ruling."
Philadelphians for a Fair Future is not able to submit additional filings between the quarterly schedule as updates. The group is able to share the names of donors as it pleases for public reading. According to Feeley, no such plan exists.
The current lobbying law was the city's first ever; it passed in 2010. It would take another City Council ordinance to lower the 10-percent threshold, and require lobbying to report more donors contributions. Kenney has yet to support such reforms publicly.
"Of course, not everything can be done in the administration's first six months, so we anticipate future action on campaign finance reforms in the months and years to come," Kenney's spokeswoman Lauren Hitt said in an email.
"The mayor is open to reforms related to lobbying, campaign finance or regulations specific to the use of 501(c)4s in policy pushes like the soda tax," she later clarified.
Our Ruling
Kenney told the Philadelphia Tribune, "As mayor, I will fight to eliminate the influence of money in campaigning and governance."
In regards to reforming the current city lobbying law, he hasn't "fought" to tighten it.
Philadelphians for a Fair Future's pro-soda tax efforts were well-funded civic campaigns that did not come out of the mayor's office. He did call them his lobbyists however. Kenney did not distance himself from the group that, so far, has not shared its full donor list.
A concern on current reporting requirements is not solely on their totality, but on their frequency. We cannot expect to know all the donors until a month from now.
Kenney did not push for lobbying law reform during the soda tax debate, and he isn't at present.
We rate Kenney's promise on eliminating dark money in politics a Full Flop.
"Kenney releases 'ethical, accessible and transparent government' policy paper," Newsworks, March 23, 2015
"Pro-soda tax group will disclose donors, spokesman says," Newsworks, March 25, 2016
"Meet the Dark Money Forces Behind Philly's Soda Tax," Philadelphia Magazine, June 27, 2016
Email, Kevin Feeley, spokesman for Philadelphians for a Fair Future, June 27-28, 2016
Email, Lauren Hitt, communication director for Mayor's Office, City of Philadelphia, June 27-28, 2016
"Philadelphia Board of Ethics, Regulation No. 9, Lobbying," Philadelphia Board of Ethics, 2012
'Dark Money' ban gets support from Williams, Kenney," Philadelphia Tribune, April 25, 2015
Browse the Truth-O-Meter
More by Cassie Owens
Support independent fact-checking.
Become a member!
In a world of wild talk and fake news, help us stand up for the facts.