Get PolitiFact in your inbox.
"Neighborhoods have become more violent" under President Barack Obama's "watch."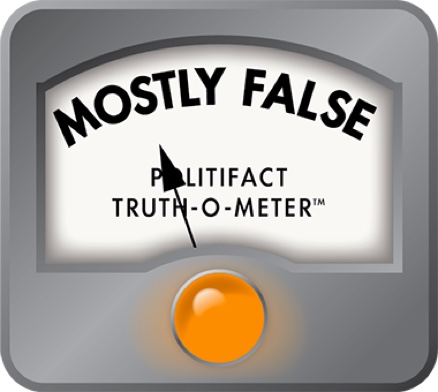 Darryl Glenn: 'Neighborhoods have become more violent' under Obama's watch
U.S. Senate candidate Darryl Glenn, a Colorado Republican, chided President Barack Obama that violent crime had escalated under his presidency during Glenn's Monday night speech at the Republican National Convention.  
"Here's some more facts, Mr. President. Neighborhoods have become more violent under your watch," Glenn said.
But is that true? Has violent crime worsened in neighborhoods during Obama's tenure?
Law enforcement experts warn against politicians distorting crime trends in an effort to grab voters' attention.
Anticipating that speakers would focus on the convention's first day theme -- "Make America Safe Again" -- the Brennan Center for Justice at New York University predicted, "Their narrative will likely parallel recent statements from presumptive Republican presidential nominee Donald Trump, who has said, 'Crime is out of control, and rapidly getting worse.'" 
"The claim is not supported by data. Nationally, crime has dropped 23 percent since 2006," the Brennan Center said, citing an analysis it released last month. The Brennan Center advocates for what are generally considered liberal policies, including reforms to reduce the prison population and increase rights for voters.
Glenn and other speakers, including former New York Mayor Rudolph Giuliani ("It's time to make America safe again"), pounded the national security theme.
But experts countered with a dose of a reality, saying crime rates remain at a historic low.
Let's take at a closer look at Glenn's claim. Violent crime -- which includes murder, rape, robbery and aggravated assault -- has been falling on an almost uninterrupted basis since the early 1990s. The data below shows violent crime per 100,000 population from 1993 to 2014, the last full year for which data is available.
We also looked at the other widely used data set -- the National Crime Victimization Survey, collected by the Justice Department.
Here, the trend looks quite similar:
But there was a spike in violent crime rates in the first six months of 2015 that drew news coverage.
In January 2016, the FBI released a Preliminary Semiannual Uniform Crime Report that showed overall increases in the number of violent crimes reported for the first six months of 2015 when compared with figures for the same period of 2014. The number of rapes increased 9.6 percent, murders increased 6.2 percent and aggravated assaults increased 2.3 percent. Property crimes were down.
The New York Times reported in August 2015 that at least 35 cities were reporting increases in murders, violent crime or both. But the Times later issued a clarifying editorial titled "False Alarms About a National Crime Wave." It pointed to "unmistakable longer-term trends: The rate of violent crime, including murder, has been going down for a quarter-century, and is at its lowest in decades. On average, it is half of what it was in 1990, and in some places even lower."
In April, the Brennan Center issued a final analysis on 2015 trends, saying that overall crime rates in America's 30 largest cities were nearly identical from 2014 to 2015. Crime declined over that time period by 0.1 percent. "The data show that crime rates remain at historic lows nationally, despite recent upticks in a handful of cities," the report said.
Violent crime rose "slightly," by 3.1 percent, the report said, pointing out that aggravated assaults in Los Angeles accounted for more than half of the national rise in violent crime.
Yet the report noted: "The 2015 murder rate rose by 13.2 percent in the 30 largest cities, with 19 cities seeing increases and 6 decreases."
The murder rate continues to rise in some some cities. Chicago, a city plagued by gang violence, had 332 murders through July 10 -- a 43 percent jump over the same period last year, according to the Chicago Police Department.
One expert cautioned against the pitfalls of reading too much into a snapshot of crime figures.
"You need to take six months of crime data, not just with a grain of salt but the entire shaker," said James Alan Fox, the interim director of the School of Criminology and Criminal Justice at Northeastern University. "I can point to situations where crime patterns seen for the first six months are reversed once the year is over. Because six months is a fairly narrow window of time."
Fox also questioned Glenn's claim.
"If (Glenn) is pointing at the first six months of 2015 as evidence of what happened during Obama's watch, then clearly you don't judge eight years (of his presidency) on half a year," Fox said. "We are at relatively low crime levels, and it would be incorrect to say that street violence has gotten worse under Obama's watch."
Fox suspects the idea of rising crime is steeped more in anecdotal news reports than hard statistical trends.
We asked Glenn about PolitiFact's findings that violent crime has steadily declined in recent decades.
"Well, when you're saying the crime rate ... we're in a position right now where I think people would argue whether or not the crime rate has gone down," Glenn said in an interview after his speech. He did not cite any specifics about national or neighborhood crime statistics.
We'll also note that by citing Obama's "watch," Glenn seems to suggest that he bears some blame for rising crime. However, while some presidential policies may contribute to increases or declines in crime, they are only one of many factors that shape how much crime there is in the nation, including demographics, gang warfare, and broader economic trends.
Our ruling
Glenn said, "Neighborhoods have become more violent under your watch," referring to President Obama.
Overall, violent crime trends have been falling almost continuously for roughly a quarter-century.
Glenn has a point that violent crime has increased in some neighborhoods. The 2015 murder rate rose by 13.2 percent in the nation's 30 largest cities -- with three cities accounting for more than half of the national increase in murders. 
One expert said it was "inaccurate" for Glenn to claim violent neighborhood crime has increased during Obama's "watch," because violent crime overall has declined during his eight years as president.
We rate this claim Mostly False.
https://www.sharethefacts.co/share/719b61b9-f913-4163-b3dc-c29d123ef4cb
Brennan Center for Justice, "A Fact Check on Crime: Safety Takes Spotlight at Republican Convention," July 18, 2016
Interviewed Darryl Glenn on July 18, 2016
Interviewed James Alan Fox of Northeastern University on July 19, 2016
PolitiFact, "Donald Trump said, 'Crime is rising.' It's not (and hasn't been for decades)," June 9th, 2016
FBI, "Crime in the United States 2014," Table 1, by Volume and Rate per 100,000 Inhabitants, 1995–2014
FBI, "Crime in the United States 2012," Table 1, by Volume and Rate per 100,000 Inhabitants, 1993–2012
Bureau of Justice Statistics, Crime Victimization 2014, August 2015
Washington Post, "Rudy Giuliani's exceptionally enthusiastic denunciation of Hillary Clinton, annotated," July 18, 2016
"FBI Releases Preliminary Semiannual Crime Statistics for 2015," January 19, 2016
New York Times, "Murder Rates Rising Sharply in Many U.S. Cities," August 31, 2015
New York Times, "False Alarms About a National Crime Wave," November 27, 2015
Brennan Center for Justice, "Crime in 2015: A Final Analysis," April 20, 2016
Chicago Police Department, Crime Report for the Week of July 4 through July 10, 2016
Browse the Truth-O-Meter
More by Alan Gathright
Support independent fact-checking.
Become a member!
In a world of wild talk and fake news, help us stand up for the facts.