Get PolitiFact in your inbox.
"90% of rural women and 55% of all women are illiterate" in Morocco.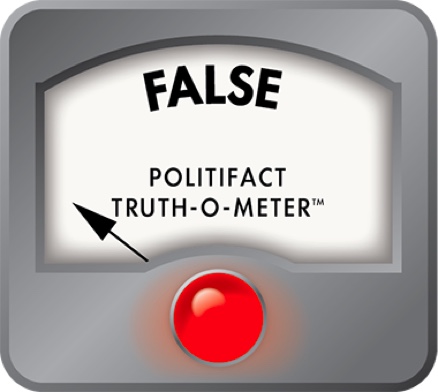 Snapchat highlights decades old data as part of Michelle Obama visit to Morocco
Factual claims are apparently now like Pokémon. They can be anywhere.
We stumbled across an interesting factoid recently while flipping through a Snapchat story documenting First Lady Michelle Obama's visit to West Africa and Morocco from June 27 to July 1. Obama just joined Snapchat, if you're interested.
Snapchats disappear, but we were able to grab a screengrab with a sobering claim about illiteracy rates among women in Morocco. The snap had the headline "Moroccan illiteracy" and said that "90% of rural women and 55% of all women are illiterate."
Is that true? Or should this claim disappear right along with your Snapchat?
We wanted to find out.
Tracking the claim to its source
The journey of this claim is particularly interesting, and shows the perils of how incorrect or outdated statistics can be repeated over and over.
The snap cites as its source a blog post by Vital Voices, a non-profit that advances women's causes around the globe.
That actually is a reposting of an article from the IntLawGrrls website, a blog dedicated to discussion of international law and policy. The original IntLawGrrls post is from September 2011 and was written by Christie Edwards, the current director of international humanitarian law at the American Red Cross.
Edwards claimed in her piece that "recent surveys in Morocco estimated the country's illiteracy rate to be approximately 55 percent of all women. Fully 90 percent of rural women in Morocco are illiterate."
Edwards' blog cites a UNICEF table of statistics.
But that table doesn't correspond to her figures.
The UNICEF table only lists an overall literacy rate of 74 percent for women 15-24 in Morocco (or an illiteracy rate of 26 percent). It makes no mention of illiteracy rates for a wider age range of women or for rural women specifically.
So we asked Edwards where she got her data from.
A spokeswoman told us the statistic actually comes from a 2004 USAID report on education in the Muslim world.
That report includes, without citation, the following passage: "Literacy levels remain very low: 63 percent for men and 38 percent for women. Illiteracy is a particular problem for women in rural areas, where nine out of 10 women are illiterate."
The claim that nine out of 10 rural Moroccan women are illiterate goes back even further, to a 1996 USAID resource request report that claims, "Women remain especially disadvantaged by low literacy (13% of rural women are literate)."
So to recap, a 2016 Snapchat relies on a crosspost of a 2011 blog that erroneously cites UNICEF data when in fact it's coming from a 2004 USAID report that is using a 1996 USAID resource request as is its foundation.
If that sounds fishy, it is.
Illiteracy in Morocco
To find out the current illiteracy rate among Moroccan women, we examined public records maintained by UNESCO's Institute for Statistics. The website's profile on Morocco lists a literacy rate of around 62.05 percent for women aged 15 years and older in 2015, which translates to an illiteracy rate of 37.95 percent. (Correction: An earlier version of this fact-check listed a different percentage.)
The database doesn't give specific information about illiteracy for rural versus urban women.
Leonardo Menchini, the head of the social inclusion section at UNICEF Morocco, shared the most recent data on illiteracy rates for urban and rural populations with PolitiFact. UNICEF's data come from the 2014 Moroccan census.
The takeaway: illiteracy remains an issue for females in Morocco, but not near the levels seen in the Snapchat.
Our ruling
A Snapchat story featuring First Lady Michelle Obama claimed that, in Morocco, "90% of rural women and 55% of all women are illiterate."
That data is, in some cases, at least 20 years old -- way older than Snapchat.
The claim cites old data from a report in 2004, that tracks back to a 1996 USAID request report. The most recent information from UNESCO and UNICEF indicate that Morocco's illiteracy among women is still relatively high (60 percent in rural areas and 42 percent overall), but much lower than what the snap says.
We rate this claim False.
https://www.sharethefacts.co/share/452873e9-e53d-4ae9-9483-c9f7c3576d83
Email with Jenelle Eli, International Communications at the American Red Cross, July 7, 2016
Email interview with Leonardo Menchini, head of the social inclusion section at UNICEF Morocco, July 8, 2016
Haut Commisariat au Plan, "Data from the 2014 general census of population and housing," accessed July 8, 2016
Snapchat, "Moroccan illiteracy," June 30, 2016
USAID, "Results review and resource request," March 1996
USAID, "Strengthening education in the muslim world," April 2004
UNESCO Institute for Statistics, "Morocco," accessed July 8, 2016
UNICEF, "At a glance: Morocco," accessed July 7, 2016
Vitalvoices.org, "Morocco's future depends on women," September 17, 2011
Browse the Truth-O-Meter
More by Joseph Cariz
Support independent fact-checking.
Become a member!
In a world of wild talk and fake news, help us stand up for the facts.