Stand up for the facts!
Our only agenda is to publish the truth so you can be an informed participant in democracy.
We need your help.
I would like to contribute
"In Congress, (Cresent Hardy) voted to defund DACA."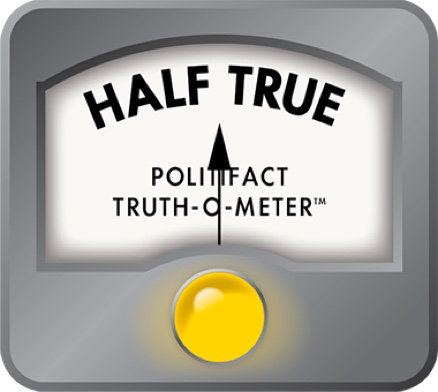 On DACA funding, Ruben Kihuen oversimplifies votes taken by Republican opponent Cresent Hardy
Democratic congressional candidate Ruben Kihuen is accusing his Republican opponent of voting to defund programs that protect millions of people not legally in the country from being deported.
At a recent press conference celebrating the fourth anniversary of President Barack Obama's signing of the Deferred Action for Childhood Arrivals program, or DACA, the state senator directly accused incumbent Republican Rep. Cresent Hardy of voting to defund the program.
"In Congress, he voted to defund DACA," Kihuen said. "He voted to get rid of the DACA program."
Hardy represents one of the nation's few true swing districts. We decided to check this claim because the topic of immigration reform is critical in a district with a huge Latino population.
Reviewing Hardy's voting record and public statements on the topic of DACA funding presents a more complex picture than the one Kihuen asserts.
DACA funding
Kihuen's claim refers to House amendments on a 2015 Department of Homeland Security funding bill. The debate turned into a political fight over Obama's immigration executive orders.
Several amendments sought to block funding to DACA and similar programs. Then-Speaker John Boehner said the measures were in response to Obama "unilaterally" rewriting immigration law through executive orders.
But Hardy and fellow Nevada Republicans Joe Heck and Mark Amodei broke with their party, joining 23 other Republicans in voting against an amendment defunding the original 2012 DACA program. It still passed on a 218-209 vote.
The three Nevadans fell back in the party fold on a separate amendment blocking funding of Obama's expanded DACA program and a separate executive order shielding parents of U.S. citizens or lawful residents from deportation (commonly known as DAPA). That amendment passed on a larger 237-190 vote margin.
At the time, Hardy's office said his votes represented a desire to not take away rights already granted to people in the program, but he was still opposed to what he called the president's "executive overreach" in creating the programs.
Hardy (and the other Nevada House Republicans) voted in favor of the final funding bill that included the amendment defunding DACA. The final bill languished in the Senate (Hardy signed on to a letter demanding the measure be taken up) until nearly reaching the point where the department would run out of funds. Republican leadership eventually stripped out the contentious immigration riders attached to the funding bill.
Hardy voted in favor of the "clean" spending bill, joining Democrats and 74 other Republicans to pass the measure and send it to President for approval just hours before the funding deadline.
In a statement at the time, Hardy decried the "unacceptable, unconstitutional and temporary" immigration executive orders, but said voting for the funding bill was necessary to ensure that the department didn't fall victim to a "political stalemate."
"Funding for the Department of Homeland Security should always be a top priority and not used as a political football," Hardy's campaign manager Ross Hemminger told PolitiFact Nevada in an email.
So is Kihuen right to say that Hardy voted to get rid of DACA? The answer really depends on which vote is highlighted — the Republican technically voted for a version of the funding bill that included language defunding the program, but he voted against that amendment in particular and went against the majority of House Republicans to vote for the "clean" version of the legislation.
Hardy's stance
Hardy initially took a tougher stance on DACA before taking office.
In an interview with the Las Vegas Review-Journal's editorial board before the 2014 election, Hardy said he would have voted for a bill ending the initial DACA program but still wanted young undocumented workers to be able to stay in the country and apply through citizenship.
He told the Las Vegas Sun soon after being elected in 2014 that he would oppose any executive action "granting amnesty" to the millions not legally in the country.
More recently, Hardy joined with fellow House Republicans in voting to allow Republican Speaker Paul Ryan to file an amicus curiae brief in a state-driven lawsuit over the expanded DACA and DAPA programs. That case only dealt with the expansion of DACA and the DAPA program, which are consistent with Hardy's votes. The DACA expansion and DAPA are stalled after a 4-4 Supreme Court ruling left a lower court's injunction in place.
Our ruling
Kihuen said Hardy "voted to defund DACA" while in Congress.
Kihuen oversimplifies Hardy's record on DACA, which is more mixed than the claim lets on. Hardy did vote for a version of a bill that included an amendment defunding DACA. But Hardy also voted against that specific amendment when it came up on the floor, and he broke with the majority of his party to send the final bill to the president. There's some truth here, but Kihuen is gross oversimplifying the matter and taking things out of context.
We rate his comments as Half True.
Phone interview with Larry Farnsworth, Cresent Hardy communications director, Aug. 24, 2016
Phone and email interview with Ross Hemminger, Cresent Hardy campaign manager, Aug. 23, 2016
Email interview with Dave Chase, Ruben Kihuen campaign manager, Aug. 23, 2016
News3LV, "Four years of DACA: Democrats hit GOP over immigration," Aug. 15, 2016
Las Vegas Sun, "Democratic congressional candidates go after opponents over Trump, immigration," Aug. 15, 2016
Las Vegas Review-Journal, "Senate rejects GMO-labeling restriction," March 20, 2016
Roll Call, "House approves Homeland Security funding in 257-167 vote," March 3, 2015
Office of Cresent Hardy, "Hardy votes to fund Homeland Security," March 3, 2015
National Immigration Law Center, "The Obama Administration's DAPA and Expanded DACA Programs," March 2, 2015
Office of Rep. Bob Goodlatte, "House Republicans Demand Senate Democrats Allow Debate on Bill to End Obama's Unconstitutional Immigration Actions," Feb. 13, 2015
The Hill, "House passes bill to defund Obama's immigration orders," Jan. 14, 2015
Roll Call, "26 House Republicans Stand Up to Anti-DACA Contingent (Video) (Updated)," Jan. 14, 2015
Las Vegas Review-Journal, "Nevada Republicans vote against Obama-broadened immigration program,"Jan. 14, 2015
PolitiFact, "Did Marco Rubio vote to deport Dreamers?" April 14, 2015
Las Vegas Sun, "What Nevada's newest congressman has to say on Yucca Mountain, immigration and why he won," Nov. 11, 2014
Las Vegas Review-Journal, "Republican Hardy leans left in U.S. House race," Aug. 10, 2014
Browse the Truth-O-Meter
More by Riley Snyder
Support independent fact-checking.
Become a member!
In a world of wild talk and fake news, help us stand up for the facts.