Stand up for the facts!
Our only agenda is to publish the truth so you can be an informed participant in democracy.
We need your help.
I would like to contribute
Says "Florida is a model" for successful pretrial release programs.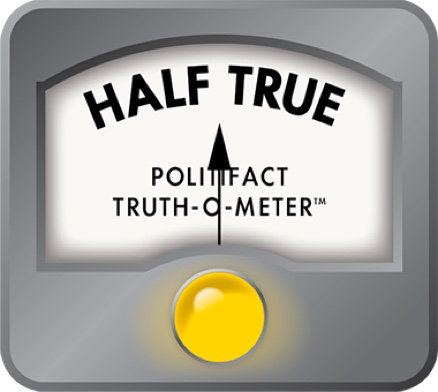 John Oliver says Florida is a model for pretrial services
Poking fun at Florida is oh-so-easy. So HBO host and news-comedian John Oliver surprised us, and maybe even himself, on Last Week Tonight when he hailed Florida as a model for the country for a component of its judicial system — and not for, say, assaults with a slice of pizza, or something like that.
Oliver criticized the money-bail system that exists throughout most of the country in his June 7 episode, saying it leaves people who are too poor to make bail for non-violent offenses behind bars, which drives up jail costs and destroys livelihoods.
As an alternative, Oliver made the case for pretrial service programs. With these services, he said, a person who is arrested would be interviewed by a specialist to see if he or she poses a flight risk or is dangerous. The specialist makes a recommendation to a judge, and the judge decides whether to send the person home, where he or she may be monitored with drug tests, ankle monitors and phone calls about court dates.
"And pretrial service programs have succeeded around the country in places ranging from Oregon to Florida," Oliver said. "And it is a truly frightening state of affairs when Florida is a model for progressive change."
He added, "Did you know by the way that under Florida law, if you possess over 5 grams of meth, you can marry it. That's a fact. That's a legal fact. That's an actual photo that ran in a newspaper's wedding section in Florida. And yet even counties in Florida recognize that our money bail system is broken."
As he described that "fact," this image appeared:
For the record, it is not a "legal fact" that you can marry meth in Florida. That was a joke.
However, we did want to unpack his more serious claim that Florida is a "model for progressive change" for its successful pretrial release programs. That wasn't meant to be a joke.
Oliver's staff did not comment for this fact-check.
Pretrial justice experts we consulted said while Florida has some positive things going for it, calling it a nationwide model is a bit of a stretch.
Cherise Fanno Burdeen is executive director of the Pretrial Justice Institute, which supports alternatives to money bail. (The institute is also petitioning Gov. Andrew Cuomo to end New York's money bail system after the suicide of Kalief Browder, who was kept in Rikers Island prison for three years without trial in part because he could not make bail after being accused of stealing a backpack).
Burdeen, who said she spoke to Oliver's team before the show, said she would not have hailed Florida as a progressive pretrial services model.
Washington, D.C., and Kentucky, yes. Oregon and Colorado, sure.
But Florida?
"That's probably not a statement I would make," Burdeen said. "It's definitely more nuanced."
In the mid 1970s, amid national reforms, some Florida counties started pretrial service programs — mainly because of jail overcrowding. Programs exist today in 29 of 67 counties.
Not all states have done that, Burdeen said. But Florida does not offer pretrial services statewide, and "it certainly has a long way to go in terms of other needed components of reform," she said.
One example: Only a few counties use accredited standards for assessing an arrested person's flight risk and danger to the community before trial. The counties that are accredited by the Florida Corrections Accreditation Commission are Alachua, Broward, Lee, Miami-Dade, Orange and Volusia, which combined are home to 7.2 million residents, or 36 percent of the state's estimated population.
Florida could be considered loosely "progressive," Burdeen said, because pretrial programs exist in most counties where the vast majority of criminal case filings happen.
In 2013, Miami-Dade County served more than 10,500 people, Broward County served more than 6,000, and Palm Beach, Polk and Pinellas counties served more than 5,000, according to the annual report of pretrial service programs in the state by the Florida Legislature's Office of Program Policy Analysis and Government Accountability.
The point of the bail system is to ensure a defendant showed up for court, and sometimes the only way to do it is to keep him or her in jail, said Bob Dekle, University of Florida College of Law legal skills professor.
"Florida's model for pretrial detention and release is a fair, equitable model," he said. "I don't know that it's on the outer fringes of the avant garde in turning people loose from jail, and I rather doubt it, but I don't believe that it is regressive. It's just there and that's what it is."
For virtually all crimes except capital offenses, Florida law says the presumption of release should be on nonmonetary conditions. Still, Burdeen said most counties rely on a bond schedule for crimes.
"If you can pay it out, you get out, if not you go to first appearance," she said. "Almost without a doubt the judge continues that amount from the schedule; if not, you back to your cell."
Experts also pointed out that "pretrial services" means something different depending on the jurisdiction.
In Florida's Monroe County, home of the Florida Keys, pretrial services workers interview defendants, review their criminal histories and develop recommendations for a judge based on a point-scoring system that helps determine if they should be released on their own recognizance or released under supervision of the pretrial services agency. The judge can also choose to set a money bond amount.
In Pinellas County, pretrial services are not run by a court or a county agency — they're run through the sheriff's office. When someone is arrested, booking deputies have the option of setting a recommended bond for an offense or a higher or lower bond depending on the circumstances. Often the low bond is to release the defendant at the jail on his or her own recognizance, known as ROR.
If a defendant remains in jail until the first appearance, the judge could still decide to change the booking deputy's bond or recommend unsupervised or supervised ROR, which could include check-ins or electronic monitoring. When a judge is unsure, pretrial services staffers can conduct their own investigation into a defendant's background and advise the judge accordingly.
"It's a very, very useful tool to manage the jail population," said Pinellas County Sheriff Bob Gualtieri.
Spurgeon Kennedy, National Association of Pretrial Services Agencies vice president, said the vast majority of American counties do not have pretrial programs, so the fact that Florida has some is a positive in his group's view.
That said, the money-bail system remains prevalent and powerful throughout the state.
"Unfortunately, Florida uses money primarily, and that's the reason why we would hesitate to say what is happening in Florida is a model," Kennedy said. "But you do have these programs."
Kennedy would look elsewhere for states closer to pretrial service utopia. In Washington, D.C., as Oliver also highlighted, the Pretrial Services Agency helps judges in the D.C. Superior Court and U.S. District Court by recommending release conditions for defendants that are based on their circumstances and are usually non-financial. And Kentucky abolished its commercial bail system in 1976, relying instead on a single statewide agency employing pretrial officers who interview people in jail and facilitate their release.
Our ruling
Oliver said "pretrial service programs have succeeded around the country," namely Florida, adding, "And it is a truly frightening state of affairs when Florida is a model for progressive change."
Experts in pretrial justice, several of whom talked with Oliver's staff, said certain counties within Florida have demonstrated success with pretrial services as a way to reduce jail costs and eliminate overcrowding in jails. But they said he went a bit too far in leaving his viewers with the idea that Florida is among states that go above and beyond for defendants.
There are pockets of progress, advocates said, but the commercial bail bonding industry is also strong in the state, and not every county has pretrial services.
Oliver's claim rates claim Half True.
Correction: An earlier version of this story misstated the name of the Florida Legislature's Office of Program Policy Analysis and Government Accountability.
Last Week Tonight, "Bail," June 7, 2015
Interview with Jan Bush, Florida Office of Program Policy Analysis and Government Accountability, June 8, 2015
Interview with Cherise Fanno Burdeen, executive director of the Pretrial Justice Institute, June 9, 2015
Interview with Bob Dekle, University of Florida legal skills professor, June 9, 2015
Interview with Spurgeon Kennedy, National Association of Pretrial Service Agencies vice president, June 10, 2015
Interview with Bruce Bartlett, Pinellas-Pasco chief assistant state attorney, June 9, 2015
Interviews with Sherry Munroe, Association of Pretrial Professionals of Florida," June 9-12, 2015
Interview with Bob Gualtieri, Pinellas County sheriff, June 12, 2015
National Institute of Justice, "Pretrial services programs: Responsibilities and potential," March 2001
Florida Office of Program Policy and Government Analysis report, "County Pretrial Release Programs: Calendar Year 2013," December 2014
Browse the Truth-O-Meter
More by Katie Sanders
Support independent fact-checking.
Become a member!
In a world of wild talk and fake news, help us stand up for the facts.