Stand up for the facts!
Our only agenda is to publish the truth so you can be an informed participant in democracy.
We need your help.
I would like to contribute
"More astronauts have been to the moon than farmers who paid the inheritance tax in 2013."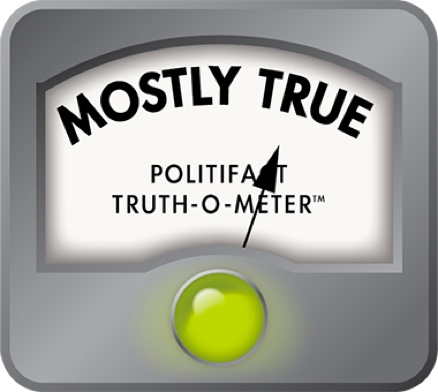 Bill Maher says more Americans have been to the moon than farmers who paid the estate tax in 2013
Liberal comedian Bill Maher made an out-of-this-world comparison to poke a hole in the Republican argument that the estate tax threatens the livelihoods of "family farmers."
Of 5,000 Americans who paid the estate tax in 2013, "20 farmers paid it," Maher said on his April 17, 2015, show. "Twenty-four Americans have been to the moon."
"More astronauts have been to the moon than farmers who paid the inheritance tax in 2013."
There obviously is no relation between the number of farmers paying the estate tax and the number of Americans who went to the moon, but as a point of trivia, Maher's claim is an intriguing one. A reader asked us to "do the magic that you do," which is determining whether Maher's point is accurate.
One small step for fact-checkers ...
Caveat No 1: Maher is using the number of astronauts who have been to the vicinity of the moon, not just the number of moonwalkers.
Twelve Americans have walked the moon's surface over six Apollo missions, starting with Neil Armstrong and Buzz Aldrin planting an American flag in 1969. (If you're not sure about whether the lunar landing really happened, you won't like this fact-check, but you may enjoy these bona fide moon misconceptions.)
Add another 12 American astronauts who orbited the moon but did not walk on it, and you get  24.
NASA chief historian William Barry said the 24 Americans is a solid figure in that it doesn't double count Americans who made more than one lunar trip. "There were several astronauts who flew to the Moon and orbited it on one mission and then were lucky enough to go back and land on it on a later mission," Barry said.
Jim Lovell, for instance, made two trips to the moon in Apollo 8 and Apollo 13, but he never walked on it. (In this Smithsonian picture, Lovell and his crew emerge from the U.S.S. Iwo Jima after landing the spacecraft Apollo 13 in the South Pacific.)
… One giant leap for the truth
What Maher calls the "inheritance tax" and what Republicans call the "death tax" is more accurately described as the estate tax. Some wealthy families face this tax when they pass on assets (cash, land, homes, stocks, etc.) to heirs after death.
Most estates do not owe estate taxes. It affects about 5,500 Americans whose estates exceed the exemption limit of $5.43 million per person. If the estate is worth more than that, an heir could pay a tax rate up to 40 percent on the value of the estate above that limit.
Even though it doesn't affect all that many people, it brings in big bucks for the government. Repealing it would cost about $270 billion over the next decade, according to the congressional Joint Committee on Taxation.
In the week ahead of Maher's April 17 show, House Republicans approved a plan to eliminate the estate tax, saying it "can prove devastating to families — forcing them to sell land, lay off workers, and even shut down entirely."
So did this tax really affect just "20 farmers" in 2013, as Maher said?
The number comes from an estimate by the Tax Policy Center, a joint venture of the Urban Institute and Brookings Institution.
Tax Policy Center economists wanted to get an idea of how the tax would affect estates, including those with farm and business assets, in 2013. All of their numbers are estimates based on the center's estate tax model.
They defined family farms and businesses as estates having farm or business assets less than $5 million and half of the estate. These farms and businesses had taxable returns and total assets between $5 million and up $10 million.
"It's a definition that hones in on small farms and business — the most relevant in responding to the myth that many small farms and small businesses must be liquidated to pay estate tax," said Brandon DeBot, a research assistant at the federal fiscal policy division of the liberal Center on Budget and Policy Priorities.
Using the Tax Policy Center's model, an estimated 20 small farms and small businesses would have had to pay the estate tax in 2013, amounting to a total of $6.9 million of tax with an average tax rate of 4.9 percent. So that's not just small farms, it's small farms and small businesses, which might not be a farm.
Caveat No. 2: The number of farms and businesses is probably not exactly 20, as it is an estimate rounded to the nearest multiple of 10. That means the number is anywhere from 16-24.
Caveat No. 3: Maher talked about "family farmers," addressing the Republican argument about the plight of farmers who could lose their livelihood because of the estate tax. But family farms can be big farms, and that's where things get more complicated.
Maher set up his comparison by discussing the plight of family farmers, but then later dropped the word "family." That one word is important.
The Tax Policy Center broadened the scope to include all farm and business estates, regardless of size, with at least half of their value from farm business activity. By that method, 120 farm and business estates would have had to pay the estate tax in 2013, said Roberton Williams, a Tax Policy Center fellow who worked on the model.
Alan D. Viard, a resident scholar at the conservative American Enterprise Institute who studies federal tax and budget policy, says the the estate tax has a lot of flaws, but the effect on farmers is "just not the right grounds to criticize this tax." Maher's point was strong, he said.
In 2001, House Republicans voted to repeal the "death tax." New York Times reporter David Cay Johnston scoured 1999 IRS filings, phoned the American Farm Bureau Federation, and interviewed farmers in effort to find examples of working farmers who lost their farms because of estate taxes. He found none, writing that the reality of who is bitten by the estate tax "is different from the mythology," as "the overwhelming majority of beneficiaries are the heirs of people who made their fortunes through their businesses and investments in securities and real estate."
And in 2001, the estate tax was more robust than it is now, with a lower exemption level of $675,000 and a higher top tax rate of 55 percent.
"It is a small number, bottom line," Williams said. "They're going to be the exception rather than the rule."
Our ruling
Maher compared 24 American astronauts who "have been to the moon" to 20 farmers whom he said were the only ones to pay the estate tax.
His count for astronauts who "have been to the moon" is reasonable, counting both American moonwalkers and those who have flown in its orbit during various Apollo missions.
The larger point about only 20 farmers paying the estate tax is a little more complicated. A 2013 nonpartisan study found 20 small farms and small businesses faced the estate tax in 2013.
Maher referred to "family farms" in setting up his claim. Saying small farms would have been better. And he dropped "family" in later references.
Experts said Maher generally could have been more careful in his wording, but that his bit of trivia largely checks out, as does his point that the estate tax affects very few small farmers. We rate his claim Mostly True.
https://www.sharethefacts.co/share/2edf78cd-008c-408e-ae35-939322661e70
Interview with NASA chief historian William P. Barry, April 22, 2015
Interview with Roberton Williams, Tax Policy Center fellow, April 22, 2015
Interview with Brandon DeBot, Center for Budget and Policy Priorities economist, April 22, 2015
Interview with Alan D. Viard, American Enterprise Institute resident scholar, April 22, 2015
Interview with Sarah Fuller, True Public Relations senior vice president, April 22, 2015
Tax Policy Center, Current Law Distribution of Gross Estate and Net Estate Tax by Size of Gross Estate, 2013, accessed April 22, 2015
Center on Budget and Policy Priorities, "Ten facts you should know about the federal estate tax," March 23, 2015
Browse the Truth-O-Meter
More by Katie Sanders
Support independent fact-checking.
Become a member!
In a world of wild talk and fake news, help us stand up for the facts.