Get PolitiFact in your inbox.
"When I left office, there was a $7-million surplus in Providence," but in 2008, the city had a $110-million deficit.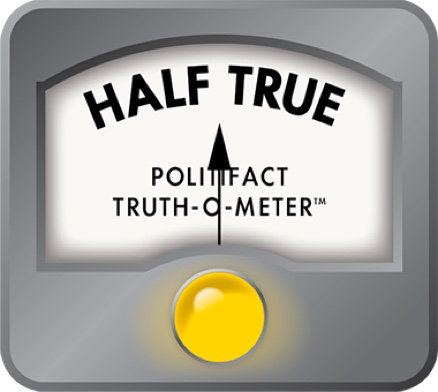 Ex-Mayor Cianci says Providence had $7-million surplus in 2002, but $110-million deficit in 2008
"A lot can change in a city after 12 years without leadership," Vincent A. "Buddy" Cianci says in the first TV commercial he's released as part of his latest campaign for mayor of Providence.
In the 30-second spot that started airing Sept. 10, 2014, Cianci draws a number of comparisons between the state of Providence when he left office in 2002 (for a federal prison cell) and the state of the city in the years that followed.
We can sum up his message pretty succinctly: things were good when he was in charge and bad under his successors.
"When I left office, there was a $7-million surplus in Providence," Cianci says as the left side of a split screen with the year 2002 at the bottom displays an official-looking letter.
As he speaks, the right side of the screen, with the year 2008 at the bottom, reads, "$110 Million Deficit." That was when David Cicilline, now one of Rhode Island's two U.S. representatives, was in his second term as mayor and before Angel Taveras took office.
It's no secret that Providence's finances have been in dire straits for much of the last decade, but did the city really plummet into such a deep hole just six years after Cianci's last year in office?
Cianci told us that the first part -- the surplus when he stepped down -- was taken from an Aug. 23, 2002 letter sent to him by Alex Prignano, then the city's Finance Director. In the letter -- the one that's shown during the commercial -- Prignano said that the city had a surplus of $7.3 million as of June 30, 2001, the most recent audited numbers at the time.
And, added Prignano in the letter, "Fiscal 2002 has just ended and though unaudited, the surplus is anticipated to be once again over $7.0 million."
Prignano, it turned out, was right. The surplus had grown in the 2002 fiscal year, rising to $8.3 million as of June 30 of that year, according to city financial reports. (See page 11 of this report.)
In respect to the surplus, Cianci was a little conservative in the commercial. When he left office it was actually higher than he claimed.
So what about the second part of the claim? Did the deficit really reach $110 million in 2008?
Cianci told us that he pulled that number from Providence Journal stories on the city's precarious financial state after Taveras took over from Cicilline in 2011. Those stories, as Cianci correctly noted, were based on a report on city finances commissioned by Taveras when he took office.
That report, which was compiled by a four-person panel of financial experts that included Prignano and former state Auditor General Ernest Almonte, projected a structural deficit in the city in the 2011-2012 fiscal year, the first full fiscal year of the Taveras administration, of $110 million.
We'll get to the reason why they used the word "structural" in describing the deficit, and the importance of that word, in a moment, but first, let's point out that there's an obvious discrepancy in the year of their projection -- 2011 -- and the year Cianci uses in his commercial -- 2008.
"It didn't happen overnight," Cianci explained. "It happened over the course of four or five years."
By that logic, he argued, the $110-million figure in the report was just as true in 2008 as it was in 2011. The Taveras report doesn't go back and assess what the structural deficit was in 2008 -- or whether there was one -- but it does look at the situation that the new mayor inherited from the Cicilline administration in the 2010-2011 fiscal year, estimating a structural deficit then of $70 million.
Now let's get back to why we keep using the words "structural deficit" and not just "deficit." We addressed this issue recently in another Politifact Rhode Island item that also focused on Providence's finances.
A person or an entity has a structural deficit if their projected expenses for the coming year exceed their projected income for the same period, Edward M. Mazze, former dean and current professor of business at the University of Rhode Island, said in that piece.
In other words, it's a forward-looking number. Knowing what could happen without action, the Taveras administration worked with city unions to bring down costs for the 2012 fiscal year. The result: a deficit of $11.4 million that year, far short of the projected $110-million structural deficit.
So was Providence running a deficit, as the Cianci commercial says, back in 2008? The simple answer is no.
After Cicilline took office in 2003, the city's surplus grew steadily. It actually stood at $22.3 million as of June 30, 2008 -- nearly three times what it was when Cianci left office in 2002.
In the years that followed, however, the Cicilline administration drastically reduced those reserves to balance the budget. It also took tens of millions of dollars in loans.
Cicilline has blamed the Great Recession and said he had little choice but to use the money to make up for a loss in state aid and to replace one-time federal stimulus dollars. Others have said he acted irresponsibly.
The end result was that by early 2011, a couple months after Cicilline left office, there was only $220,000 left in the account -- a meager amount for a city Providence's size, but still a surplus.
We pointed this out to Cianci. In response, he referred to concerns raised in 2009 about the city's budget practices by James J. Lombardi III, then Providence's internal auditor and the current city treasurer. At the time, he warned repeatedly that the city's continued use of reserves to fund the budget was unsustainable.
Cianci's point is that the seeds of Providence's financial problems were planted around 2008.
"That's when the deficit started to build," he said.
Some, including Cicilline and Taveras, have contended that the problems actually began during Cianci's tenure when the city failed for years to make adequate contributions to its pension fund. (See page 9 of this actuarial report.)
We asked Lombardi if he ever estimated a structural deficit for the city before Taveras took office. He couldn't give a definitive answer, saying that his records from that period have been archived. But he did say that his concerns were probably more narrowly focused.
Our ruling
In a TV commercial, former Providence Mayor Cianci says, "When I left office, there was a $7-million surplus in Providence," but in 2008, the city had a $110-million deficit.
That certainly sounds dramatic.
But it's not entirely accurate. While he was right about the surplus -- it was actually a little higher than he claimed -- he was wrong about the deficit.
There's an argument to be made that some type of structural deficit existed in 2008, but pegging that number at $110-million is a big leap. And Cianci's claim ignores the difference -- a big one -- between a deficit and a structural deficit.
Finally, the ad implies that things were rosy under Cianci and went downhill after he left. That ignores the future problems he caused by underfunding the pension system, the effects of the Great Recession, and the strides Taveras made to bring the city back from the brink of bankruptcy.
The judges were split on this one, but ultimately ruled Half True.
(If you have a claim you'd like PolitiFact Rhode Island to check, e-mail us at [email protected]. And follow us on Twitter: @politifactri.)
Cianciformayor.com/news, First Official Campaign Commercial, Posted Sept. 10, 2014, accessed Sept. 16, 2014
Interview and email, Beryl Kenyon, spokeswoman, Cianci campaign, Sept. 16, 2014
Interviews, Vincent A. "Buddy" Cianci Jr., Sept. 16, 2014; Providence City Treasurer James J. Lombardi III, Sept. 18, 2014
Letter, From Providence Director of Finance Alex Prignano to Mayor Vincent A. Cianci Jr., Aug. 23, 2002
Memo, "Present financial situation of the city," from Providence Internal Auditor James J. Lombardi III to City Council, Dec. 31, 2009
Report of the Municipal Finances Review Panel, City of Providence Finance Department, February 2011, Accessed Sept. 16-17, 2014
Comprehensive Annual Financial Reports, City of Providence Finance Department, Accessed Sept. 16-17, 2014
Report on the Eighty-Fourth Valuation of the Employees' Retirement System of the City of Providence as of June 30, 2011, City of Providence, Accessed Sept. 18, 2014
PolitiFact Rhode Island, "Providence Mayor Angel Taveras says he has turned Providence's $110 million deficit into a $1.6 million surplus," May 25, 2014
The Providence Journal, "Audit: City spending beyond its means," Feb. 3, 2011; "Alarms about finances in 2009 went unheeded," March 3, 2011; ""A 'CATEGORY FIVE' FINANCIAL CRISIS - Cicilline denies hiding city's financial problems," March 4, 2011; "Cicilline says he had to use reserve fund," March 14, 2011; "Report cites Cicilline for finance woes," April 20, 2011
Browse the Truth-O-Meter
More by Alex Kuffner
Support independent fact-checking.
Become a member!
In a world of wild talk and fake news, help us stand up for the facts.