Stand up for the facts!
Our only agenda is to publish the truth so you can be an informed participant in democracy.
We need your help.
I would like to contribute
Almost every state has offered an insurance plan on its health exchange that does not cover abortion.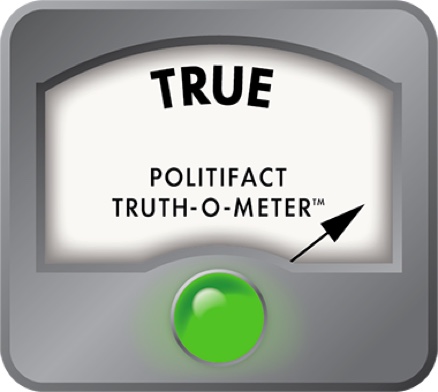 Catholic paper says R.I. health exchange one of few in U.S. without plan excluding abortion coverage
Abortion was pushed to the forefront of the race for the governor's office after Democrat Gina Raimondo was endorsed by Planned Parenthood's political action committee.
In a short speech at a Sept. 25 news conference, Raimondo argued that women should be able to make health decisions without interference from their employers or the government.
The next day, The Providence Journal reported that, in an interview after the news conference, Raimondo said she would oppose efforts to offer an insurance plan on the Rhode Island health exchange that would exclude coverage for abortion or contraception.
(Raimondo's campaign later issued a statement expressing a different position. More on that later.)
Opponents seized on Raimondo's position, saying that she had staked out an "extreme" position on abortion. Thomas Tobin, the Roman Catholic Bishop of Providence, was one of the first and most vocal critics. The Rhode Island Catholic, the diocese's newspaper, followed up in an Oct. 2 editorial.
"[Gina Raimondo] demonstrates an inexplicable disregard for the sincere conscience of thousands of Rhode Islanders who don't want to participate in insurance programs that pay for abortion," the editorial said. "Almost every other state has provided that option."
We wondered if nearly every state really has provided that option.
Rick Snizek, editor of The Rhode Island Catholic, told us that the source of the claim was a recent report from the U.S. Government Accountability Office.
The Sept. 15 report was done at the request of Republican leaders in the House of Representatives. It looked at all the health exchanges in the nation that were created under the Affordable Care Act and what coverage options for abortion were provided in each state.
Under the law, exchanges are required to offer insurance covering abortions when "the pregnancy is the result of an act of rape or incest, or the life of the pregnant woman would be endangered unless an abortion is performed."
The Affordable Care Act does not require states to offer abortion coverage beyond that. In fact, the GAO report found that 17 states have passed laws that explicitly forbid health plans from offering expanded coverage, while another 6 severely restrict coverage.
The GAO contacted the 28 remaining states and found that in 8 states, no expanded coverage is offered; in 15 states, at least one plan offers such coverage; and in 5 states, all plans offer full coverage.
Rhode Island is in that final group, along with Connecticut, Hawaii, New Jersey and Vermont. In those five states, there is no option for consumers who want a health plan that does not cover non-excepted abortions.
In other words, The Rhode Island Catholic editorial was accurate.
The Affordable Care Act recognizes this issue and requires all states to provide an insurance option by 2017 that does not cover abortions except in cases of rape, incest, or where the mother's life is endangered.
Questions about abortion coverage were raised before the Rhode Island health exchange was set up. Governor Chafee created the exchange through an executive order in 2011, after an effort to do so through legislation stalled in the General Assembly over abortion language.
As recently as last year, the state Senate passed a bill that would have required some plans to allow people who sign up for them to "opt out" of abortion services. But the bill failed to clear the House and HealthSource RI was set up without any state restrictions or provisions regarding abortion.
Now back to Raimondo's position on insurance coverage for abortions.
If the federal government will eventually require all health insurance exchanges, including Rhode Island's, to offer at least one plan that doesn't cover most abortions, how could Raimondo oppose it?
When we posed that question to the Raimondo campaign, Nicole Kayner offered this statement:
"Gina is not opposed to HealthSource RI including an insurance plan that excludes reproductive services. In fact, the Affordable Care Act requires that by 2017, the exchange must do that. Individuals should be able to go to HealthSource RI and buy a plan that makes the most sense for them."
Our ruling
The Rhode Island Catholic newspaper said that Rhode Island is one of the few states that does not offer an insurance option that excludes most abortion coverage.
According to a federal report, only Rhode Island and four other states fall into that category.
We rule the statement True.
(If you have a claim you'd like PolitiFact Rhode Island to check, e-mail us at [email protected]. And follow us on Twitter: @politifactri.)
TheRhodeIslandCatholic.com, "An Extreme Position on Abortion," Oct. 2, 2014, Accessed Oct. 3, 2014
Interview and email, Rick Snizek, Editor, Rhode Island Catholic Reporter, Oct. 6, 2014
Interview and email, Dara Chadwick, spokeswoman, HealthSource RI, Oct. 7-9, 2014
Interviews and emails, Eric Hyers, campaign manager, Gina Raimondo for RI, Oct. 7-9, 2014
Emails, Nicole Kayner, spokeswoman, Gina Raimondo for RI, Oct. 7-9, 2014
GAO.gov, "Health Insurance Exchanges: Coverage of Non-excepted Abortion Services by Qualified Health Plans," U.S. Government Accountability Office, Sept. 15, 2014, accessed Oct. 6, 2014
Guttmacher.org, "Abortion Coverage Under the Affordable Care Act: The Laws Tell Only Half the Story," Guttmacher Policy Review, Winter 2014, accessed Oct. 6, 2014
CTLawTribune.com, "Conn. Lawsuit Challenges Obamacare Abortion Provisions," May 12, 2014, accessed Oct. 7, 2014
OPM.gov, "Multi-State Plan Program and the Health Insurance Marketplace," Office of Personnel Management, accessed Oct. 8, 2014
OPM.gov, "Insurance FAQs: Multi State Plan Program," Office of Personnel Management, accessed Oct. 8, 2014
The Providence Journal, "Abortion 'opt-out' causes a stir," July 4, 2013; "Lawsuit targets abortion coverage," July 5, 2014; "Bishop criticizes Raimondo on women's health," Sept. 26, 2014 and "Fung's views on abortion," Oct. 3, 2014
Browse the Truth-O-Meter
More by Alex Kuffner
Support independent fact-checking.
Become a member!
In a world of wild talk and fake news, help us stand up for the facts.