Stand up for the facts!
Our only agenda is to publish the truth so you can be an informed participant in democracy.
We need your help.
I would like to contribute
In Texas public schools, "we spend an average of $12,000 per pupil per year."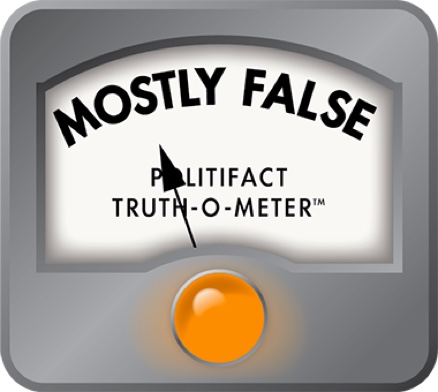 Matt Mackowiak overshoots on what Texas spends on public education
Calling how Texas funds its schools a "supercharged" topic for the 2015 Legislature, Republican consultant Matt Mackowiak questioned a Democratic state district judge's decision finding the state's finance method unconstitutional.
In a Sept. 8, 2014, opinion column in the Austin American-Statesman, Mackowiak asked how much is enough to spend on education. He continued: "The Dallas Morning News reports that 'Texas spends nearly $60 billion a year on its schools, which includes billions in federal funding and local property tax revenue.' Texas has five million students in public schools. So," Mackowiak wrote, "we spend an average of $12,000 per pupil per year. That is more than some four-year colleges. Is that not sufficient?"
A reader asked us to check his per-pupil figure.
By email, Mackowiak confirmed he took the total spending mentioned in the Morning News and divided that by 5 million to get his per-student estimate.
Curiously, the News story included a chart presenting a per-student Texas spending figure, attributed to the Legislative Budget Board, of $5,809 statewide for 2013-14. By email, a board staff spokesman, R.J. DeSilva, said the figure represents what the state in 2013 expected school districts to spend in state and local revenue on general operations in the fiscal year through September 2014. A May 2013 chart posted online by the budget board lists predicted per-student expenditures for each district; the Austin district, for instance, was expected to spend $6,220 per student.
Then again, DeSilva said the figure, incorporating school funding decisions by the 2013 Legislature, did not add in other funding such as federal aid or state grants not part of the state Foundation School Program, the main way state aid flows to schools.
There are various ways to estimate spending per student.
A teacher lobby group, the National Education Association, annually estimates combined state and local school spending. In its latest report, released in March 2014, the association said Texas schools spent an average of $8,275 per student enrolled in the fall of the 2012-13 school year. That was the fifth-lowest amount among the states; Indiana, Oklahoma, Utah and Arizona spent less while nationally the average was $10,938 per student, the group said. According to another chart in the report, Texas was expected to spend at least $8,399 per student in 2013-14.
By email, an association analyst, Robert Glenn, said the presented figures took into account state, federal and local spending on general operations, but excluded capital outlays for buildings and equipment and interest on school debt. The excluded items, Glenn said, are "programs that are not part of the regular public elementary and secondary school program."
Separately, we asked the Texas Education Agency about per-student spending.
By email, spokeswoman Debbie Ratcliffe guided us to an agency chart indicating that in 2012-13, the latest available year of actual expenditure data, Texas schools spent $10,549 per student from state, local and federal sources. That year, 5,057,960 students attended the public schools.
For another perspective, we turned to a former TEA analyst, Lynn Moak, a partner in an Austin firm that advises school districts.
By email, Moak suggested wrinkles in most of the per-student spending figures posted by the TEA.
While the state reported $61.2 billion in total disbursements for public schools in 2012-13, or $12,106 per pupil, Moak said, about $7.3 billion of that didn't reflect in-school spending. The rolled-in dollars, he said, included funds transferred among districts for equity purposes; money used to refinance bonds and lower interest costs; and charges for districts buying services from other districts.
Another spending figure on the agency web page, $53.4 billion, or $10,549 per pupil, Moak said, would be a more accurate base for education spending -- though that too has weaknesses, he said, in that nearly $11 billion of the total went to debt service or capital outlays as in funds that could only be spent for building or equipping facilities or for interest and principal payments on school facilities, again not direct in-school spending. "A portion of this amount is also double-counted over time because principal repayments represent  the same funds used for capital outlay," Moak wrote.
Subtract the capital and debt expenditures, Moak said, and operating expenditures are reflected in another total on the web page, $42.6 billion, or $8,419 per pupil. Finally, Moak said, federal aid to the schools is usually restricted to certain programs. If most such categorical aid is left out, he said, education spending drops to $36 billion, a result based on combining $30 million in payroll costs and $6 million in other operating costs, for $7,127 per student.
We also asked the Texas Association of School Business Officials, which says it's "dedicated to being the trusted resource for school finance and operations in Texas," to consider this topic. By email, the group's executive director, Tracy Ginsburg, similarly said she wouldn't generally count debt service and capital costs into average spending comparisons partly because, she said, such decisions reflect voter approval of bonds in individual districts. Ginsburg said she would focus on the $8,327 per pupil figure shown by the TEA for average total operating expenditures, which takes into account the salary and benefits of school employees and the purchase of supplies, materials and utility costs.
Our ruling
Mackowiak said Texas spends $12,000 per student on its public schools.
Mackowiak had a way to reach his figure, but he overshot. Authoritative calculations suggest spending has been running closer to $7,100 to $8,500 per student or so.
We rate the statement Mostly False.
---
MOSTLY FALSE – The statement contains an element of truth but ignores critical facts that would give a different impression.
Click here for more on the six PolitiFact ratings and how we select facts to check.
Email, Matt Mackowiak, president, Potomac Strategy Group, Sept. 8, 2014
News story, "Texas' school finance system again overturned in court," Dallas Morning News, Aug. 28, 2014 (accessed Sept. 8, 2014)
Email, R.J. DeSilva, communications officer, Legislative Budget Board, Sept. 10, 2014
Chart, "Total M&O Revenue Comparison for School Districts between Current Law (Model 303) and Model 115, Fiscal Year 2014," Legislative Budget Board, May 17, 2013 (accessed Sept. 10, 2014)
Report, "Rankings & Estimates Rankings of the States 2013 and Estimates of School Statistics 2014," National Education Association, March 2014 (downloaded Sept. 8, 2014)
Email, Robert Glenn, senior policy analyst, Center for Great Schools, National Education Association, Sept. 8, 2014
Email, Lynn Moak, partner, Moak, Casey & Associates, Sept. 9, 2014
Email, Tracy Ginsburg, Ed.D., executive director, Texas Association of School Business Officials, Sept. 9, 2014
Browse the Truth-O-Meter
More by W. Gardner Selby
Support independent fact-checking.
Become a member!
In a world of wild talk and fake news, help us stand up for the facts.