Stand up for the facts!
Our only agenda is to publish the truth so you can be an informed participant in democracy.
We need your help.
I would like to contribute
On support for the auto bailouts.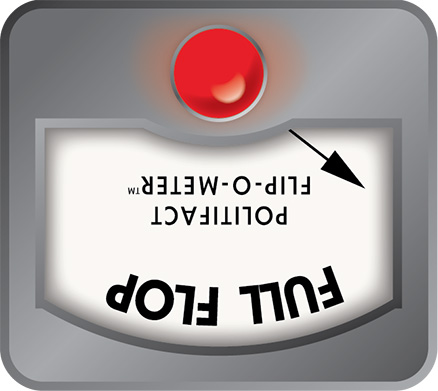 Michigan Republican Senate candidate now says she would have supported the auto bailout
The federal government bailout of the auto industry was a contentious and frequent debate topic in the 2012 presidential election.
But in the 2014 midterms, the issue has largely gone away — except in Michigan, the heart of the American automobile industry, where there's a heated race for the state's open U.S. Senate seat.
Rep. Gary Peters, D-Mich., has repeatedly trumpeted to voters his support of the 2009 bailout plan for General Motors and Chrysler. Late last month, the Peters campaign claimed to catch their opponent, former Michigan Secretary of State Terri Lynn Land, flip-flopping on her bailout position.
"Yesterday, Land tried to rewrite history and claim she supports the auto rescue, but that's a tough feat when news reports have chronicled her opposition," Peters spokeswoman Haley Morris said in a press release.
The flip in question? On Sept. 25, responding to Peters' comment on the campaign trail that Land opposed the bailout, Land spokeswoman Heather Swift said, "Once again Gary Peters has it wrong: Terri would have supported the auto rescue."
Who is right? We decided to review the evidence.
First, a quick refresher on the auto bailout: In 2008 during the economic crisis, President George W. Bush announced plans to bail out the auto industry. General Motors and Chrysler Group received $13.4 million in short-term relief in the final days of the Bush administration to keep them afloat until President Barack Obama's new team could develop a long-term plan. The Ford Motor Company declined government assistance.
In 2009, Obama said if Chrysler and GM wanted more federal money, they had to go through bankruptcy. They quickly agreed. GM received $30 million to restructure the company while Chrysler was sold to Italy's Fiat. In all, the two companies received about $80 billion in loans, according to a 2010 Treasury report.
Today, both companies are relatively healthy and touted as success stories, especially compared to where they were in 2008.
We didn't find many comments from Land about the bailout in 2009. The only statement we came across was from February 2009, when Land, then secretary of state, was exploring a gubernatorial bid.
"We will have to work with (GM and Chrysler) and see how we can get them back to sustainability," Land said, according to the Grand Rapid Press. She didn't say how nor whether she supported government financing to do so. Her campaign did not provide any other comments she made at the time.
At the Republican National Convention in 2012, Land spoke with the Washington Times, a conservative news outlet, and was asked whether Republican presidential nominee Mitt Romney could compete in Michigan despite the fact he "came out hard against the GM bailout" or whether that statement turned out to be a positive for him in Motor City.
A video of the conversation was provided to PolitiFact by the Peters campaign. Here's how Land responded:
I'm with (Romney) on that. Because, actually Bill Ford — we live with the autos. Michigan is a very unique state. No state has one industry that's so prominent and that's global. It's not a Michigan industry, it's global.
And what basically happened is Bill Ford went and got a loan. I mean, he did it that way. And so people know that that could have been done. GM has become, they call it General Government basically, it's become this huge operation with really nobody that has the commitment like Bill Ford has with his family and his legacy of making sure that company is successful. And that's what it's kind of become. They call it Government Motors. That's what they call it.
That's the reality of it. I think that was the position to have and, you know, Ford is doing great.
Fast forward to this year: After a candidate forum in May, Land shirked multiple questions about whether she supported the bailout. A local Fox reporter, though, tracked her down and asked her how she would have voted if she was in Congress, and she said, "If I had been there as a U.S. senator, I would have worked to negotiate a deal that looked more like what Ford Company did."
Land repeated that idea on a Detroit radio station the next day, saying, "I would have worked with the other senators to come up with a plan that would protect the taxpayers, make sure that jobs were kept here in Michigan, and did a plan more along the lines what Ford did."
There's several takeaways from this all that underscore a distinct change in position on Land's part.
First, she says "I'm with (Romney) on that." "That," according to the question, is Romney's position to come out "hard against the GM bailout."
His actual position was a little more nuanced than that (though Land didn't disagree with the questioner's characterization).
Romney in 2008 penned an op-ed for the New York Times about the state of the auto industry controversially titled (by the Times, not him) "Let Detroit Go Bankrupt." He called for a managed bankruptcy of the auto companies and called for the federal government to "provide guarantees for post-bankruptcy financing and assure car buyers that their warranties are not at risk," and he continued to argue those positions during the 2012 campaign.
While GM and Chrysler did go through bankruptcies, they came out of it because of taxpayer financing. Romney's plan would have required massive amounts of private capital that would have been tough to find during a financial crisis.
Swift, the spokeswoman for Land's campaign, said Land "did not call GM 'Government Motors,' she was describing the situation and telling the panel what she heard from others call it." The most literal of readings would find that accurate, but she didn't dispute it and went on to describe the company negatively as "this huge operation with really nobody that has the commitment like Bill Ford has."
This year, she said she would have supported a plan that would  "protect the taxpayers" and "more along the lines what Ford did." Both the Romney plan and the Ford model are vastly different than what ultimately made its way through Congress. Ford's plan didn't even require government intervention.
Swift also said the "comment (Land) made in 2012 was referring to the process" of deciding which course of action would be best, and was not opposing the bailout; rather, "she favored a different approach in the beginning."
We asked for clarification by what Swift meant by "process" but didn't hear back. It's a confusing assertion to make since the remark came three years after the bailout took place. The process of deciding the plan of action was already complete, so we don't understand why she would have been talking about the process.
Our ruling
Did Land change positions on a rescue package for the auto industry? If there's any evidence Land supported the bailout until recently, we didn't find it, and Land's campaign didn't provide it. On the campaign trail so far, she has mostly avoided a direct answer to the question. Her campaign recently said she supported it.
In 2012, she said she supported Romney's plan, which would have required private financing — not government money — to get the auto companies out of bankruptcy, and held up Ford, which rejected any government money, as a model. Her comments, read in full, are critical of how things played out.
Earlier this year, she said she would have pushed for something "more along the lines what Ford did," which is even further from the auto bailout than what Romney supported.
But on Sept. 25, her campaign said she "would have supported the auto rescue." That's a distinct change of position, so we rate it Full Flop.
Email interview with Haley Morris, spokeswoman for Rep. Gary Peters, Sept. 26, 2014
Email interview with Heather Swift, spokeswoman for Terri Lynn Land, Sept. 29, 2014
Oakland Press, "Senate candidate Peters visits Orion Assembly workers on campaign trail," Sept. 25, 2014
The Washington Times, interview with Land at the Republican National Convention, August 2012
USA Today, "GM bailout played out over five years," Dec. 9, 2013
PolitiFact, "Did President Obama save the auto industry?" Sept. 6, 2012
PolitiFact, "Granholm says Romney's response to auto crisis was 'Let Detroit go bankrupt,' " Sept. 6, 2012
PolitiFact, "Mitt Romney says Obama gave away car companies to union," Feb. 27, 2012
New York Times, "Let Detroit Go Bankrupt," Nov. 18, 2008
New York Times, "Bush Aids Detroit, but Hard Choices Wait for Obama," Dec. 19, 2008
Grand Rapid Press, "Land closer to run for governor," Feb. 20, 2009; accessed via Nexis on Oct. 2, 2014
CNBC, "CNBC Transcript of 'Your Money, Your Vote' Republican Presidential Debate," Nov. 9, 2011
Daily Tribune, "Hackel, Levin lend hand to Peters' Senate campaign," March 3, 2014
My Fox Detroit, "U.S. Senate candidates attend Mackinac Policy Conference," May 28, 2014
M Live, "Terri Lynn Land dodges auto bailout question, clarifies call for 'free' Internet after Senate forum," May 28, 2014
Frank Beckman radio show interview with Land, May 29, 2014
Browse the Truth-O-Meter
More by Steve Contorno
Support independent fact-checking.
Become a member!
In a world of wild talk and fake news, help us stand up for the facts.