Get PolitiFact in your inbox.
Austin is "a city that has basically doubled in size every 25 years or so since it was founded."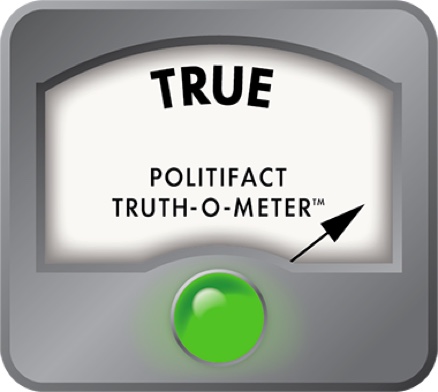 Austin's population has doubled every 25 years or so since its founding
Austin Mayor Lee Leffingwell, set to relinquish his office after this year, warned in his last "State of the City" address that growth continues to pinch.
Setting up his pitch for voter approval of an inner-city rail line, Leffingwell said Austin is "a city that has basically doubled in size every 25 years or so since it was founded."
Take that, all ye who bemoan how much the city has grown (oh-so crowding the roads) just since you arrived.
To our inquiry, mayoral spokesman Reyne Telles told us by email that Leffingwell was referring to population growth, not geographic expansion.
Telles added that Leffingwell based his declaration on a chart posted on the city's web page devoted to local and regional demographics as overseen by Ryan Robinson, the city demographer.
The chart shows the city's population in many of the years from 1840 through 2013.
That would cover Austin's lifetime. An Austin History Center web page says the city, originally Waterloo, was purchased to be the capital of the Republic of Texas in March 1839 and renamed in honor of Stephen F. Austin. The city was incorporated on Dec. 27, 1839.
In Austin's early years, the chart indicates, the population doubled even more frequently than Leffingwell said. Specifically, the population surged six-fold from 1840 to 1860, going from 553 to 3,493, according to the chart, while over the next 20 years, the number of residents increased three-fold, to 11,013.
The population doubled in the next 20 years, reaching 22,258 in 1900, the chart shows, before nearly doubling over the next 25 years, reaching 42,174 in 1925, up 90 percent from 1900.
It took 15 years for the population to double afresh; it reached 87,930 in 1940, according to the chart. Twenty years later, the chart shows, Austin's population of 186,545 was more than double its 1940 population. It took 23 years for another doubling, according to the chart, with the 1983 population reaching 373,541. Some 25 years later, in 2008, the city's population of 750,525 was double its 1983 population, the chart shows.
To get the most up-to-date sense of growth from the chart, we also looked at whether the mayor's claim holds up if we look back in time starting in 2013 when Austin had 842,750 residents.
That 2013 tally was almost double the city's population 25 years earlier. Gauged another way, the 2013 population was more than double Austin's population of 417,033 in 1985. So, that doubling took 28 years.
Telles of the mayor's office also pointed us to a city report featuring a graphic (below) showing Austin's population growth since 1900. "Austin's growth has been very close to doubling every 20 years," the report says.
Our ruling
Leffingwell said Austin is a "city that has basically doubled in size every 25 years or so since it was founded."
That's right per changes in population, making this historical statement True.
---
TRUE – The statement is accurate and there's nothing significant missing.
Click here for more on the six PolitiFact ratings and how we select facts to check.
Browse the Truth-O-Meter
More by W. Gardner Selby
Support independent fact-checking.
Become a member!
In a world of wild talk and fake news, help us stand up for the facts.