Get PolitiFact in your inbox.
Mark Warner voted for "nearly $1 trillion in new taxes and $7 trillion in new debt."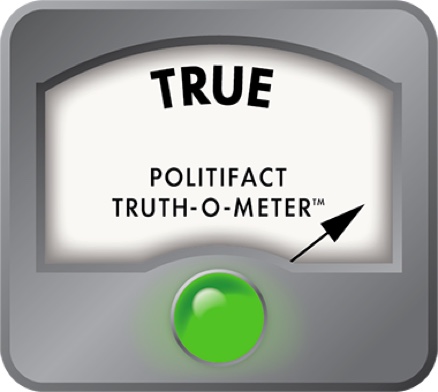 Gillespie says Warner voted for new taxes and more debt
Republican Ed Gillespie kicked off his campaign for the U.S. Senate by denouncing Democratic incumbent Mark Warner as a spendthrift.
"Sen. Warner promised us fiscal responsibility, but he's voted for nearly $1 trillion in new taxes and $7 trillion in new debt." Gillespie said in a video last month.  
We wondered whether Gillespie was right.
Paul Logan, a spokesman for Gillespie, said his boss's claim stems from Warner's support of a Democratic budget plan that squeaked through the Senate last March on a 50-49 vote.
The plan -- authored by by Senate Budget Committee Chairwoman Patty Murray, D-Wash. -- called for $975 billion in new revenues over 10 years to be matched by an equal amount of budget cuts. The new revenues would come from targeting tax breaks used by high earners and corporations. That accounts for the "nearly $1 trillion in new taxes," that Gillespie cited.
What about the $7 trillion in new debt? Logan said that also came from Murray's bill. The legislation contained estimates that it would expand total debt from $17.1 trillion in fiscal 2013 to $24.4 trillion in fiscal 2023. That comes to a $7.3 trillion increase.
Total U.S debt is the sum of two major calculations: 1) The amount of "intergovernmental holdings", or money the government owes itself to support beneficiary programs such as Social Security; and 2) The amount of "public debt" in Treasury securities that are held by individuals, corporations, the Federal Reserve and state, local and foreign governments.
Economists generally prefer to discuss the national debt in terms of the amount that is publicly held. Murray's bill would have lifted that portion from $12.2 trillion in 2013 tor $18.2 trillion in 2023 -- a $6 trillion increase.
Now, let's turn to Warner, who's made budget reform his signature issue since entering the Senate in 2009. He's tried to establish a bipartisan coalition of senators who share his views that the nation's financial problems can be solved only through a combination of tax increases and spending cuts. He's criticized Republicans who refuse to increase taxes and Democrats who refuse to rein in entitlement programs such as Social Security and Medicare.
Warner cast four major votes on budget plans last year:
On March 21, he opposed a bill passed by House Republicans that would have balanced the budget in 10 years through trillions of dollars in cuts and no new taxes. The bill, which would have increased the national debt by $3 trillion at the end of the 10 years, was defeated in the Senate on a mostly partisan vote.
On March 23, he supported Murray's plan, which was rejected by the House.
On Sept. 27, he supported a temporary government funding bill that passed the Senate. The House, however, insisted that the stopgap measure delay implementation of Obamacare. The resulting impasse led to a 16-day government shutdown.
On Dec 18, he voted for a successful compromise budget that did not essentially alter spending, revenues or the rising arc of the national debt, projected by the nonpartisan Congressional Budget Office to reach a total $25.2 trillion in 2023. The public debt is projected to be $19.1 trillion in 2023.
Our ruling
Gillespie says Warner "voted for nearly $1 trillion in new taxes and $7 trillion in new debt." Although some economists might quibble with his debt figure, we don't.
We rate his statement True.
Ed Gillespie, "Meet Ed," on YouTube, Jan. 16, 2014.
Gillespie, "Release: Ed Gillespie Announces Campaign for United States Senate in Virginia," Jan. 16, 2014.
Emails from Paul Logan, spokesman for Gillespie, Jan. 20 and 22, 2014.
POLITICO, "Patty Murray budget: $1 trillion in new revenue," March 12, 2013.
POLITICO, "Patty Murray plan doesn't balance budget," March 13, 2013.
Congress.gov, THOMAS, S.Con.Res.8, Murray budget plan, accessed Jan. 21, 2014.
U.S. Senate, Roll Call list vote #45, March 21, 2013.
U.S. Senate, Roll Call list vote #92, March 23, 2013.
New York Times, "Senate Passes $3.7 Trillion Budget, Setting Up Contentious Negotiations," March 23, 2013.
Congressional Budget Office, "Updated Budget Projections: Fiscal Years 2013-2023," May 2013.
CNN, "Congress avoids shutdown, bickers over 2014 budget," March 22, 2013.
Real Clear Politics, "Key Budget Duel Question: How Big a Problem is the Debt?" March 15, 2013.
Reuters, "Obama signs bipartisan budget deal, annual defense bill," Dec. 26, 2013.
Washington Post, "MSNBC all day long: Lefty volunteerism, reporting, fluff," Dec. 23, 2013.
Congressional Budget Office, Scoring of the Bipartisan Budget Act of 2013, Dec. 11, 2013.
U.S. Senate, Roll Call list vote #209, Sept. 27, 2013.
U.S. Senate, Roll Call list vote #281, Dec. 18, 2013.
Warner, "Statement of Sen. Warner on passage of Bipartisan Budget Agreement," Dec. 18, 2013.
Browse the Truth-O-Meter
More by Nancy Madsen
Support independent fact-checking.
Become a member!
In a world of wild talk and fake news, help us stand up for the facts.