Get PolitiFact in your inbox.
"Nearly 20% of our residents" are born abroad.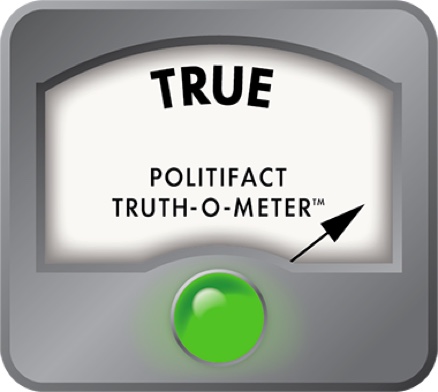 20% of Austinites foreign-born, mostly from Mexico, Asian nations
"Austin is truly an international city. Nearly 20 percent of our residents are born overseas," an Austin city official, Natalie Betts, said in a Nov. 8, 2013, press release about an orientation session in Austin's International Welcome Program.
That sparked our curiosity.
City demographer Ryan Robinson told us by phone that according to the U.S. Census Bureau's American Community Survey analysis covering 2007-11, about 19.3 percent of Austin's residents were born in foreign countries.
Census spokeswoman Virginia Hyer told us by phone that the bureau most recently published results of a survey covering 2010-12, which similarly indicated that about 19 percent of Austinites were born abroad. Hyer said, though, that the five-year survey released Dec. 6, 2012, remained a good source for data on small groups such as foreign-born populations because of its larger sample size.
Specifically, according to data from the five-year analysis that city spokeswoman Melissa Alvarado emailed to us, 150,565 of the city's 782,149 residents were born abroad. (Not included: the 11,548 Austinites born in Puerto Rico and U.S. Island areas or born abroad to American parents, who were classified as "native.")
That makes the Live Music Capital of the World more cosmopolitan than the U.S. in general (13 percent foreign-born) or Texas (16 percent), according to other 2007-11 survey data Robinson emailed us. Austin also edged San Antonio (14 percent) and Fort Worth (17 percent). However, it had fewer residents born abroad than Dallas (25 percent) and Houston (28 percent).
Robinson said the increase in Austin's share of foreign-born residents is a long-term trend, rising from "maybe 16.5 percent in 2000" and less in 1990. "We've long had an international community, and it's very much been tied to the University of Texas. That's huge," he said.
Only 23 percent of Austin's foreign-born residents were U.S. citizens, according to the survey. That doesn't mean the rest are here illegally, though; the survey did not ask about legal immigration status.
In case you're curious: The 2007-11 survey also showed that 53 percent of Austinites were born in Texas.
Among Austinites born abroad, the survey found, the largest contingents came from Latin America (66 percent of the foreign-born population), Asia (24 percent) and Europe (6 percent).
2007-2011 American Community Survey 5-Year Estimates:

State demographer Lloyd Potter told us by phone, "That's true for most all of Texas, that the bulk of our immigrants are from Latin American countries. Mexico is without question the biggest sender."
In fact, about one-tenth of all Austinites were born in Mexico, we found in expanded results from the 2007-11 survey. Mexico accounts for more than half the city's foreign-born population -- 54 percent. Honduras, El Salvador, Guatemala and Cuba each account for 1 percent to 3 percent of those born abroad.
Note: The city press release said "overseas," and clearly not all such residents had to cross an ocean to get here, but PolitiFact has equated "overseas" with "outside the U.S." in numerous past fact-checks.
Potter and Robinson each said the percentage of Austinites hailing from Asian nations is noteworthy.
In general, Asians are the city's fastest-growing demographic group, according to an Oct. 23, 2013, Austin American-Statesman news story -- surging by 60 percent in the past decade, triple the rate of the city's overall growth.
Of Austin's foreign-born residents, the five-year survey shows 6 percent were born in India, 4 percent each in China and in Vietnam, and 3 percent in Korea.
Potter said high-tech companies in the Austin area draw a high percentage of Asian immigrants seeking higher education or already possessing such an education and in-demand skills; employers then help them get visas. Overall, they tend to have high income and low levels of unemployment, he said.
In the longer-established Latin American migrant stream, Potter said, immigrants are more likely to be joining relatives under a "family preference" visa, a type that does not require them to have a job in hand. Broadly speaking, Potter said, the group tends to exhibit higher unemployment, lower education and lower income levels.
In September 2013, Austin opened an Asian American Resource Center, a 16,000-square-foot community center built in part with $5 million in voter-approved bonds. That center housed the Nov. 9, 2013, "Welcome to Austin" orientation advertised in the city's press release.
Betts, the city's global business recruitment and expansion coordinator, told us by email the session included Korean and Mandarin translation. "We looked at which languages are spoken by the largest numbers of recent immigrants," she said. The first two sessions were in English and Spanish.
Participants are briefed on public transportation, schools, health care and city resources such as police, libraries and parks, according to the press release; they also are offered information on starting a small business and on managing finances.
What does having one-fifth of its populace born abroad mean for Austin?
Robinson said it indicates Austin is increasingly tied to the global economy, for better or worse. And, he said, "It's a piece of evidence that supports the narrative that Austin is indeed becoming much more of an international city than it ever was in the past."
Our ruling
A City of Austin official said, "Nearly 20 percent of our residents" are born abroad.
Such residents made up 19.3 percent of the city's population in the 2007-11 period covered by a federal survey.
We rate the statement as True.
---
TRUE – The statement is accurate and there's nothing significant missing.
Click here for more on the six PolitiFact ratings and how we select facts to check.
City of Austin press release, Nov. 8, 2013
Telephone and email interviews, excerpted, with Ryan Robinson, demographer, City of Austin, Nov. 14-20, 2013
Telephone interview with Virginia Hyer, public affairs specialist, U.S. Census Bureau, Nov. 19, 2013
U.S. Census Bureau, "Selected Social Characteristics in the United States, 2007-2011 American Community Survey 5-Year Estimates," received from Melissa Alvarado, public information specialist, City of Austin, Nov. 13, 2013
Telephone interview with Lloyd Potter, state demographer, Nov. 15, 2013
Email interview, excerpted, with Natalie Betts, global business recruitment and expansion coordinator, City of Austin, Nov. 14, 2013
U.S. Census Bureau, "Place of Birth for the Foreign-Born Population in the United States, 2007-2011 American Community Survey 5-Year Estimates," retrieved online Nov. 19, 2013
Austin American-Statesman news story, "Austin City Council to mull Asian quality of life proposals," Oct. 23, 2013
Browse the Truth-O-Meter
More by Sue Owen
Support independent fact-checking.
Become a member!
In a world of wild talk and fake news, help us stand up for the facts.