Stand up for the facts!
Our only agenda is to publish the truth so you can be an informed participant in democracy.
We need your help.
I would like to contribute
"Greg Abbott said it would be a 'waste' to expand pre-k to all Texas children."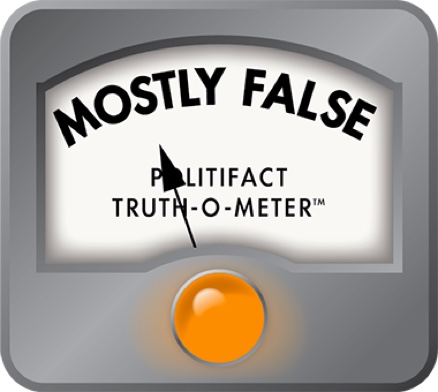 Greg Abbott says no to universal pre-kindergarten absent steps to ensure quality
Democratic gubernatorial nominee Wendy Davis cited a news story as showing that Greg Abbott, the Republican choice for governor, unequivocally opposes providing pre-kindergarten to all Texas youngsters.
About three hours after the Austin American-Statesman posted its March 31, 2014, story outlining Abbott's just-revealed position on how best to serve the state's youngest pupils, Davis put a photo-quotation on Twitter stating: "Expanding pre-k education to all Texas children is a 'waste' -- Greg Abbott." The tweet came to our attention from Matt Hirsch, an Abbott campaign spokesman.
Davis' message, retweeted more than 100 times by the next afternoon, asked followers of @WendyDavisTexas to sign a petition telling Abbott that "educating a child isn't a waste." Her petition was topped by this statement: "As he rolled out his education plan today, Greg Abbott said it would be a 'waste' to expand pre-k to all Texas children."
Did she get that right?
Texas school districts have been required to offer pre-k to certain students since 1985, according to the National Institute for Early Education Research. Factors affecting eligibility include qualifying for a free- or reduced-price lunch, homelessness or the inability to speak or comprehend English, the institute says. In 2011-12, about 225,000 3- and 4-year-old Texans were enrolled in a pre-k class, the institute says. Abbott's proposal states that nearly all the state's districts offer a state-supported pre-k program.
Clashing visions, plans
The candidates are offering clashing visions at a time that some communities, including San Antonio, have moved to expand pre-k.
The Statesman news story noted that Davis supports a broad expansion of full-day pre-k to all youngsters, costing the state about $750 million a year, the story said.
In contrast, the story said, Abbott proposes spending an additional $1,500 per student in districts that agree to implement a "gold standard" program consisting of a rigorous curriculum and staff requirements plus assessments to measure effectiveness.
Senator's back-up
By phone, Davis spokesman Zac Petkanas said a section of Abbott's proposal, headlined "Effective Pre-k Programs," was the basis of Davis' tweet and petition statement. Abbott's proposal states: "Expanding the population of students served by existing state-funded programs without addressing the quality of existing prekindergarten instruction or how it is being delivered would be an act of negligence and waste." The sentence was the second paragraph of the Statesman story.
Petkanas said the part of Abbott's statement about the state needing to address quality issues--not mentioned in Davis' claim--didn't diminish the validity of her claim that Abbott said providing pre-k to more students would be a waste. Petkanas further suggested that nothing in Abbott's plan envisions expanded pupil enrollments.
Petkanas also pointed out a section of Abbott's proposal touching on the Head Start program. The "best available evidence," the proposal says, "raises serious doubts that a large public investment in the expansion of pre-k for four year-olds will have the long-term effects claimed by supporters. Lawmakers instead should improve Texas' current framework to better serve the existing eligible students."
Next, we read Abbott's plan with an eye out for indications he opposes expanded pre-k participation.
Abbott's proposal
According to the proposal, Abbott would want districts to participate in his quality-assurance program, but doesn't propose cuts in state aid for the half-day classes currently mandated. "This proposal would leave the existing pre-k rules untouched," Abbott's proposal says, while creating the option for districts to seek more aid in return for gauging and ensuring results.
The added state cost of Abbott's approach would initially be $118 million over two years, according to his plan. A footnote says that if every district with a program buys in, so to speak, "allocating enhanced funding for all eligible four-year-olds will cost an additional $294,444,000 annually."
"Any increased investment in state-funded pre-K must tie outcomes to funding, and must provide incentives for private providers to offer high-quality kindergarten programs that meet the educational goals established by the state," the proposal states.
Abbott's plan calls any "across-the-board expansion" of pre-k without addressing quality a "disservice to Texas students," and it says he'd leave it up to individual districts to fund full-day pre-k from local funds. "Until a very high-quality, statewide half-day prekindergarten is achieved," Abbott proposes, "the Legislature should not mandate full-day, but rather lawmakers should allow schools to make that decision based on the needs of their community while still rewarding schools" that "manage a quality program."
Abbott spokesman Avdiel Huerta emailed us the text of Abbott's March 31 speech unveiling his pre-k ideas. The remarks speak to Texas transforming pre-k by sending more aid to districts that embrace the "gold standard" program.
Abbott said districts adopting his "gold standard" would have leeway to determine effective ways to use the additional funding to meet requirements. "Some districts may choose to hire more teachers," his speech said. "Others may expand to full day pre-k. Others may choose to expand their existing partnerships with private providers."
While critical of existing pre-k, Abbott's remarks don't directly address the idea of expanding pre-k classes to full days. We asked Huerta how Abbott responded to reporter questions about full-day pre-k. By email, he presented a question and Abbott's reply, which seems to indicate that "gold standard" participants could use the added state aid to offer full-day programs. In the exchange, Abbott also used the abbreviation for independent school districts:
REPORTER: The Davis people are saying that what you proposed is not expanding pre-K. If so, why is that?
ABBOTT: Well, if you go back and look at the plan, what our plan does is give flexibility to local ISDs [and] allow them to decide how they want to [approach] pre-K…Some can take that $1,500 and use it to expand to full-day. Others can [use] it to hire more teachers - you have an almost infinite number of ideas of ways they [can] use the money. They could, say, buy technology. Whatever it is they feel they need. They can use that to craft what they perceive as the best pathway to achieve the Gold Standard in pre-K 4. And so, full day is a possibility for local ISD pre-K 4 if they choose it to be the best pathway for them.
Our ruling
According to Davis, Abbott said expanding pre-k to all Texas children would be a waste.
Abbott said nothing like that in his prepared remarks, while his plan unveiled the same day folds in a caveat that Davis disregarded. In the plan, Abbott says it would be a waste to offer pre-k to more students--without addressing quality.
While the senator's statement leaves a misimpression, it also has an element of truth. Abbott wouldn't move now to fund all-day pre-k for all Texas toddlers.
We grade the petition claim as Mostly False.
---
MOSTLY FALSE – The statement contains an element of truth but ignores critical facts that would give a different impression.
Click here for more on the six PolitiFact ratings and how we select facts to check.
News story, "Greg Abbott promotes improving quality of preK over expanding access, full-day classes," Austin American-Statesman, March 31, 2014
Document, "Greg Abbott's Educating Texans Plan: pre-k -- Third Grade," Greg Abbott campaign, March 31, 2014
Telephone interviews, Rebecca Acuña, press secretary, Wendy Davis campaign, March 31, 2014; Zac Petkanas, communications director, Wendy Davis campaign, April 1, 2014
Document, "Full text of Greg Abbott's remarks as prepared for delivery at Sam Houston Elementary School," Weslaco, March 31, 2014 (received by email from Avdiel Huerta, press secretary, Greg Abbott campaign, April 1, 2014)
Emails, Avdiel Huerta, press secretary, Greg Abbott campaign, April 1-2, 2014
Browse the Truth-O-Meter
More by Sue Owen
Support independent fact-checking.
Become a member!
In a world of wild talk and fake news, help us stand up for the facts.