Stand up for the facts!
Our only agenda is to publish the truth so you can be an informed participant in democracy.
We need your help.
I would like to contribute
Says President Barack Obama promised he would cut the deficit in half, but instead will at least double it.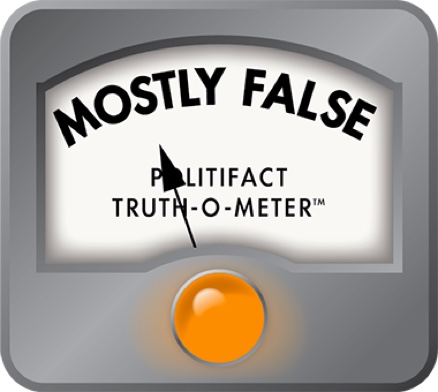 Tim Pawlenty says President Obama is going to break promise on deficit and will double it
In a recent interview on New Hampshire Now, a talk show on WKXL-AM in Concord, former Minnesota Gov. Tim Pawlenty said President Barack Obama's first term was littered with broken promises.

"People won't be duped twice. He made huge promises to the country -- 10, 15 big promises and he's broken or left unfulfilled almost every one of them," Pawlenty said. "Just a couple of quick examples: He said in 2009 early, 'I will reduce the deficit in half by the end of my first term.' Instead he's going to multiply it by two, three, four or five."

We raised our eyebrows.

So we checked in with Alex Conant, spokesman for the Pawlenty campaign, and asked him to provide some supporting evidence.

Conant cited a comment by Obama in February 2009 at the Fiscal Responsibility Summit in which  Obama said he was "pledging to cut the deficit we inherited by half by the end of my first term in office. Now, this will not be easy. It will require us to make difficult decisions and face challenges we've long neglected. But I refuse to leave our children with a debt that they cannot repay, and that means taking responsibility right now, in this administration, for getting our spending under control."

So Pawlenty is right about the first part.

As for the second part of the statement, Conant pointed us to an estimate of federal debt from the Congressional Budget Office, the nonpartisan agency that does official budget estimates.

"If you look at this CBO projection of federal debt, (Table 1, Page 2), you'll see that the publicly held debt will double with even the most generous revenue projections," Conant wrote. "If revenues continue to stagnate, and businesses do not grow, the debt will grow by even larger margins."

But Pawlenty said "deficit" -- not "debt." They are not the same thing. We inquired again but never heard back from Conant.

Here's how they're different:

The deficit is the amount by which the government's spending exceeds its revenue for a given period, usually one year. The debt is the accumulation of the prior deficits.

There are actually two major ways of tabulating the debt. One is public debt, which includes all debt owed by the federal government and held by investors through Treasury notes and other securities. Another is gross federal debt, which includes public debt plus debt held by the government. The most notable forms of debt held by the government are the trust funds for Social Security and Medicare, money that is owed to beneficiaries in the future.

The "debt held by the public," which Conant referenced, currently represents about two-thirds of the $14.4 trillion gross federal debt.

If you're measuring the deficit, Pawlenty's right that Obama hasn't yet fulfilled his promise -- at least according to the current projections for the end of his four-year term. The annual deficit was $1.4 trillion when he took office in 2009. In CBO's most recent projections from April, the deficit is projected to be $1.16 trillion in fiscal year 2012 and $901 billion in 2013.  

So he's got to cut a lot more from the budget in the next two years to achieve the goal.

But it was incorrect for Pawlenty to say the deficit will more than double. In fact, it is on track to go down, although possibly not as much as Obama promised.

And even if Pawlenty meant "debt," the facts don't support his claim. The publicly held debt is projected to continue growing -- from the $7.5 trillion in fiscal year 2009 to $12.66 trillion in 2013, which is less than double.

Daniel Mitchell, an economist at the libertarian Cato Institute, suggested that Pawlenty may have erred by using fiscal year 2008 as a starting point. The debt and deficit both roughly double if he were comparing 2008 to 2012.

The debt also doubles by the end of 2013 if you use, as a baseline, Obama's first full day in office -- Jan. 21, 2009 -- when the publicly held debt was $6.3 trillion.

But even then, Pawlenty's multipliers of "three, four or five" would be gross exaggerations.

Marc Goldwein, an economist at the centrist New America Foundation, said it's more important to take in the big picture, rather a small sample of years, for analysis.

"The baseline should be -- what do we need to do to put the debt-to-GDP ratio on a downward path," Goldwein said. "We can manipulate numbers however we want to show how deficits change, but the important thing is what deficits and debt are and will be."

Our ruling

There is some truth to Pawlenty's claim: Obama made a pledge to cut the deficit in half by the end of his first term. And he's falling short so far.

But there's a lot more of Pawlenty's statement that's wrong. The deficit, which should not be confused with the debt, is projected to decrease, not increase. And even if Pawlenty mixed up the words or used the incorrect fiscal year as a baseline, Pawlenty's suggestion that the deficit could multiply by "two, three, four or five" is not supported by the facts.

We rate Pawlenty's statement Barely True.
Editor's note: This statement was rated Barely True when it was published. On July 27, 2011, we changed the name for the rating to Mostly False.
New Hampshire Now, Interview with Tim Pawlenty, June 13, 2011

CNN, Obama pledges to cut nation's deficit in half, February 23, 2009

Transcript, President Barack Obama speech at the Fiscal Responsibility Summit, February 2009, accessed via gpoaccess.gov

The Budget and Economic Outlook: Fiscal Years 2011-2021, Congressional Budget Office, Jan. 27, 2011

An Analysis of the President's Budgetary Proposals for Fiscal Year 2012, Congressional Budget Office, April 2011

Email interview with Alex Conant, spokesman for Tim Pawlenty

Email interview with Daniel Mitchell, Senior Fellow with the Cato Institute

Email interview with Marc Goldwein, Policy Director of the Committee for a Responsible Federal Budget and Senior Policy Analyst at the New America Foundation
Support independent fact-checking.
Become a member!
In a world of wild talk and fake news, help us stand up for the facts.