Stand up for the facts!
Our only agenda is to publish the truth so you can be an informed participant in democracy.
We need your help.
I would like to contribute
"President Obama came to Ohio 12 times to try to defeat me and guess what? He didn't win."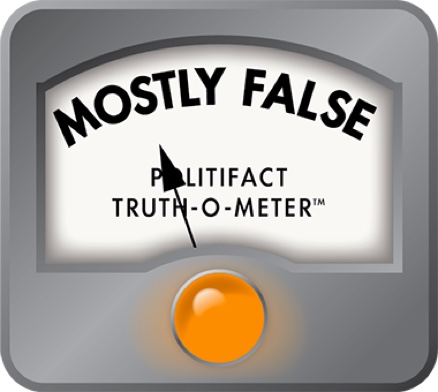 Gov. John Kasich says Barack Obama came to Ohio 12 times to campaign against him
Shortly after he defeated Democratic Gov. Ted Strickland in the November election, Republican Gov. John Kasich repeatedly expressed his displeasure about Strickland's negative campaign. Kasich complained that he had to fight an unprecedented effort to soil his good name.

PolitiFact Ohio checked one such statement Kasich made to a group of lobbyists on Nov. 4: "I had 12 visits by a president, somewhere between $45 (million) and $50 million (spent against him,) 500 paid volunteers in here calling me every name in the book, former presidents, first ladies and God-knows-who-else."

After examining the four main assertions in that statement, the Truth-O-Meter landed on Half True.

Lately, Kasich has recycled one of the more questionable assertions within that statement, namely, that President Barack Obama visited Ohio a dozen times to campaign against him.
Kasich said it in two separate interviews on CNN on Feb. 21 and Feb. 22, the week Obama visited Cleveland for a small-business forum.

Kasich told CNN's Jessica Yellin on Feb. 21 that he would be there to meet Obama the next day when the president arrived in Cleveland, despite their political differences.

"Well, I am there to greet him," Kasich said. "I mean, President Obama came to Ohio 12 times to try to defeat me and guess what? He didn't win."

The governor went on to explain: "I think it is my job to be there to welcome him to Ohio on his first visit since he is president and I'm the governor."

Since Kasich thinks his statement about the 12 Obama visits bears repeating, PolitiFact Ohio thought it was worth revisiting our research.

Obama indeed visited Ohio 12 times from the time he took office in January 2009 until last year's election. But a review of Obama's travel schedule and the text of all the speeches he made here show that only a small part of his time in Ohio was devoted to campaigning against Kasich.

Obama, for instance, visited Ohio on March 3, 2009, a full two months before Kasich even announced his candidacy.

And of Obama's 12 trips, nine were made under the guise of official White House business during which he pushed specific policies – mainly health care reform and the economic stimulus bill.

Two trips last year, Oct. 17 and Oct. 31,  were made specifically to campaign for Strickland and the Democratic ticket. And on a trip made Aug. 18, Obama hosted a fund-raiser for Strickland and in a separate event pushed his economic polices.

Transcripts from Obama's non-campaign visits show he referred to Republicans in Washington many times in arguing that his policies are better than GOP plans. But Obama never mentioned the governor's race or Kasich.

Obama never mentioned Kasich at an Oct. 17 campaign rally before 35,000 people in Columbus, either. He named Kasich twice at his Oct. 31 rally in Cleveland.

Kasich's claim does contain some elements of truth. Obama did make 12 visits to Ohio as president before election day last November. And on three of those visits he did specifically campaign for Strickland. But to say that Obama campaigned against him 12 times, Kasich is overstating the case.  

While Kasich deserves a little leeway given that any presidential visit provides cover to office holders of the same party, it's a stretch to imply that the president was here solely to bash the Republican on the other nine visits. That's a critical fact that would give the listener a different impression.

Even though Kasich likes to repeat it, on the Truth-O-Meter the statement is Barely True.
Editor's note: This statement was rated Barely True when it was published. On July 27, 2011, we changed the name for the rating to Mostly False.
Browse the Truth-O-Meter
More by Mark Naymik
Support independent fact-checking.
Become a member!
In a world of wild talk and fake news, help us stand up for the facts.