Stand up for the facts!
Our only agenda is to publish the truth so you can be an informed participant in democracy.
We need your help.
I would like to contribute
"#Business formation is still on the rise in Ohio! So far in 2011 we've assisted w/ 44,443 new business filings."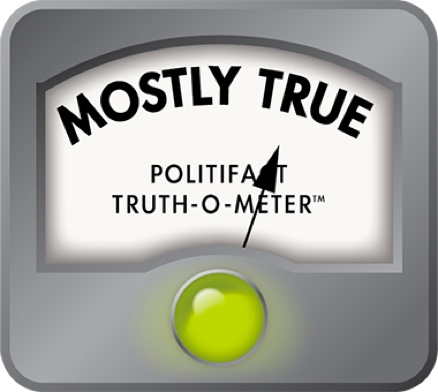 Ohio Secretary of State Jon Husted touts rise in new business filings
Ohio politicians have made job creation a top priority and talking point.

Gov. John Kasich, for instance, runs nearly every policy proposal through the jobs filter and frequently cites his belief that the state must be more business friendly to spur job growth.   

Even Secretary of State Jon Husted wants the public to know that he is keeping a close eye on jobs, an issue that he and fellow Republicans successfully harnessed during the 2010 election, when they knocked Democrats from office in part by blaming them for the state's job woes.  

Though Husted's most visible duty is overseeing elections, he is responsible for keeping track of the paperwork filed by individuals and companies – both non profit and for-profit corporations -- that want to do business in Ohio.

On July 18, 2011, a tweet by his office's Twitter account, @OhioSOSHusted, noted that his office has processed more requests to set up companies through June of this year than the office processed during same period last year.  

"#Business formation is still on the rise in Ohio! So far in 2011 we've assisted w/ 44,443 new business filings." 
The tweet also included a link to a news release his office posted to the Internet.  

PolitiFact Ohio was intrigued by the tweet and specifically whether the increase in business filings is an indicator of an upswing in business as the message -- and its exclamation point -- suggests.
 
The state handled 41,891 business filings through June 2010. That means the state processed 2,552 more business filings through the first six months of  this year – or about 6 percent -- compared to last year, according to Husted's office.

"The number of new business selecting Ohio as a place to do business is heading in the right direction," Husted said in the news release.  

To get a better perspective on business filings, PolitiFact Ohio asked Matt McClellan from Husted's office for the six-month and yearly totals of  business filings dating back to at January 2005, nearly three years before the recession officially began in December 2007.

McClellan offered these additional figures:  
2005 (January through June) 42,919; (total for the year) 78,025
2006 (January through June) 41,664; (total for the year)  79,653
2007 (January through June) 41,401; (total for year) 77,582
2008 (January through June) 41,145; (total for year) 77,858
2009 (January through June) 39,691; (total for the year) 75,854
2010 (January through June) 41,891; (total for the year) 80,081    

Broadly speaking, these figures show the total number of filings has bobbed up and down and currently trending upward slightly.

Narrowing the focus, the January-through-June average total filings for the years leading up to the start of the recession is 41,994; the January-through-June average total filings during the recession is 40,909, or about a 2.5 percent fewer. So how does that compare to the 2011 January-through-June figure that inspired the tweet?

It is nearly even with the pre-recession yearly six-month average; and slighlty ahead of the recession average.

While the filings figures offer trend line, they tell us very little about the nature of the businesses, leaving to speculation whether they represent signs of real new businesses, future businesses, or just paperwork signaling legal and tax changes.

Also, it's impossible to calculate the number of new businesses without knowing what is happening to existing businesses. If, for instance, new filings increased by 5,000 but 6,000 businesses failed, the uptick in filings, by itself, would create a misleading sign of growth.  

Husted seems to acknowledge that these numbers provide an incomplete view,  but he still sees these as a positive sign.

"While recognizing these number can't provide a complete picture of Ohio's job climate, they are an important indicator of economic activity that Secretary Husted hopes will add to the discussion of how to improve the state's overall climate for business," Husted's news release states.

It's hard to ignore, however, a caveat at the bottom of Husted's press release: "Filing as a business in Ohio does not guarantee the company will begin operations, be profitable or create jobs."  

So where does Husted's tweet land on the Truth-0-Meter?

The figure in of itself is correct and points to a slight post-recession upward trend.  

But the context around the  tweet – the figure is worth boasting about because it's a sign of economy recovery – seems overly optimistic, especially given the news release's footnote that there's no guarantee these filings mean more jobs will be created.

Husted's claim is accurate, but leaves out details that provide clarification.

PolitiFact rates this claim Mostly True. 
@OhioSOSHusted, Twitter posting, July 18, 2011

John Husted, news release, "Secretary of State Husted Releases New Business Filings For June," July 18, 2011

Ohio Secretary of State, Business filings data, 2005-2011

Matt McClellan, Ohio Secretary of State spokesman, email interviews July 19-28, 2011
Browse the Truth-O-Meter
More by Mark Naymik
Support independent fact-checking.
Become a member!
In a world of wild talk and fake news, help us stand up for the facts.