Get PolitiFact in your inbox.
Bill McCollum "served as a lobbyist whose clients enabled mortgages for illegal immigrants."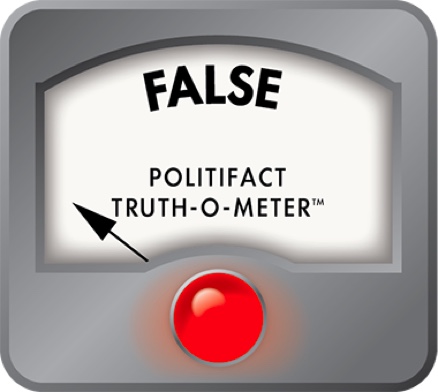 Scott says McCollum lobbied for clients who paved the way to homeownership for illegal immigrants
Republican rivals for governor, Attorney General Bill McCollum and Rick Scott, have accused each other of being too helpful toward illegal immigrants -- a hot topic in the wake of the Arizona immigration law. Their campaigns sent dueling press releases June 15 and 16, 2010, trying to portray their opponent's business practices as being too friendly to illegal immigrants.

The Republicans' positions on illegal immigration will be key for primary voters. If elected, Scott has promised to bring an Arizona-style law to Florida -- a law that requires police officers who have made lawful stops to check an individual's immigration status. PolitiFact gave McCollum a full-flop for sending mixed signals on the law -- first opposing the original version, then stating he supported it after Arizona amended it to prohibit racial profiling, but then stating Florida doesn't need such a law.

They are now arguing about whose past business practices benefitted illegal immigrants.

McCollum sent these fighting words in a press release June 15, 2010: "In just the latest case of hypocrisy, it was revealed today that Rick Scott has heavily invested in a company that is geared to helping illegal aliens transfer money to family and friends out of the country. ... Rick Scott says he wants to crack down on illegal immigration, but now we find out he has been profiting from illegal immigrants." We rated that statement True.

The following day, June 16, 2010, Scott's campaign issued a press release about McCollum which stated: "Bill McCollum jumped his sinking ship of a campaign today and fled to Washington, D.C., where he served as a lobbyist whose clients enabled mortgages for illegal immigrants.'' ("Fled to Washington, D.C." refers to a day of meetings McCollum had June 16 with a tax reform group and national conservative leaders, said his spokeswoman Kristy Campbell.)

In this Truth-O-Meter item, we explore whether McCollum "served as a lobbyist whose clients enabled mortgages for illegal immigrants."
The Scott campaign's press release focuses on three groups that it says McCollum lobbied for: the financial company Citigroup, a non-profit called AmeriDream Charity, and the Mortgage Bankers Association, the organization that represents the industry.

Scott's campaign sent us McCollum's lobbyist registrations showing he registered to lobby federal offices for AmeriDream in 2002 and 2003, CitiGroup in 2002 and Mortgage Bankers Association of America in 2001. McCollum lobbied after he left Congress in 2001.

Even though no federal laws prohibit making mortgages to illegal immigrants, we doubt any financial firm or organization, in today's political climate, will acknowledge they offer or have offered loans to illegal immigrants. But many newspaper reports across the country in the past decade have described illegal immigrants who hold home mortgages. Some likely obtained mortgages from institutions that didn't ask about immigration status, or winked. And certainly, lenders are occasionally duped by mortgage fraud committed by U.S. citizens and immigrants alike.

The question here, though, is whether McCollum's clients enabled those loans while he lobbied for them? We took "enable" to mean that the companies allowed illegal immigrants to obtain mortgages.

We started with the sources Scott's campaign cited in its press release but first did some background on Individual Taxpayer Identification Numbers, or ITINs, which have been used by legal and illegal immigrants as a form of ID.

The IRS started issuing ITINs in 1996 to provide a method to process tax returns and payments for those not eligible for Social Security numbers, including non-resident aliens. The IRS says ITINs are not intended for other uses.

But by 2002, several major banking chains in the U.S. -- including Citibank – were accepting ITINs to allow customers to open bank accounts because they wanted to tap into the growing Hispanic immigrant market. That paved the way for some banks to offer mortgages through ITINs.

Mark Rodgers, a Citigroup vice president who wrote an article in the online newsletter of the Comptroller of the Currency in the fall of 2004, touted the firm's efforts in 2003 to offer bank accounts and money transfers, or remittances to Hispanics. We asked him whether his company provided mortgages to illegal immigrants in 2002. He explained in an e-mail that Citigroup accepted ITINs from mortgage applicants, and approved loans for "applicants with proper identification, who meet our loan requirements and who have filed appropriate tax documents with the U.S. tax authorities, which we have verified." He emphasized every applicant had to meet the requirements, but did not respond to a follow-up question on when Citigroup began the ITIN program.

However, newspaper articles in The Palm Beach Post and Houston Chronicle in 2005 showed illegal immigrants held Citibank mortgages at least by 2004. McCollum lobbied for Citigroup only in 2002.

According to a March 18, 2002, article in Business Wire, Citibank also said it would begin accepting Mexican Consular IDs as identification for Mexican immigrants living in the U.S. to open bank accounts. The card, known as a Matricula Consular, identifies the holder as a Mexican national. But that article does not specifically mention mortgages.

Next we looked at Scott's claim about AmeriDream. AmeriDream distributed a press release Feb. 7, 2005, announcing it would accept ITINs to help immigrants buy homes, citing "an increasing number of private lenders throughout the country that have begun ITIN loan and mortgage insurance programs."

But by 2005, McCollum was no longer lobbying for AmeriDream. Federal lobbyist registration records show he lobbied for the company in 2002 and 2003.

The Scott campaign also cited a Sept. 18, 2007, Boston Globe article about illegal immigrants buying homes, which quoted a representative from the Mortgage Bankers Association. "It's not our bank members' job to determine immigration policy," said Corey Carlisle, senior director of government affairs at the Mortgage Bankers Association, a national organization representing more than 3,000 companies. "But ... they don't want to make a loan to somebody that's not going to be able to repay it."

McCollum was registered to lobby this organization in 2001. So we asked an association spokesman what its policy was in 2001 regarding illegal immigrants obtaining mortgages.

John Mechem replied in an e-mail that MBA complies with all applicable state and federal laws. He added that McCollum lobbied on efforts related to the Federal Housing Administration's multifamily (rental housing) programs, not on mortgages for immigrants. Scott spokeswoman Jennifer Baker, however, insists that since the MBA represents lenders who give mortgages to illegal aliens, McCollum in effect "enabled" the mortgages through his MBA lobbying.

We asked the McCollum campaign for a response to Scott's claim.

Campbell, McCollum's spokeswoman, said in an e-mail "Bill McCollum never advocated to give mortgages to illegal immigrants." She said he lobbied on tax issues -- not housing issues -- for CitiGroup, and MBA told us that he lobbied on issues related to a rental housing program. But the Scott campaign didn't claim that McCollum lobbied to give mortgages to illegal immigrants -- only that his clients "enabled" those mortgages.

So where does that leave us?

To recap, McCollum lobbied for the Mortgage Bankers Association in 2001, but that is a trade association that represents lenders and doesn't issue mortgages directly. Representing bankers doesn't "enable" mortgages. McCollum lobbied for Citigroup in 2002. That company started accepting the Mexican consular ID in 2002, but news articles didn't start mentioning Citi providing mortgages to customers with the ITIN identification until 2004. He lobbied for AmeriDream in 2002 and 2003, and AmeriDream didn't announce it would start accepting ITINs until 2005. There are numerous reports in the past decade that illegal immigrants have been able to obtain mortgages through the consular cards or ITINs, but there are no specific examples we could find or Scott could provide that McCollum's three clients did so when he was their lobbyist. We rate this claim False.
Interview, Rick Scott campaign spokeswoman Mary Anne Carter, June 16-17, 2010
Interview, Bill McCollum campaign spokeswoman Kristy Campbell, June 18, 2010
Interview, Citibank spokesperson Mark Rodgers, June 21, 2010
Interview, Citibank spokesman
Robert Julavits, June 18, 2010
Interview, Mortgage Bankers Association spokesman John Mechem, June 18, 2010
Interview, Florida IRS spokesman Michael Dobzinski, June 21, 2010
Browse the Truth-O-Meter
More by Amy Sherman
Support independent fact-checking.
Become a member!
In a world of wild talk and fake news, help us stand up for the facts.