Stand up for the facts!
Our only agenda is to publish the truth so you can be an informed participant in democracy.
We need your help.
I would like to contribute
U.S. Rep. Lloyd Doggett is "the most liberal man in the United States Congress."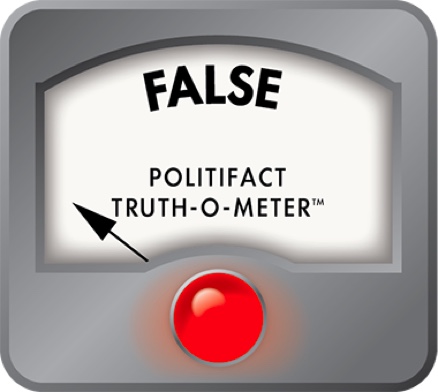 GOP nominee says Lloyd Doggett of Austin is No. 1 liberal in Congress
Rousing delegates to the Republican Party of Texas's state convention, physician Donna Campbell of Columbus lit into her November foe, calling U.S. Rep. Lloyd Doggett, D-Austin, "the most liberal man in the United States Congress."

Campbell's characterization June 12 touched off a supportive outburst from the partisans gathered in Dallas.

No doubt, Doggett, elected to the House in 1994 after stints as a state senator and Texas Supreme Court justice, has long been a liberal—proudly so. We wondered, though, if he's among the nation's most liberal members compared, say, to solons from other left-leaning districts.
When we reached Campbell to seek the basis for her statement, she  couldn't immediately visit; she was on duty in a hospital.

Next, we endeavored to gauge Doggett's liberal lean following a methodology forged by PolitiFact in Washington when it explored a similar charge.  In June 2008, the expected GOP presidential nominee, Arizona Sen. John McCain, said then-Sen. Barack Obama had accumulated the Senate's most liberal voting record. PolitiFact found that Barely True.

Also, we presumed that despite her wording, Campbell was comparing Doggett to all his colleagues, male and female, in the House and Senate. But for our analysis, we limited ourselves to the 435-member House; that seemed both reasonable and more doable than trying to compare Doggett's record to every other member of the House and Senate.
We started our check by clicking to online ratings compiled by the National Journal, a nonpartisan political magazine. According to the Journal, Doggett's 2009 voting record made him the House's 163rd most liberal member, more so on social issues than economic or foreign policy, according to its tabulation of 92 House votes. From Texas alone, seven other Democrats had more liberal records, the Journal said.

We also looked at the two preceding years. According to the Journal, Doggett's votes in 2007 and 2008 made him the House's 119th most liberal member and 97th most liberal member, respectively, in those years—not No. 1.

Congressional Quarterly doesn't rate members on a conservative-liberal teeter-totter. Instead it gauges whether members vote in step with the president or their party. In 2009, CQ says, Doggett voted with President Obama 89 percent of the time and with his party 95 percent of the time.

According to an online chart, Doggett's votes land landed him among members most likely to support their party and president, which does not put him in centrist company. Still, about 200 members, all Democrats, voted more often than Doggett in accord with Obama and about 175 members were more likely to vote the Democratic Party's way, CQ charts suggest.
For another comparison, we turned to voteview.com, a site overseen by Keith Poole, a political scientist at the University of Georgia. According to voteview's latest review of the House, Doggett is about the 117th most liberal member. Poole told us in an e-mail there is "no denying that Doggett is a conventional liberal but he is not an 'extreme' liberal."
After we alerted Campbell to how Doggett was rated by the outside measures, she replied in an e-mail: "It absolutely would have been more accurate (for me) to include the phrase 'one of the most'" instead of saying Doggett was the most liberal man in Congress.
"I'm not a practiced or polished politician and public speaking, like for many of us, is a skill I'm still honing," Campbell said. "Before hundreds, or thousands of eyes, I sometimes speed too quickly through what I'd like to say. The point I was making is that Mr. Doggett's ideology is considerably more liberal than mine, and considerably more liberal than what many, many Central Texans are telling me they want to see in their U.S. representative."
So, how does the doctor's convention charge stick?
Like melting butter.
Doggett is liberal, but he's by no measure the most liberal member of Congress, voting analyses show.
Campbell owned up after we followed up. Her statement is False.
Congressional Quarterly, "2009 Vote Studies: Presidential Support vs. Party Unity Scores," (accessed June 15, 2010)
E-mail, Donna Campbell, U.S. House nominee, June 16, 2010

E-mails (Excerpted), Keith Poole, Philip H. Alston Jr. Distinguished Chair, Department of Political Science, School of Public and International Affairs, University of Georgia, June 15, 2010

National Journal, "Key Votes Used To Calculate The (2009) Ratings," Feb. 27, 2010; "2009 Vote Ratings," ; "2008 Vote Ratings," ; "2007 Vote Ratings" (accessed June 15, 2010)
Browse the Truth-O-Meter
More by W. Gardner Selby
Support independent fact-checking.
Become a member!
In a world of wild talk and fake news, help us stand up for the facts.