Get PolitiFact in your inbox.
"Today almost half our debt is owned by foreigners."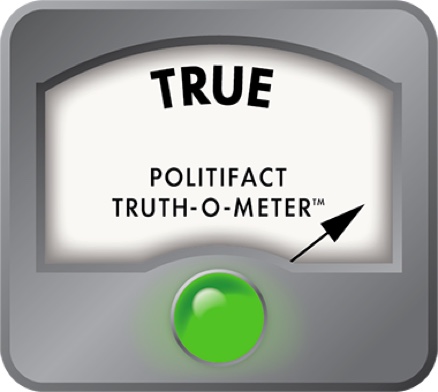 Rep. Jeb Hensarling says nearly half of U.S. debt is owned by foreigners
Speaking July 8 in Terrell, east of Dallas, U.S. Rep Jeb Hensarling, R-Dallas, focused on the federal debt, according to a July 12 recap in The Terrell Tribune. "Today," Hensarling said, "almost half of our debt is owned by foreigners. There is an old saying that whoever owns your debt may one day own you."

We wondered if Hensarling got the level of foreign ownership right.
Some perspective: The level of foreign ownership of the debt started inching up decades ago. According to a Forbes magazine article published in March, until the early 1970s foreigners owned less than 5 percent of the national debt. This started to change, columnist/economist Bruce Bartlett wrote, "after the big run-up in oil prices."

Bartlett continued: "As oil exporters suddenly acquired vast financial resources they found it convenient to park them in Treasury securities, which provided liquidity and safety. By 1975 the foreign share of the national debt rose to 17 percent, where it stayed through the 1990s, when China began buying large amounts of Treasury bills . . . At the end of last year, foreigners owned close to half of the publicly held national debt."

Hensarling's office pointed us to a U.S. Treasury website stating that by June, more than 30 other countries -- China topped the list -- owned nearly $4 trillion in U.S. debt, which the government defines as all federal debt held by individuals, corporations, state or local governments, foreign governments, and other entities outside the U.S. government, less federal financing bank securities.

According to another Treasury site, the federal government's total debt as of June 1 was nearly $8.6 trillion—making the share owned by foreigners about 46 percent.
We encountered a wrinkle, though. That $8.6 trillion in debt didn't count nearly $4.5 trillion in "intragovernmental holdings," which would have brought the total U.S. debt to $13 trillion -- lowering the percentage of foreign-held debt to 30 percent. The government defines intragovernmental holdings as Government Account Series securities held by government trust funds, revolving funds, and special funds; and federal financing bank securities, including money owed to Social Security.
Debt is debt, regardless of who's owed, no? So we wondered if it makes sense to consider the entire federal debt, as we just did, before calculating how much has been snapped up by foreigners.

Hensarling spokesman George Rasley conceded Hensarling didn't take into account all the government's debt before making his statement.

Rasley pointed out, though, that it's not the Texan's idea to separate intragovernmental holdings from publicly held debt; that's the government's approach. Rasley speculated in an e-mail: "I assume that it is (separated that way) because the government differentiates between debt we SELL to investors," debt purchased by members of the public as well as foreign nations, " and debt the government owes itself between accounts . . .which are owed by one arm of the federal government to another arm of the federal government."

Sandy Leeds, a senior lecturer at the University of Texas, frequently delves into federal spending issues. Leeds echoed Rasley, telling us government officials, such as Treasury Secretary Timothy Geithner and Federal Reserve chairman Ben Bernanke almost always ignore intragovernmental debt in their references  to U.S. public held debt.

"There are two reasonable ways to approach this," Leeds said. "One, we've got $8.6 trillion of debt and we also have no money for Social Security other than what we take in each year. Or you could say we have got $13 trillion of debt" including intragovernmental debt such as money owed to Social Security. Leeds said: "I really couldn't argue that one is right and one is wrong."
"There is certainly nothing misleading," Leeds said, about Hensarling's statement.

Leeds added in an e-mail: "Dividing the foreign debt by the publicly held debt is fair. One way of thinking about this is to think of all of the debt that we had to go to the outside markets to finance. Foreigners financed 50 percent."

We rate Hensarling's statement True.
Forbes, Bruce Bartlett, opinion column, "America's foreign-owned national debt," March 12, 2010 (accessed July 28, 2010)
Interview and e-mail, Sandy Leeds, senior lecturer, University of Texas at Austin, Department of Finance, July 28 and 29, 2010
The Terrell Tribune, news article, "Hensarling 'speaks out' at town hall," July 12, 2010 (accessed July 27, 2010)

U.S. Treasury, websites, "MAJOR FOREIGN HOLDERS OF TREASURY SECURITIES," "Frequently Asked Questions about the Public Debt, Ownership of the Debt," "The Debt to the Penny and Who Holds It" (accessed July 28, 2010)
Browse the Truth-O-Meter
More by W. Gardner Selby
Support independent fact-checking.
Become a member!
In a world of wild talk and fake news, help us stand up for the facts.