Get PolitiFact in your inbox.
Barack Obama "extended health care for wounded troops who'd been neglected."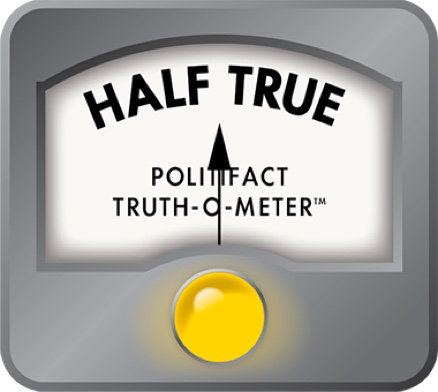 He helped but wasn't a major player
In one of his first ads since winning the Democratic nomination for president, Sen. Barack Obama speaks directly to the camera about his life story and his legislative accomplishments.
"America is a country of strong families and strong values," the ad begins. "My life's been blessed by both. I was raised by a single mom and my grandparents. We didn't have much money, but they taught me values straight from the Kansas heartland where they grew up."
Later in the ad, Obama says, "I passed laws moving people from welfare to work, cut taxes for working families and extended health care for wounded troops who'd been neglected."
For his statement that he "extended health care for wounded troops who'd been neglected," the campaign points to a couple of pieces of legislation.
In 2008, Obama and Sen. Claire McCaskill contributed key portions to the National Defense Authorization Act that required postdeployment mental health screenings and a national study on the needs of Iraq veterans. We looked into the legislative history of the bill and found that Obama and McCaskill can at least take some credit for developing the list of requirements. It's not a major extension of benefits, however.
Another problem for Obama is that he missed the final vote on the bill because he was campaigning. Republican nominee John McCain missed it, too. The bill passed overwhelmingly, 91-3.
The other piece of legislation the campaign points to is an amendment Obama passed that picked up the tab for meals and phone calls for Iraq veterans receiving outpatient treatment. We looked at this legislation previously when Obama talked about it at a debate in Las Vegas in early 2008. Obama closed a loophole for outpatient veterans; hospitalized veterans were already covered. So in fairness, this was a tweak to previous legislation.
If Obama had said he had helped extend health care for wounded veterans who'd been neglected, we would have given him a better rating. But he phrased his accomplishment to take more of the credit than that. Missing the vote on the 2008 bill does not help his case. For all of these reasons, we find his statement Half True.
Government Printing Office, National Defense Authorization Act , became public law Jan. 28, 2008

St. Petersburg Times, Food bills called insult to GIs' injury, Sept. 11, 2003

St. Petersburg Times, Bill will let wounded eat for free, Oct. 18, 2003

Salon.com, Insult to Injury, Jan. 27, 2005

Obama Senate Office, news release, Obama Amendment to Pay for Wounded Soldiers' Food Passes Senate

U.S. Congress, H.R. 1268 - Defense Supplemental Appropriations Bill

U.S. Congress, Conference report on H.R. 1268 , Pages 22 and 125
Browse the Truth-O-Meter
More by Adriel Bettelheim
Support independent fact-checking.
Become a member!
In a world of wild talk and fake news, help us stand up for the facts.