Stand up for the facts!
Our only agenda is to publish the truth so you can be an informed participant in democracy.
We need your help.
I would like to contribute
Joe Biden "voted against the first Gulf War. He opposed the surge. He wanted to partition Iraq."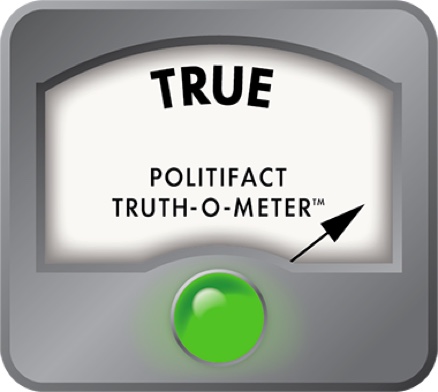 John McCain's campaign readily acknowledges Joe Biden's expertise in national security matters. But that isn't stopping McCain surrogates from questioning the Democratic vice presidential nominee's judgment, especially when it comes to Iraq policy.
McCain ally Sen. Lindsey Graham, R-S.C., raised the issue in an Aug. 31, 2008, interview on ABC News' This Week, implying that Biden lacked the backbone to stand up to powerful foes or to fix broken governments.
"He has national security experience. But experience and judgment need to come together. He voted against the first Gulf War. He opposed the surge. He wanted to partition Iraq," Graham said in response to a statement about Biden's national security experience.
As chairman of the Senate Foreign Relations Committee, Biden indeed opposed the troop buildup and called for separating Iraq into three autonomous provinces — Shiite, Sunni and Kurd. We've previously checked his Iraq policy in this story and in this ruling.
But what of his opposition to the first Gulf War? It turns out Biden, with the majority of Senate Democrats, did oppose a 1991 congressional resolution authorizing the use of force following Saddam Hussein's invasion of Kuwait in August 1990.
The question of whether to commit troops was the first decision the 102nd Congress faced upon convening in January 1991. In spite of diplomatic initiatives that followed Iraq's invasion, the elements of a major war were in place by Jan. 1: nearly 1-million troops poised along either side of Kuwait's border with Saudi Arabia; the U.N. authorization for member nations to "use any means necessary" to secure Iraq's removal after Jan. 15; and Hussein's unwavering position that he would hold on to his conquest.
Congress was put in the position of making a firm and formal stand. Democratic leaders spurned President George H.W. Bush's request for an open-ended vote of support and urged members to delay any action on the crisis, lest it undermine a final attempt at a diplomatic solution. Nonetheless, the Senate began debate on Jan. 4.
On Jan. 12, a sharply divided Congress authorized the president to go to war — the first time since World War II that Congress directly confronted the issue of sending large numbers of American troops into combat. The joint resolution authorized the president "to use United States Armed Forces" to enforce a Nov. 29, 1990, U.N. Security Council ultimatum that Iraq withdraw troops from Kuwait. The resolution put no time limit on the use of American force if Iraq failed to live up to the U.N.-imposed conditions.
The Senate voted 52-47 to authorize the use of force, with Biden among those voting no. Ten Democrats joined with virtually unanimous Republicans in support of the resolution. Minutes later, the House approved identical legislation by a vote of 250-183.
Most of the Democratic opponents argued that war should be only a last resort, and insisted that the administration and its allies should have waited months — and maybe as long as a year — on the expectation that the pressure from economic sanctions would eventually force Iraq to withdraw. That view was endorsed by some scholars and former Pentagon officials who had testified before congressional committees, but was emphatically disputed by others.
As the vote approached, Biden expressed concern about the United States bearing an undue burden of the military operations, and derided other nations in the anti-Iraq coalition, calling it, "a coalition that has allowed us to take on 95 percent of the sacrifice across the board."
The vote represented the thinnest congressional margin backing military action since the War of 1812. And senators split the same way on a resolution offered prior to the use of force measure by Majority Leader George J. Mitchell of Maine and Armed Services Committee chairman Sam Nunn, D-Ga., that demanded a continued reliance on economic sanctions. That resolution was defeated 46-53, with Biden voting in favor.
On the campaign trail, Biden makes the case that he has the requisite toughness to go head-to-head with foreign leaders. As an example, he points to a 1993 encounter with Yugoslav leader Slobodan Milosevic duiring the Balkan wars in which he called Milosevic a war criminal to his face. But Biden's two votes on the eve of war in 1991 clearly show he favored continued economic sanctions over the use of military force. For this reason, we rule Graham's statement True.
Lexis-Nexis, Transcript of Lindsay Graham interview, Aug. 31, 2008

CQ Almanac, 1991 and 2002

New York Times, "Confrontation in the Gulf; Congress Acts to Authorize War in Gulf," by Adam Clymer, Jan. 13, 1991

New York Times, "Threats and Responses: The Congressional Reslution; Bush Strikes Deal for House Backing on Iraq," by Elisabeth Bumiller and Alison Mitchell, Oct. 3, 2002

Wall Street Journal, "Sen. Biden Opposes Iraq 'Surge,' " by Yochi J. Dreazen, Dec. 26, 2006.
Browse the Truth-O-Meter
More by Adriel Bettelheim
Support independent fact-checking.
Become a member!
In a world of wild talk and fake news, help us stand up for the facts.