Stand up for the facts!
Our only agenda is to publish the truth so you can be an informed participant in democracy.
We need your help.
I would like to contribute
If Your Time is short
Clerks and voters agree that, overall, both absentee and in-person voting in Michigan's Aug. 4 primary election went smoothly, but the larger turnout in the November general election could pose logistical troubles.

Many Michiganders embraced mail-in voting this year, leading to a surge in participation. Officials credit the 2018 constitutional change that let voters cast absentee ballots for any reason.

The coronavirus left some clerks with a shortage of poll workers, which delayed the opening of some polling locations in Detroit and Flint.

In Detroit, some voters found out at the last minute that their polling locations had changed.
On Aug. 4, Michigan held its primary election. The races before Michigan voters included primaries for the U.S. Senate, U.S. House, state Legislature and local offices. Michiganders also cast their vote on a number of local propositions.
"By all the metrics we're looking at, it was a success," Michigan's Secretary of State Jocelyn Benson said the morning after Election Day.
How did Michigan's August primary go?
Heading into the election, clerks across the state noted a surge in absentee ballot requests. Ultimately, over 1.6 million absentee ballots were cast this primary, breaking the state's previous record of roughly 1.27 million in the November 2018 general election. For the first time ever, absentee votes exceeded the number of votes cast in person.
In 2018, Michigan voters approved a proposal amending the state's constitution to allow voters to vote absentee for any reason, sharply expanding the number of Michigan voters eligible to cast an absentee ballot in 2020. Concerns over the risks of voting in-person during a pandemic also increased demand for absentee voting. The changes to the constitution also included provisions for automatic and same-day voter registration.
The result was record turnout for an August primary.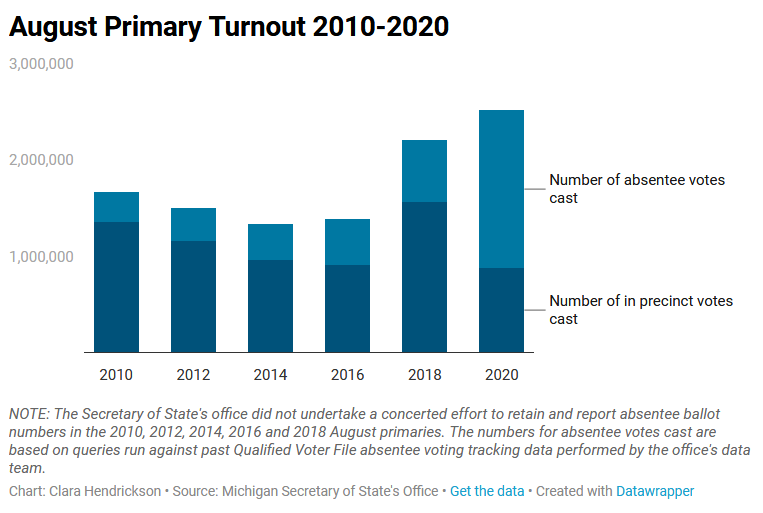 Michigan election law does not allow absentee ballots to be counted prior to Election Day, so tabulating results took longer compared with previous elections. Benson anticipated that results for most races would be clear one or two days after the election. That prediction panned out. In most races, a winner had been declared by Wednesday or Thursday after the Tuesday election. The secretary of state's office released unofficial results on Aug. 5, and the Michigan Board of State Canvassers certified the results on Aug. 24, or 20 days after the election. In 2016, the board also certified the results 20 days after the August primary.
Challenges confronting those who voted in-person
Among those who opted to vote in person, many said polling locations were stocked with hand sanitizer and disinfectants and staffed with election workers wearing personal protective equipment, according to reporters from the Detroit Free Press who spoke with voters across the Detroit metro area on Election Day.
RELATED: Voting Counts: Georgia's primary ended in a meltdown in June. Will it on Nov. 3?
Most voters appeared to wear masks and practice social distancing. Given the lower in-person turnout this election, voters who cast their ballots at polling locations did not encounter long lines or wait times, mitigating the health risks of voting during a pandemic.
Jurisdictions across the state did not see a significant decrease in the number of polling locations, according to a survey of dozens of Michigan clerks conducted by the Detroit Free Press in conjunction with Columbia Journalism Investigations at New York's Columbia University and the PBS series "Frontline." This made voting in-person relatively efficient this primary.
Ahead of the election, clerks across the state reported not having enough poll workers to staff precincts. Most conducted outreach and relied on the secretary of state's office to find more poll workers.
RELATED: Voting Counts: How Kentucky's June primary election turned out
In some jurisdictions, however, voters confronted obstacles on Election Day. Three polling locations in Detroit and one in Flint opened late because poll workers failed to show up and open them in time. All of the Detroit precincts were open by 9 a.m., or within two hours of the scheduled open. Detroit City Clerk Janice Winfrey reported an "abnormal" number of election employees did not show up to their assigned polling location. The state sent 50 extra poll workers to Detroit and about a dozen to Flint on Election Day to address the shortages.
In Detroit, the city had to change 31 polling locations, according to the Detroit radio station WDET. The city sent letters to those affected, but some said their letter arrived the day before the election, while others said they never received notice in the mail. It is not clear how many voters were affected by the changes, but some did not find out about the changes until they showed up at their usual polling location on Election Day. Detroit seems to be the only jurisdiction in the state where voters encountered last-minute changes to their polling locations. This was the result of Detroit Public Schools Community District's decision to hold summer classes in school buildings, which left Winfrey scrambling to identify new polling locations.
Concerns over vote by mail
Some voters who cast their vote in person on Election Day expressed skepticism of voting by mail and a preference for watching their ballots inserted into the tabulating machine. "I still have more confidence in doing it in person," said Jacob Amber, who drove to his Detroit polling location on Election Day.
"I wanted my vote to really count so I wanted to make sure I came in person," said Dwayne Harvey, another Detroit voter.
Absentee ballots completed correctly and on time are tabulated just as in-person votes are. Absentee voters can drop off their ballots at their local clerk's office, in ballot drop boxes, in the mail or at the precinct on Election Day.
Some voters said they requested an absentee ballot that did not arrive in the mail in time. In Michigan, voters' requests to have an absentee ballot mailed to them must be made to their clerks by 5 p.m. the Friday before the election. This tight timeline does not guarantee delivery of ballots by Election Day.
Voters can also request an absentee ballot in person at their clerk's office by 4 p.m. the day before the election. Even if voters meet either deadline, however, it is unlikely they could mail it to the clerk's office in time to be counted. Absentee ballots must be received by clerks by 8 p.m. on Election Day to be counted, under a recent Michigan Court of Appeals ruling. The ruling is currently being appealed in the state's Supreme Court.
For the Aug. 4 primary, just over 6,400 absentee ballots statewide had to be rejected because they arrived late. Benson, the secretary of state, wants a legislative change that would ensure all absentee ballots postmarked by Election Day are counted. A bill recently referred to the Elections and Ethics Committee in the Michigan state House proposes counting mailed ballots postmarked on or before and received by the clerk within 48 hours after the close of the polls. The bill does not have the support of Republican leaders who control the Legislature, creating a significant barrier to its passage.
While most jurisdictions were able to easily process absentee ballots, in roughly 72% of Detroit's precincts, the number of absentee ballots counted did not match the number recorded in the precinct's poll book, a compilation of registered-voter records that should indicate how many voted absentee. This led the Michigan Board of Canvassers to push for a state takeover of Detroit's election this fall. While the director of the Michigan Bureau of Elections says that won't happen, Benson recently announced that she will partner with Winfrey to ensure that November's election runs smoothly in Detroit.
Looking to Michigan's November election
The number of absentee ballots cast in Michigan's November general election is expected to be nearly double the number cast in the primary, or about 3 million. While the increase in absentee voting in the primary did not significantly slow down the tabulation of election results, November's larger volume could take much longer.
Here too, Benson is pushing for a legislative change to allow Michigan's clerks to start counting ballots before the morning of the election. A number of bills in the state House and Senate would allow clerks to either begin counting absent-voter ballots or prepare them for tabulation before Election Day.
Even with heavy absent-voter participation projected, an estimated two million could still show up to vote in person on Nov. 3 if voters turnout at the same rate they did in 2016, underscoring the need for enough polling locations and poll workers on Nov. 3 to prevent long wait times, especially with public health experts urging Americans to avoid large crowds.
Columbia Journalism Investigations fellow Aseem Shukla contributed to this report.
WDET, "Michigan Secretary of State: 'Everyone Who Wanted to Vote Was Able to Vote' In Primaries," August 5, 2020
The Detroit Free Press, "In Michigan, an Election Day unlike any other," August 4, 2020
Michigan Department of State, "2020 Michigan Election Results," accessed August 12, 2020
MLive, "Some Michigan polling places open late after workers no-show," August 4, 2020
The Detroit Free Press, "Michigan awaits results in historic 2020 primary election, setting up fall campaign," August 4, 2020
WDET, "Aug. 4 Election: Here Is A List Of Detroit's Polling Location Changes," August 4, 2020
The Office of Secretary of State Jocelyn Benson, "Absentee voting allows you to vote by mail," accessed August 12, 2020
MLive, "Absentee ballots must be received by Election Day, Michigan Court of Appeals rules," July 15, 2020
MLive, "Group seeking to have absentee ballots postmarked by election day appeals to Michigan Supreme Court," July 20, 2020
Michigan Legislature, "House Bill 5987," introduced July 23, 2020
The Washington Post, "Anxieties about mail ballots on display in latest round of primaries, highlighting worries for fall," August 4, 2020
Michigan Legislature, "Senate Bill 0757," introduced January 28, 2020
Michigan Legislature, "Senate Bill 0867," introduced April 24, 2020
Michigan Legislature, "House Bill 5435," introduced January 30, 2020
Michigan Legislature, "House Bill 5447," introduced February 4, 2020
Jacob Amber, Detroit voter, in-person interview, August 4, 2020
Dwayne Harvey, Detroit voter, in-person interview, August 4, 2020
The Detroit Free Press, "November election could be a 'disaster' if changes aren't made, Michigan advocates warn," August 5, 2020
The Office of the Secretary of State Jocelyn Benson, "Rejected absentee ballot numbers highlight need for legislative changes," August 14, 2020
The Detroit Free Press, Dave Boucher, "Michigan board vote may mandate future state takeover of Detroit elections," August 24, 2020
The Detroit Free Press, Dave Boucher and Paul Egan, "Detroit polling places open late after some workers no-show for Michigan primary election," August 4, 2020
WWMT, "Primary Election Day in Michigan: A look at how Michiganders are voting amid a pandemic," August 4, 2020
WDET, Laura Herberg, Meta Stange and Shiraz Ahmed "Aug. 4 Election: Here Is A List Of Detroit's Polling Location Changes," August 4, 2020
The Detroit Free Press, Clara Hendrickson, "What we know about Detroit's absentee ballot processing errors," August 27, 2020
The Office of the Secretary of State Jocelyn Benson, "Winfrey, Benson announce partnership to support Detroit elections," September 2, 2020
The Detroit Free Press, Dave Boucher "Detroit needs about 900 more poll workers for primary election, clerk says," July 23, 2020
The Office of Secretary of State Jocelyn Benson, "Michigan Voter Registration Count by County 2020," accessed September 9, 2020
The Office of Secretary of State Jocelyn Benson, "General Election Voter Registration / Turnout Statistics," accessed September 9, 2020
The Office of Secretary of State Jocelyn Benson, "2016 Michigan Registered Voter Count," accessed September 9, 2020
Michigan Board of State Canvassers, "August 22, 2016 meeting minutes," accessed September 9, 2020
Browse the Truth-O-Meter
More by Clara Hendrickson