Get PolitiFact in your inbox.
U.S. House Speaker Mike Johnson "opposes Social Security benefits."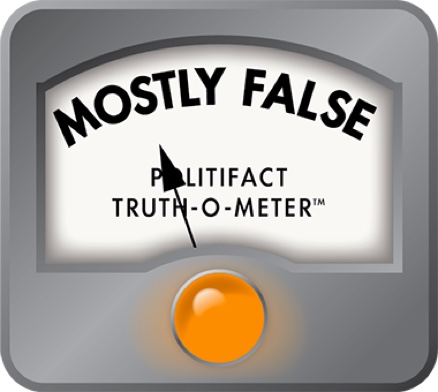 Wisconsin lawmaker falsely claims US House speaker 'opposes Social Security'
If Your Time is short
New House Speaker Mike Johnson has not outright said he opposes Social Security benefits.

The Republican Study Committee, which Johnson chaired, recommended significant cuts to the program in 2020.

Johnson has openly criticized entitlement spending, calling it an "existential threat" to government.
Soon after House Republicans voted in Rep. Mike Johnson, R-La., as House speaker, a number of Democratic lawmakers in Wisconsin took to X to lament the pick. 
This included state Rep. Francesca Hong, D-Madison, who tweeted soon after the vote: "House Republicans voted in an anti-abortion insurrectionist who opposes Social Security benefits as their speaker today. Shameful."
While Hong makes several claims in her tweet, the last one caught our attention, and we decided to look into the new speaker's views on Social Security benefits. 
Social Security is a government program primarily funded through payroll taxes to provide financial support to retirees, disabled individuals and survivors of deceased workers.
Does Johnson oppose such benefits?
Johnson once said debt from entitlement programs is an "existential threat" to government 
When asked to back up the claim, Hong pointed to Johnson's leadership on the conservative Republican Study Committee, which he chaired from 2019 to 2021.
In 2020, while Johnson chaired the caucus, the committee released a budget plan that urged Congress to adopt changes to Social Security and its benefits.
These included measures to raise the retirement age and scale back cost-of-living adjustments to benefits for higher-income people. Those changes, among others, would have cut spending on Social Security by $756 billion over a decade, according to the budget plan.
After pointing to the committee's recommendations to cut Social Security benefits, Hong argued the large cuts are synonymous with opposing the benefits:  
"While these changes might be messaged by the committee as 'cuts,'" they are significant enough slashes to evidence that Republicans like Speaker Johnson are in opposition to the inherent goals of programs like Social Security and Medicare." 
Hong also pointed to a comment Johnson made while speaking at a 2018 event for the American Enterprise Institute, a public policy think tank
When talking about debt accrued from Medicare, Medicaid and Social Security, Johnson said they pose an "existential threat" to the American way of life and the "whole form of government."
Experts: Budget cuts don't necessarily signify elimination
It's worth noting Social Security is in financial trouble and its funding is expected to be depleted as soon as 2033, according to the Congressional Budget Office. Johnson has endorsed reforming Social Security in a way that would significantly cut back its budget and is openly critical of the program's spending, but experts say his record doesn't equate to supporting elimination of the program. 
Eric Kingson co-founder of Social Security Works, an advocacy group for entitlement programs, said the committee's plan takes "significant shots at Social Security" and would scale back benefits, but Johnson's position doesn't necessarily go against the program. 
The Republican Study Committee's plan under Johnson's leadership specifically called for "long-term solvency" for Social Security, which Richard Burkhauser, a political analysis professor at Cornell University argues could be Johnson's approach toward preventing default of Social Security before 2033.
Our ruling
Hong claimed Johnson "opposes Social Security benefits."
It's true Johnson's endorsed Social Security reform would scale back entitlement benefits for some Americans, which Hong argues should be interpreted as opposition to the program. 
But endorsing significant cuts to the program is not the same as opposing the program itself, especially given its precarious financial picture.
Indeed, Johnson hasn't outright said he opposed Social Security benefits.
We rate this claim Mostly False, which means: "The statement contains an element of truth but ignores critical facts that would give a different impression."
Email exchange, Nada Elmikashfi, Office of Rep. Francesca Hong, Oct. 31, 2023.
USA Today, "Will Mike Johnson try to cut Social Security or Medicare? Where the new speaker stands," Nov. 7, 2023.
Republican Study Committee, "Fiscal Year 2020 Budget," Accessed Nov. 9, 2023.
PBS NewsHour, "Rep. Mike Johnson delivers remarks after being elected House speaker, ending weeks of turmoil," Oct. 25, 2023.
American Enterprise Institute, "A conversation with Chairman Mark Walker and Chairman-elect Mike Johnson," Nov. 30, 2018.
Congressional Budget Office, "2023 Long-Term Projections for Social Security," June 29, 2023.
Email exchange, Richard Burkhauser, Cornell University political analysis professor, Nov. 14, 2023.
Phone interview, Eric Kingson, founding co-director of the Social Security Works, Nov. 14, 2023
Support independent fact-checking.
Become a member!
In a world of wild talk and fake news, help us stand up for the facts.