Stand up for the facts!
Our only agenda is to publish the truth so you can be an informed participant in democracy.
We need your help.
I would like to contribute
"There's not been a single book banned in the state of Florida."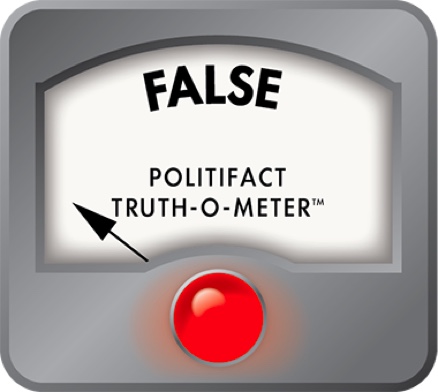 Ron DeSantis said that not 'a single book' was banned in Florida. Districts have removed dozens.
If Your Time is short
In 2022, Florida lawmakers passed H.B. 1467, known informally as the curriculum transparency bill. It prohibited "pornography" or "inappropriate" books in school libraries, which were already disallowed under law.
 
DeSantis said in a press statement in March that 23 school districts had removed 175 books.
 
The American Library Association says a "ban" is the removal of a book based on a person or group's objection.
Gov. Ron DeSantis has fought back against allegations that Florida is banning books, calling it a "hoax."
"There's not been a single book banned in the state of Florida," the Republican said in his May 24 presidential campaign launch on Twitter Spaces. "You can go buy or you can use whatever book you want."
DeSantis said Florida empowered parents to review curriculum to ensure books match state standards and are age-appropriate.
"Parents have flagged books in schools that, for example, teach middle school kids how to use sex apps that provide graphic depictions of sex acts and sex toys for people as young as fifth grade," DeSantis said. "And so clearly that is not appropriate."
DeSantis argued county school districts are removing books. But state law sets rules for which materials are prohibited and prescribes how school districts evaluate objections to books. 
DeSantis' claim that no book has been banned in Florida goes too far. Florida districts have removed some books entirely while restricting others to certain grades or requiring students to get parental permission to see them.
"Banning" is in the eye of the beholder, said Emily J.M. Knox, an information sciences professor at University of Illinois at Urbana-Champaign. People who seek to ban books define bans narrowly as the total removal of books.
Some "people like to say it's not banning because you can get it in the public library/bookstore/Amazon or whatever," Knox said. "But it is censorship, because it's about control of access to knowledge. The whole point is to make sure that some people do not have unfettered access to that info."
Florida passed a bill that sets rule for public school libraries
Debates about book bans have existed for decades, prompting events such as Banned Book Week. But efforts to ban books have risen recently amid public conversations about racial justice and LGBTQ+ topics. Some observers say the pandemic gave parents a closer view of what their children were learning in virtual classrooms. 
In 2022, Florida lawmakers passed H.B. 1467, known informally as the curriculum transparency bill. State law already prohibited pornographic content in school books and allowed parents to file objections. But the 2022 law aimed to make it easier for parents to find out about books in their children's school libraries. State law gives parents — even just one — a process by which they can object to those books, triggering a formal review. The law also adds rules about how schools should develop library collections and remove books.
The law requires that:
School districts hold public meetings of committees to select or eliminate books;

Staff members who are involved in selecting books to participate in state training;

Elementary schools publish online lists of all instructional materials available to students;

School districts have procedures that allow parents to see all books in the school library, all required classroom book lists, and any instructional materials a teacher intends to use.

School districts report to the state annually, beginning June 30, the name of every book the district received an objection about as well as every book that was removed in response to that objection. 
The state department shall publish and regularly update a list of materials that were removed or discontinued as a result of an objection and disseminate the list to school districts for consideration in their selection procedures.
A January state training document encouraged school districts to pay attention to book removals in other districts: "Check any books that have been removed or restricted due to a challenge in other districts," it said. "Those books should be carefully considered before purchasing."
DeSantis press release said in March that 175 books had been removed from schools
Determining the exact number of books banned from Florida school libraries is tricky. PEN America, a group that opposes and tracks book bans, counts books temporarily removed pending investigation. In an April 20 report, it arrived at a figure of 357 bans from July to December 2022.
By contrast, DeSantis on March 8 issued a statement that said that 23 districts reported removing 175 books. Most of them were "identified as pornographic, violent, or inappropriate for their grade level," his press statement said. 
DeSantis' tally of removed books followed a survey the state education department sent to school districts in February. It's not clear how complete the data is. The Florida Freedom to Read Project, a parent group that opposes book bans, forwarded PolitiFact a Feb. 7 email from a state education official to a school superintendent asking the official to complete the survey within two days.
Cassie Palelis, a state education department spokesperson, told PolitiFact that state law required school books to be pornography-free before the 2022 bill and that local school districts, not her department, determine which books schools remove from libraries. 
Palelis sent PolitiFact names of some titles removed for sexual or gender-orientation content. They include Maia Kobabe's "Gender Queer: A Memoir," which the American Library Association deemed the most frequently challenged book in the U.S. in 2022. The graphic novel documents Kobabe's experience coming out as nonbinary and includes images of sexual acts. 
We obtained lists of removed or restricted books from some counties including Escambia, in northwest Florida, which removed "And Tango Makes Three" by Peter Parnell and Justin Richardson, a book for young children about a baby penguin raised by two males. The teacher who filed the challenge wrote that the book had an "LGBTQ agenda using penguins."
The Florida School for the Deaf and Blind removed from its elementary school collection the book "It's Okay to Be Different" by Todd Parr. One page of the book includes the statements, "It's okay to have different moms" and "It's okay to have different dads," showing colorful cartoon drawings of women and men.
Some of the banned books discuss racism, such as Angie Thomas' young adult novel "The Hate U Give." It contains some sexual content, but focuses mainly on racism and police brutality, as narrated by a Black teenage heroine who comes of age and finds her voice.  
The Miami Herald reported that a review committee at Bob Graham Education Center, a K-8 school in Miami Lakes, restricted "The Hill We Climb," a poem by Amanda Gorman, and three other titles, to middle school students. 
Gorman read "The Hill We Climb" at President Joe Biden's 2021 inauguration. A Miami Lakes parent objected to the poem, claiming it would indoctrinate students. 
"I am gutted," Gorman tweeted May 23.
On May 17, PEN America joined book publisher Penguin Random House in suing the Escambia County school district after it had removed several books on LGBTQ+ topics. 
The federal lawsuit argues Escambia school officials violated the First Amendment by removing books, many that address race and identity topics, against the school and district review committees' recommendations.
What constitutes a ban?
The American Library Association defines a "ban" as the removal of a book based on a person or group's objection. It distinguishes a ban from a "challenge," which it categorizes as any push to remove or restrict materials. 
Moms for Liberty, whose members have filed many of the challenges to books nationwide,  reject the term "ban" and describe their efforts as "curating" books for school libraries. On "CBS Sunday Morning" on April 23, Moms for Liberty co-founders Tina Descovich and Tiffany Justice, both former local school board members, said they want books that educate children and don't have pornography.
We messaged Moms for Liberty for comment but did not hear back. 
Shireen Campbell, an English professor at Davidson College in North Carolina who teaches a course that covers book controversies, said a "book ban" means a book has been effectively removed in an educational context.  
DeSantis "is asserting that the state has not made a list of taboo materials, but in fact the curricular transparency bill strongly encourages people who review instructional materials to consider their library collections and scrub them of books that might be objectionable," Campbell said. "So, if a book is pulled from a school library and/or cannot be taught in a school, that book is in essence banned in that school." 
Our ruling
DeSantis said, "There's not been a single book banned in the state of Florida." 
His argument hinges on county school districts, and not the state, deciding which books to remove or restrict. But school districts are making book decisions to comply with state law. 
The American Library Association says a "ban" is the removal of a book based on a person or group's objection and experts we spoke to said a book is effectively banned in school when it's pulled from a school library and cannot be taught. 
A press release from DeSantis said in March that 23 districts had removed 175 titles, which contradicts his argument that not a single book was banned.
We rate this statement False.
RELATED: Ron DeSantis is running for president in 2024. How accurate are his recent statements?
RELATED: Fact-checking the Republican attacks against Gov. Ron DeSantis on Disney, taxes
RELATED: Ask PolitiFact: Is Hakeem Jeffries right about the GOP's stance on book-banning?
Rev.com, Florida Governor Ron DeSantis Announces 2024 Presidential Run on Twitter Spaces with Elon Musk Transcript, May 24, 2023
Gov. Ron DeSantis, press conference video and press release, March 8, 2023
Florida Department of Education, District survey about books, February 2023
Florida Department of Education, library media report, Feb. 9, 2023
Florida Department of Education, Library materials and instructional materials training, Jan. 13, 2023
Dr. Paul O. Burns, Chancellor of Public Schools, Email to school superintendents, Feb. 7, 2023
Escambia County schools, Book reconsiderations, 2022-23
Duval County schools, Facts about library books in Duval County Public Schools, Feb. 17, 2023
Education Week, There's Confusion Over Book Bans in Florida Schools. Here's Why, March 16, 2023
Palm Beach Post, Gov. DeSantis bristles at 'book banning hoax,' fights 'myths' with 'facts.' Which ones are myths? March 10, 2023
CBS This Morning, The fight over banning books, April 23, 2023
Project Muse, The books will still be in the library," accessed May 26, 2023
CNN, Library fight riles up city, leads to book-burning demand, July 22, 2009
NewsNation, Moms for Liberty founders: 'No one is looking to ban books," April 25, 2023
PEN America, Banned in the USA: state laws supercharge book suppression in schools, April 20, 2023
PEN America, Book bans FAQs, Accessed May 30, 2023
The Daily Beast, Florida mom behind Amanda Gorman book ban has Proud Boy links, May 25, 2023
American Library Association, About banned  and challenged books, accessed May 26, 2023
Smithsonian, American Library Association names 2022's most banned books, April 25, 2023
Florida Senate, bill CS/HB 1467: K-12 Education, March 28, 2022
Florida Statutes, 1006.28 Duties of district school board, district school superintendent; and school principal regarding K-12 instructional materials, 2022
Amanda Gorman, tweet, May 23, 2023
Jewish Telegraphic Agency, The Florida mom who sought to ban Amanda Gorman's poem says she's sorry for promoting the Protocols of the Elders of Zion, May 24, 2023
The New York Times, A surge in book bans, April 26l, 2023
WTAE, Roberto Clemente book removed from Florida school; Clemente Jr. reacts to decision, Feb. 11, 2023
Washington Post Opinion, Ron DeSantis's book ban mania targets Jodi Picoult — and she hits back, March 10, 2023
Washington Post, Objection to sexual, LGBTQ content propels spike in book challenges, May 24, 2023
Judd Legum, Twitter thread, Dec. 20, 2022
Banned Book Week, Accessed May 30, 2023
St Johns County School District, Books with objections, Accessed May 26, 2023
It's Okay to Be Different by Todd Parr, Sept. 1, 2001
Florida Freedom to Read, Tweet, May 19, 2023
NPR, 1 complaint led a Florida school to restrict access to Amanda Gorman's famous poem, May 25, 2023
PolitiFact, Viral list of 'banned' books in Florida is satire, Aug. 24, 2022
PolitiFact, A Florida school district halted library purchases but did not cancel book fairs, Aug. 29, 2022
Florida Freedom to Read Project, Statement to PolitiFact, May 25, 2023
Email interview, Tracy Pierce, Duval County school district spokesperson, May 25, 2023
Email interview, Cassie Palelis, Florida Department of Education spokesperson, May 25, 2023
Email interview, Emily J.M. Knox, associate professor in the School of Information Sciences at University of Illinois at Urbana-Champaign, May 25, 2023
Email interview, Shireen Campbell, English professor at Davidson College, May 25, 2023
Email interview, Jason Griffith, assistant professor of education at Penn State University, May 25, 2023
Email interview, Michael Johnson, Florida School for the Deaf and Blind spokesperson, May 30, 2023
Email interview, Kasey Meehan, Freedom to Read program director at PEN America, May 30, 2023
Browse the Truth-O-Meter
More by Matthew Crowley
Support independent fact-checking.
Become a member!
In a world of wild talk and fake news, help us stand up for the facts.