Get PolitiFact in your inbox.
On Gov. Tony "Evers' watch…the efficiency of the state crime lab has plummeted."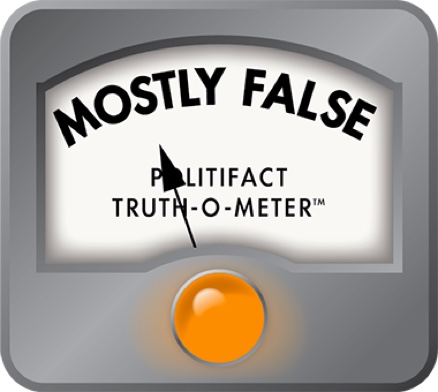 Wis. Gov. Evers didn't cause slowdown of state crime labs
If Your Time is short
Processing times for some areas handled by the state crime lab have increased, such as controlled substances and DNA .

But in other areas, times have fallen – sometimes dramatically. So, the full picture is more of a mixed bag.

Evers actually tried to increase the budget for the lab, which is overseen by Attorney General Josh Kaul, but that was nixed by the Republican-controlled legislature.
Attorney General Josh Kaul, a Democrat, is taking heat from Republicans who hope to unseat him this fall over the efficiency of the state crime lab.
Now, the Wisconsin Republican Party is hitting Gov. Tony Evers on the same topic.
In a May 2, 2022 email newsletter, the party criticied Evers for delays in the processing time of evidence, declaring: 
"On Evers' watch…the efficiency of the state crime lab has plummeted."
Is the Wisconsin GOP right? 
Has efficiency fallen dramatically at the crime lab? And, if so, is Evers to blame?
Average processing time has increased for some evidence types
We asked the Wisconsin GOP for backup for the claim, but it did not respond. 
But the email included a link to an April 14, 2022 Milwaukee Journal Sentinel article, which noted the crime lab took longer to process DNA in 2021 under Kaul, despite having smaller caseloads. So, we will start there.
Before we do, we'll note that we rated True this claim from Republican Eric Toney, who hopes to take on Kaul this fall: The crime lab "is testing significantly less items than former AG Brad Schimel and is still taking longer to test many categories of key items in comparison to Schimel, including DNA."
This claim from the Republicans is much more general, and pins the blame on Evers – not Kaul.
Since Evers and Kaul were elected at the same time, we can use the same baseline totals from our earlier factcheck here:
When looking at overall cases, we found that in 2018, Schimel's last year, the crime lab took 12,680 cases. In 2021, under Kaul that total was 9,297 cases – a more than 30% drop. We also found that in the 10 categories measured, turnaround took more time in six of them under Kaul than under Schimel. 
But that means turnaround times are down in the other four, so it's more of a mixed bag than the GOP claims. 
Let's look at a few specific categories:
The median processing time for DNA samples in 2021 was 115 days, up from 79 days in 2020 and 65 days in 2019, according to the crime labs' annual report.  
Meanwhile, controlled substance samples took 61 days to process on average, up from 44 days in 2020 and 33 days in 2019. And toxicology cases took 48 days on average, up from 39 days in 2020 and 36 days in 2019. 
Yet other types of cases had a faster processing time, such as firearms cases. On average, those took 157 days in 2021, compared to 247 days in 2020 and 258 days in 2019. 
So, the way the claim was stated – "efficiency has plummeted" – is not entirely backed up by the evidence. That may be true in some areas, but not others.
But what about Evers' role?
Evers and the crime lab
To be clear, the Department of Justice and its crime labs are not run by Evers. They're overseen by Kaul, an elected official in his own right. 
"Governor Evers' oversight into the crime lab is only so far as introducing a budget," said Gillian Drummond, a Department of Justice spokesperson. 
In the 2021-23 budget, the most recent, the department asked for funding for four additional analysts for the crime lab to work on toxicology cases. Evers included those positions in his version of the budget, but recommended less money for them than the department requested, according to state documents. 
In the end, the Legislature only approved funding for laboratory equipment, and not the additional employees. That's where things stood in the budget Evers signed in August 2021. 
Drummond noted processing times over the last several years were affected by COVID-19. In Milwaukee, for example, given the space in the lab, shifts had to be set up to maintain a safe distance. Then, the courts reopened, meaning analysts were called out to testify more frequently. 
"We've suffered the ebb and flow of all of the impacts the criminal justice system has endured," Drummond said. 
But, as we noted in the earlier fact check, those factors did not prevent the lab from improving in other areas. For our purposes here, it all just underlines the fact Evers does not oversee the crime lab, so putting all the blame on him for declines in efficiency is misplaced.
Our ruling
The state Republican Party claimed that on "Evers' watch…the efficiency of the state crime lab has plummeted."
Though the number of cases referred to the labs has dropped since 2018, the average amount of processing time for some areas, such as DNA samples, toxicology and controlled substances has increased. But in other areas, such as firearms, the lab decreased the average processing time. So it's really more of a mixed bag.
The party also misses the mark in that Evers has a very  limited role over operation of the lab. Indeed, Evers included money in the most recent budget to add several positions, but it was nixed by the Republican-controlled Legislature.  
We rate this claim as Mostly False, which means the statement is partially accurate, but leaves out important facts that would give a different impression. 
Republican Party of Wisconsin, email, May 2, 2022
Milwaukee Journal Sentinel, "Wisconsin crime labs took longer to process DNA in 2021, but caseloads are down," April 14, 2022
Wisconsin Department of Justice, "2021 Annual Report," May 19, 2022
PolitiFact Wisconsin, "State crime lab doing less testing and generally taking longer than under previous AG," May 10, 2022
Department of Administration, "DOJ executive budget," May 23, 2022
Wisconsin Legislature, "Department of Justice biennial budget," May 23, 2022
Phone conversation with Gillian Drummond, Wisconsin Department of Justice spokesperson, May 23, 2022
Browse the Truth-O-Meter
More by Laura Schulte
Support independent fact-checking.
Become a member!
In a world of wild talk and fake news, help us stand up for the facts.